Snapdeal Startup – The $6.5 Billion E-commerce Trying to Comeback
Snapdeal is one of the most popular Indian-based e-commerce portals. It allows the smooth sale of products from the seller to the buyer. E-commerce websites like these have made our lives simpler and, we can rely on these companies. Snapdeal is one of those companies that have over a million customers. They shop every day from its website, creating good traffic on it. The company also offers quick delivery and has a hassle-free return policy. You can buy almost everything that you need in just one click. Let's get to know the success story of this e-commerce company that has transformed online shopping in India.
Snapdeal Startup – Key Points
Startup Name - Snapdeal
Founded - 2010
Founders - Kunal Bahl, Rohit Bansal
Area Served - India
Headquarters - Gurgaon, Haryana, India
Parent Company - Jasper Infotech Pvt. Ltd.
Business Type - Private
Industry - E-commerce
Services - Online Shopping
Revenue - $130 million
Website - www.snapdeal.com
Snapdeal Story – Founders and Team
Snap deal got founded by Kunal Bahl and Rohit Bansal.
Kunal Bahl - He is the CEO and founder of the company. Kunal completed his studies at the Wharton School. He is also an investor in various businesses such as Titan.
Rohit Bansal - Rohit is an IIT Delhi graduate and a co-founder of Snapdeal. He is skilled in Business Development and Team Management.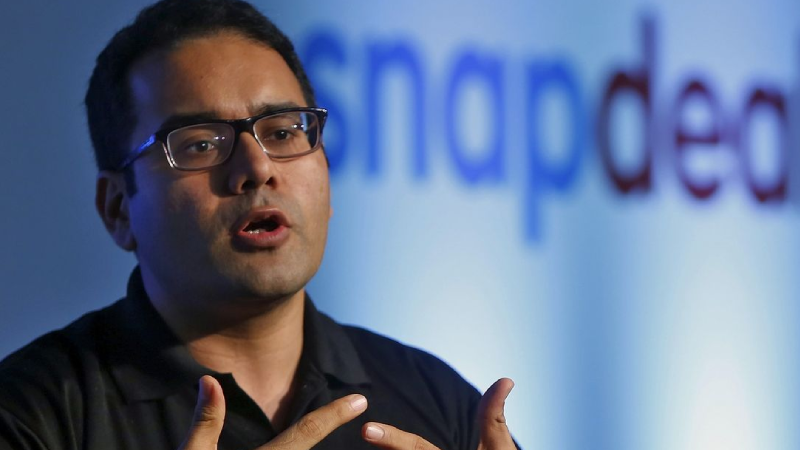 Snapdeal Founders
Snapdeal Parent Company - Jasper Infotech Private Limited
Jasper Infotech Private Limited owns Snapdeal. It gets operated as a holding corporation of its parent company. It provides e-commerce and marketing services to its customers through the portal. They also offer various discounts, sales, and vouchers for movies, entertainment, restaurants, lifestyle products, shopping, travel, health packages, etc.
Snapdeal – Brand Name, Logo, and Tagline
Brand Name - The name of the corporation signifies its job. It offers various kinds of deals to its customers in just one snap.
Logo - The logo of Snapdeal is in a striking pinkish-red color that grabs the attention of its customers.
Tagline - Snapdeal changes its catchphrase almost every year. Once the festive season kicks in, they instantly change it to attract more customers. Some of the slogans used by the company are Unbox Life, Bachaate Raho, Dil Ki Deal, etc.
Snapdeal Startup – Business Model
Snapdeal operates on the simple B2C (Business to Customer) model and allows third parties to sell their products directly on the website. Customers from all over the country can buy these products from the official website or app of the company. It offers a matchmaking model of business that connects online buyers to online product sellers. It also provides logistical support and product delivery services to its customers to encourage the use of its platform.
Snapdeal Story – Investors and Funding
Snapdeal has managed to raise $1.8 billion in funds in 13 rounds. Some of the funding and investors of the company are as follows:
$12 million - Indo-US Venture Partners, Nexus Venture Partners, Series A Round, 2011
$40 million - Bessemer Venture Partners, IndoUS Venture Partners, Nexus Venture Partners, Series B Round, 2011
$50 million - eBay, Recruit Holdings, Intel Capital, Ru-Net, Saama Capital, Series C Round, 2013
$75 million - Softbank, Venture Round, 2013
$133.5 million - eBay, Series D Round, 2014
$100 million - Black Rock, Myria, Series E Round, 2014
Undisclosed Amount - Ratan Tata, Venture Round, 2014
$627 million - Softbank Telecom Corp, Private Equity, 2014
$500 million - Alibaba Group, Foxconn Technology Group, SoftBank Telecom Corp, Private Equity, 2015
$200 million - Ontario Teacher's Pension Plan, Iron Pillar, Brother Fortune Apparel, Private Equity, 2016
$21 million - Clouse SA, Secondary Market, 2016
$17 million - Nexus Venture Partners, Rohit Bansal, Kunal Bahl, Venture Round, 2017
Undisclosed Amount - Anand Piramal, Venture Round, 2019
Snapdeal Startup – Acquisitions
Snapdeal has acquired more than companies to date. Some of the acquisitions made by the company are as follows:
Grabbon - 2010
Esportsbuy - 2012
Shop - 2013
Wishpicker - 2014
Doozton - 2014
FreeCharge - 2015
Exclusively - 2015
Unicommerce - 2015
MartMobi Technologies - 2015
Reduce Data - 2015
RupeePower - 2015
Fashion - 2015
Targeting Mantra - 2015
Targeting Mantra - 2016
GoJavas - 2016
Snapdeal Story – Partnerships
Snapdeal has partnered with various multinational companies to expand its business. Some of its partnerships are as follows:
Premji Invest
SoftBank
Temasek
eBay Inc.
BlackRock
Foxconn
Alibaba
Intel Capital
Bessemer Venture Partners
Tata Group
Snapdeal Startup - Growth Story
Snapdeal has seen significant growth in its business in the past few years. It also conducts various sales during the festive season to increase traffic and attract customers to its site.
Snapdeal has seen a growth of almost 500% in the past few years.
It has more than 55,000 registered sellers on its website.
It has over 210 million listings on the platform.
Snapdeal sells over 5 million different types of products on its portal.
It offers 820 plus categories to the customers.
Snapdeal delivers its products in more than 7000 towns and cities in India.
It also gets valued as a billion-dollar corporation.
Snapdeal – Revenue Model & Numbers
Snapdeal is an e-commerce company and, it earns its revenue from charging a small commission from all the registered sellers on the website. They provide a subscription to their customers and get money from there also.
Snapdeal's revenue for the FY 2019-20 was $127 million compared to $74 million in the DY 2018-19.
The company saw almost twice the growth in its revenue in just one year.
The loss also decreased from $25 million in FY 2019-20 compared to $83 million in FY 2018-19.
Snapdeal Startup Competitors
Snapdeal has been in the game for a significant period now. Over time, various new companies have entered the sector. Snapdeal has many competitors in the market and, some of them are performing well on different levels. Few strong competitors of Snapdeal are as follows:
Myntra
Amazon
Shopclues
Flipkart
Urbanic
Club Factory
Nykaa Fashion
Snapdeal – India's Mega E-commerce
Snapdeal is doing a spectacular job in providing the utmost service to its customer. It is one of the leading players in the market almost all of its competitors. The company offers numerous attractive deals to the customers that give them an edge over other e-commerce websites.