Startup Story of Razorpay: $3 Billion Valued Payment Solution
Razorpay is an Online Payment Solution in India that was founded by a group of IIT Roorkee alumni. It is considered one of the most Indian famous payment gateways & provides you access to all payment methods such as net banking, debit card, credit card, UPI, and favorite wallets like Mobikwik, PayZapp, Airtel Money, JioMoney, FreeCharge, and Ola Money. It can be desegregated by both mobile and web applications.
Highlights RazorPay
Industry Type: Financial Technology
Founders: Shashank Kumar and Harshil Mathur
CEO: Harshil Mathur
Launch Year: 2014
Headquarters: Bangalore
Number of Employees: 250+
Last Funding Type: Series D
Total Funding Amount (USD): $4,206,600,000
Website: www.razorpay.com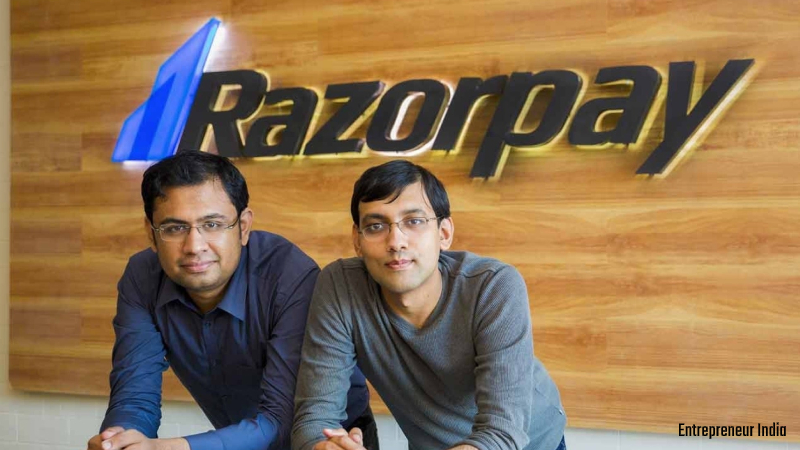 IIT-Roorkee graduates Harshil Mathur and Shashank Kumar started Razorpay
Razorpay Startup: Funding Sources
Y Combinator- Razorpay got $120,000 in funding added with acceleration support and guidance for 3 months from Y Combinator and other investors/mentors after taking part in Y Combinators W15 cohort in Silicon Valley In 2015.
Seed Funding- It received $2.6 million in funding in a seed investment round. It got funded by Y Combinator, Matrix Partners India, Soma Capital, Rohit Bansal, Ram Shriram, Tikhon Bernstam, Michael Sutcliff, Punit Soni, Sandeep Tandon, Punit Soni, and Naveen Tewari on March 23, 2015.
Series A- The firm raised $9 million in its Series A investment round. It was funded by their lead venture capitalist, Tiger Global Management and Matrix Partners India, on October 27, 2015.
Razorpay got an investment funding round with $100,000 in funding from MasterCard on July 1, 2016.
Series B- It raised $20 million in the Series B investment round. It got funded by Y Combinator, Tiger Global Management, and Matrix Partners India on January 15, 2018.
Series C- The organization received $75 million in its Series C investment round from Y Combinator, Tiger Global Management and their lead investors, Ribbit Capital and Sequoia Capital India, on June 18, 2019.
Razorpay Capital raised monthly credit expenditure from Rs 300 crores to Rs 800 crores through venture capitalists in 2020.
Series D- It raised $1 000,000,000 in Series D venture round. It got funded by Sequoia Capital India, Ribbit Capital, GIC Pte Ltd, Matrix Partners India, Y Combinator and Tiger Global Management.
Series E- The company raised $160,000,000 in its Series E investment round. It was funded by Sequoia Capital India and GIC Pvt. Ltd taking its valuation to $3,000,000,000 on April 19, 2021.
RazorPay: Payment Methods
Also, RazorPay provides several other products such as:
RazorpayX - It provides businesses with a total working current account. It can use this account to automate share invoices, automate bank transfers, payroll, etc.
RazorpayX Payouts - With the help of this, businesses can distribute payments quickly and smoothly for customer payouts, vendor payouts, and employee salaries.
Razorpay Capital - It provides businesses instant loans to resolve their cash flow issues.
RazorPay: Revenue Model
The transaction fees for RazorPay in the Standard Plan of RazorPay are:
3% transaction fee + GST on every transaction, which is done through Diners and Amex cards, other international cards, EMI's and business credit cards.
2% transaction fee + GST on every transaction which is done through Indian consumer net banking, credit and debit cards, UPI, and E-wallets
RazorPay: Expansion
Since the initiation of Razorpay, it reported a rapid increase in the growth rate, and now, it influences more than 170,000 small & large businesses
Razorpay has big-name clients such as NSE, Vogue India and Aditya Birla Capital
It registered an active growth rate of 15% to 20% month-on-month and alleges to increase at 30% to 35% month on month
The merchant count had increased to 300,000, and it received a 500% growth in 2019.
Razorpay influences payments for above five million businesses, like the likes of Facebook, BookMyShow, Airtel, Facebook, Zomato, Swiggy, Ola, and Cred and aimed to hit 10 million by the end of 2020
Razorpay Payment: Business Model
RazorPay charges 0.25 to 0.5 per cent fees on every contribution collection transaction done via their gateway.
The Razorpay 2.0 product suite supplies around 30% of the total revenue generation of the firm. Now, it wants to grow its average product adoption from one to two.
The RazorPay team wants Razorpay Capital and RazorpayX to add about 35 per cent of the company's credit.
RazorPay: Achievements
RazorPay has achieved many awards and recognitions for its great and efficient work.
Razorpay was selected as the second startup in India for Y Combinator.
It achieved the NASSCOM 'League of 10' Companies in 2016.
It received the Bronze Award for the Best POS Innovation by PYMNTS.com in 2017
It was considered as one of India's Top 50 Mid-Sized Workplaces in the category of "Great Places to Work" in 2017
It was awarded as a runner up for the "Financial Express Software Product of the Year" in 2017
The co-founders, Shashank and Harshil, got selected for the 'Forbes 30 Under 30' in 2017
It received an award by IAMAI as the "Best Digital Payment Facilitator" by 2018
It received an award by LinkedIn as India's 25 "Most Sought-after Companies to Work for" in 2018.
Harshil Mathur, CEO, and Co-founder said, "Most payment platforms take their APIs from banks. Then, they integrate with banks and build a further layer. Hence, they all look similar. But with Razorpay, we got to build the product first, keeping bank integration as the black box. We discussed what the merchants want and what our customers demand. We answered these and built our product."