Major Dhyan Chand Life Story: Forgotten Legacy of Hockey Pioneer
Major Dhyan Chand was an Indian hockey player whose contributions are unparalleled to the legacy of Indian hockey. In fact, he is considered one of the greatest hockey players to have ever lived. He was bestowed with titles like "The Wizard of hockey" or "Hockey ka Jaadugar" for his playing style and accomplishments. He helped his team win multiple Olympics gold medals and was an unstoppable force on the field.
Let's examine how an aspiring military man turned into one of the most successful Olympians from India.
Major Dhyan Chand: Early Life
Major Dhyan Chand comes from a Rajput family from Allahabad & was born on 29th August 1905. His father was a military man and played hockey for the army. He and his younger brother Roop Singh pretty much followed their father's footsteps in this department. Due to his father's service, his family needed to move around a lot, and that caused Dhyan Chand to drop out of school.
Unlike many successful sportspersons, Dhyan Chand did not have any exemplary inclination towards sports in his childhood days. In 1922 when he was 17, Dhyan Chand joined the military, and that's when he started playing hockey.
Major Dhyan Chand: Military Service & Hockey
The first few years in the service, he played exclusively in military games. In 1926 he had the opportunity to tour Newzealand as a member of the Indian Army team. Impressively, their team won 18 matches and lost only one. After returning to India, he was promoted to 'Lance Naik'.
By his second Olympics, that is, the 1932 summer Olympics, Dhyan Chand was part of the 2/14 Punjab Regiment and was promoted to a Corporal or a 'Naik'. In 1936 he was promoted to 'Subedar'.
He retired from the army on 29th August 1956 after 34 years of service. He was a lieutenant and an acting captain at the time of his retirement. Surprisingly, despite being known as Major Dhyan Chand, very little is known about his ranking and promotion to a Major.
Major Dhyan Chand: Name Mystery
Dhyan Chand's birth name was actually Dhyan Singh. There are two possible reasons as to what brought about the change in name. Many sources suggest that it was due to his tendency to practice during the nighttime, under the moonlight, that his colleagues gave him the name 'Chand'. The nickname stuck, and eventually, he was known by it.
On the other hand, in a recent interview, his son, Ashok Kumar, mentioned that his father was called 'Chand' by his first coach, who was impressed with his skills and predicted that he will shine like chand or the moon.
Major Dhyan Chand: Olympic Timeline
1928 Amsterdam Summer Olympics
Chand played in the Inter-Provincial Tournament with the United Provinces; this tournament served as a selection for the Amsterdam Summer Olympics. He played as a centre forward in the tournament, his game style brought him much attention, and he was able to secure a position in the Olympics team.
On 17th May 1928, the Indian national hockey team made its Olympic debut with a match against Austria. They won this match, and Dhyan Chand scored 3 out of the 6 goals made by team India.
The final match of the 1928 Olympics was on 26th May, and India played against the host country Netherlands for the match. India won the match by 3-0
Dhyan Chand was the top scorer in this tournament, scoring 14 goals in 5 matches.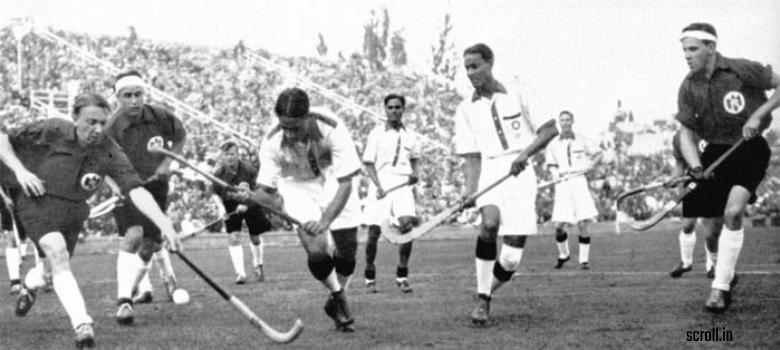 1936 Berlin Olympics
1932 - Los Angeles Summer Olympics
For the 1932 Los Angeles Olympics, Dhyan Chand was not required to go through any qualifiers.
The opening match was on 4th August against Japan. India won that match by 11-1.
The Indian team also set a world record when they won their match against the USA in a landslide victory of 24-1. This record was broken in 2003.
Dhyan Chand and his brother Roop Singh were dubbed 'hockey twins' for their groundbreaking performance in the tournament.
India scored another Olympic gold in hockey on 11th August 1932.
1936 Berlin Summer Olympics
In the 1936 Berlin Summer Olympics, Dhyan Chand once again made it into the team without going through any qualifiers, and this time he was the team captain.
India won its first match against Hungary on 5th August.
For the final match, they went up against Germany, surprisingly they had lost a practice match to Germany right before the tournament, and that made tension run high among the Indian team members.
On 19th August 1936, India defeated Germany with a score of 8-1, and Dhyan Chand scored three out of those eight goals.
Major Dhyan Chand: Awards and Records
In 1957 (the year he retired), he was awarded the Padma Bhushan.
In 1979, the year he passed away, India Post issued a commemorative stamp in his honor. He is the only hockey player to have ever been put on a postal stamp.
India's highest lifetime achievement award in sports is named Dhyan Chand Award and has been awarded from 2002 to sportspersons who had contributed to their corresponding sport even beyond retirement.
He scored over 400 goals in his entire career.
In 2002, the National Stadium, Delhi, was renamed Dhyan Chand National Stadium.
National Sports Day is celebrated in India on 29th August, in honor of Major Dhyan Chand's birthday.
There has been a bit of buzz and controversy around the government's oversight on not awarding him with a Bharat Ratna yet. Fans and supporters of the sport and Dhyan Chand's family were disappointed when the 2014 Bharat Ratna went to Sachin Tendulkar and C. N. R. Rao, despite Dhyan Chand being up for consideration.
Final Days: Liver Cancer
It is sad to say that his final days were spent in relative poverty and obscurity for a person of his stature and accomplishments. He was suffering from liver cancer and died very disappointed at the state of Indian hockey and the way the federation and the government treated him.
Son Not Allowed in Olympics
To add insult to the injury, his son Ashok Kumar was not allowed in the 1980 Moscow Olympics camp. He was late for the camp due to being engaged in finishing his father's last rites. The utter disappointment at this treatment made Ashok Kumar quit the sport.
The continued underwhelming state of Indian hockey really bodes the questions: is Dhyan Chand's legacy lost forever? Does it only live through titles and awards? Will Dhyan Chand's spirit and vigor for the sport never return?
Laden with these doubts, we can only wait with bated breath and watch the future of Indian hockey unfold.