Story of Video app ShareChat: Made in India Media Platform
ShareChat is an Indian social media and social networking service which was founded by three students of IIT Kanpur. It is considered to be the fastest-growing social media platform in regional languages in India. It has more than 180 million monthly active users using 15 Indian regional languages.
Key Points of ShareChat
Legal Name: Mohalla Tech Pvt. Ltd
Founded: January 8, 2015
Founders: Ankush Sachdeva, Bhanu Pratap Singh, Farid Ahsan
Developer: Mohalla Tech
Type of Company: Privately Held Company
Headquarters: Bangalore, Karnataka, India
Number of Employees: 750
Type of Industry: Internet
Key People: Ankush Sachdeva (CEO), Bhanu Pratap Singh (CTO), Farid Ahsan (COO), Debdoot Mukherjee (Vice President - Data Science), Venkatesh Ramaswamy (Vice President - Engineering)
Languages: Hindi, Bengali, Assamese, Punjabi, Rajasthani, Odia, Bhojpuri, Malayalam, Haryanvi, Marathi, Gujarati, Tamil, Telugu, and Kannada.
Operating System: iOS, Android
Investors: 25
License: Freeware
Total Funding Amount: $824.8 M
Last Funding Type: Series E
Last Deal Amount: $1.01 B
Company Type: For Profit
Financing Status: Investment-Backed
Website: we.sharechat.com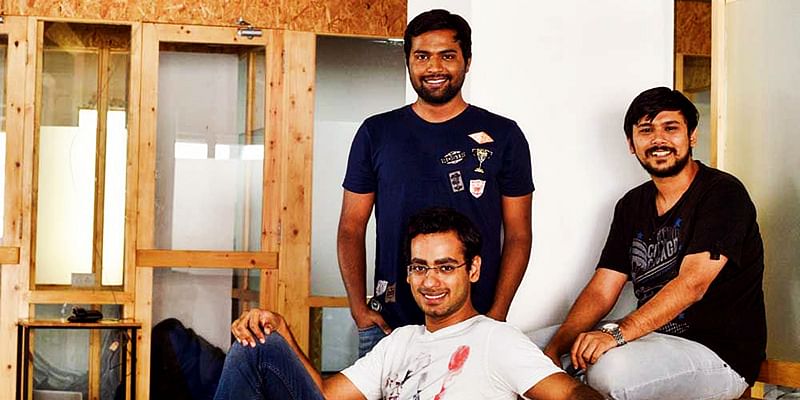 ShareChat Founders: Ankush Sachdeva, Bhanu Pratap Singh, Farid Ahsan
Sharechat Startup Story: Platform for Locals
Everything began when the co-founders noticed that there are individuals who need a proper platform to express them. So the local audience has their own choices of languages in which they want to read, listen, or view particular content.
Until ShareChat came over, these local people had no wider audience, and their opinions and sayings were not vocal. The idea of giving these individuals a podium to raise their voices, ShareChat, was launched by these three IITians. They capitalized on a general awareness to evolve it into a million-dollar startup.
ShareChat: Expansion
ShareChat has nearly 60 million users and has been downloaded 21 million times by the users.
Per day, nearly 5 million content pieces get shared from ShareChat, and it consists of half a million active users monthly.
It has an average 4.5 rating in Play Store, and in 2018-19, it increased seven times.
ShareChat: Investment & Funding Source
ShareChat has raised around $224 million in funding.
Seed Funding- In the seed funding round of ShareChat, $1.4 million was funded by SAIF Partners in July 2016.
Series A Funding - The company raised $4 million from Venture Capitalists such as Lightspeed Venture Partners and others in its Series A funding round in November 2016.
Series B Funding - It had raised $18.2 Million from its Xiaomi Singapore and Shunwei Capital, its sister concern, in its Series B investment round in January 2018.
Series C Funding - ShareChat raised $100 million from Shunwei Capital along with Jesmond Holdings and Morningside Ventures of China in its Series C funding in September 2018. Also, SAIF Partners, Lightspeed Venture Partners, and Xiaomi invested a considerable amount.
Series D Funding - It raised $ 100 million in its Series D investment round which was funded by Twitter and Trust Bridge Partners along with its earlier investors like SAIF Capital, Lightspeed Venture Partners, Shunwei Capital, Morningside Venture Capital and India Quotient in August 2019.
Acquisitions by ShareChat
Elanic Procurement - Elanic, an online fashion marketplace based in Bengaluru, was seized by Mohalla Tech for a confidential amount on February 25, 2020. The company had more than 5 million downloads with close to 1 million active listings earlier to this procurement.
Clip Procurement - Mohalla Tech took over clip, a short video sharing platform owned by Transversal Tech, for a confidential amount on March 2, 2019. It had around 10 million MAUs on its platform before this acquisition.
Memer Procurement - Memer, a meme discovery and sharing platform, was taken over by Mohalla Tech for a confidential amount on March 27, 2020. More than one million original content creators have generated on the platform.
Circle Internet Procurement - ShareChat seized Circle Internet, the local information platform, for a confidential amount on August 24, 2020. It offers regional information to the internet users who use Indic language, and it has a network of more than 1,000 volunteers.
Manohar Charan, ShareChat's Vice President of Corporate Development and Strategic Finance, said, "Circle App will continue to grow independently and empower our users to post more relevant and contextual content on the platform."
Achievements of ShareChat
All of the co-founders of ShareChat had been featured for their notable work with the language-first approach in the social media platform in Forbes' 30 under 30 Asia 2018.
MOJ ShareChat
ShareChat Moj, a short-video platform, was launched on June 29, 2020, which was quite similar to the government-banned famous app, TikTok. Ankush Sachdeva, co-founder, and CEO of ShareChat, tweeted that the app was coded in 30 hours. And as of December 1, 2020, it has got the Google Play Best of 2020 Awards.
ShareChat: Recent Updates
ShareChat declares that there will be considerable changes in the functionalities of the application soon and it is expected to have a wider content variety as well.
India also has 22 official languages and above 1600 known dialects so, ShareChat wants to serve more to the local audience and expand their audience base. Recently, it has above 130 million monthly active users (MAUs).