Urban Ladder Success Story: Why Reliance Acquire it for $40M?
Urban Ladder is a Bangalore, India-based omni-channel retail organization. They mainly provide furniture and decor-related services to their clients. Currently, the company has four stores in Bangalore and retails in 75+ cities in the country through their website. The company has over 35+ categories and 5000 designs such as decor, living, study, bedroom, hall, dining, pooja room, etc. The company initially had a website but, they also opened their offline store to go omnichannel.
Fact: Reliance Retail owns the company since 2020. Mukesh Ambani has a 96% stake in the company which he bought it in a deal of INR 182 crore
Urban Ladder - Key Points
Company Name - Urban Ladder
Founded - 2012
Headquarters - Bangalore, India
Parent – Reliance Retail
Founders – Ashish Goel (CEO), Rajiv Srivastava
Key People – Mukesh Ambani (96%), Ashish Goel (4%)
Industry - Home and Furniture, Retail
Products - Furniture, Soft Furnishings, Decor, Mattresses
Website – www.urbanladder.com
Urban Ladder Founders: Rajiv & Ashish
The founders of the company Urban Ladder are IIT and IIM graduates. They both are great minds and have worked hard to bring their company to this stage. Ashish Goel is the first founder of the company. He is an ex-employee of McKinsey and Company. Rajiv Srivastava is the second founder of the company and, he has worked with the companies like Yahoo!
Both of them wanted to start something of their own. Ashish and Rajiv were looking for new and innovative ideas. They got a spectacular plan of creating a platform where people can buy pieces of furniture of their own choice with a wide range of variety.
NOTE: Rajiv Srivastava (co-founder) left the company in 2019.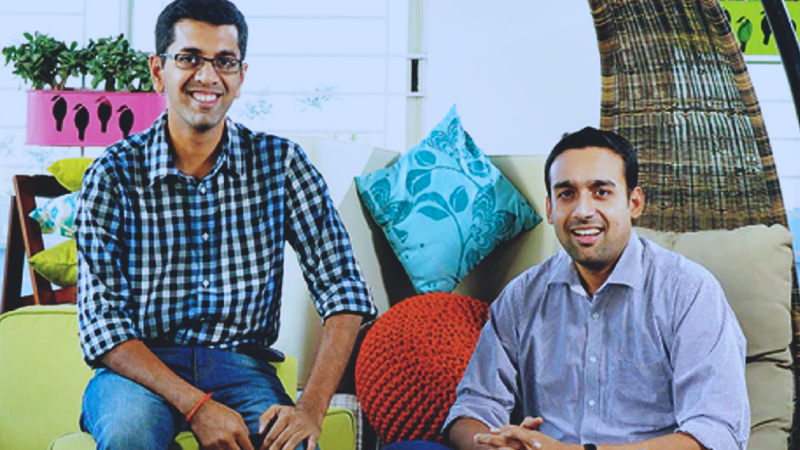 Urban Ladder Founders: Rajiv & Ashish
Urban Ladder - Brand Name and Logo
After some brainstorming, the founders came up with Urban
Ladder (name) and, the tagline is "Let's Create"
The logo is in simple orange color and depicts the four walls of an empty room. It shows the simplicity and joy that one gets while decorating their homes. The orange color is the symbol of happiness and calmness and hence the motive of the company.
Urban Ladder - Investor and Funding
Since its incorporation, Urban Ladder has raised a total fund of $109.3 million in 10 rounds of funding. Some of the major investors and funding of the company are as follows:
September 2012 - $1 million by Kalaari Capital
April 2014 - $21 million by Steadview Capital
April 2015 - Amount Undisclosed, Equity Round
August 2016 - $3 million, Debt Round by Trifecta Capital
February 2018 - $15.2 million, Series E by Kalaari Capital
February 2018 - $12 million, Equity Round by Kalaari Capital
November 2019 - $2.1 million, Series E by SAIF Partners
Urban Ladder - Services Provided
Urban Ladder provides a good range of services to its customers. Some of the services given by them are:
Furniture Selection
Interior Designing
Exterior Designing
Furniture Exchange
Wood Selection
Consultations
Designers
Home Decor
Urban Ladder - Competitors
There is competition in every field, especially when you are an entrepreneur and working for your startup. You must be ready for these challenges every day. Some of the competitors of Urban Ladder are:
Pepperfry
Flipkart
Ikea
Livspace
Wooden Street
Saraf Furniture
Urban Ladder - Awards and Achievements
Best Digital Startup Award - By Internet and Mobile Association of India at 4th India Digital Awards
Game Changer Entrepreneur of the year to Ashish Goel - By Network 7 Media Group Jury at Indian Leadership Conclave, 2016
Fact: Urban Ladder had revenue of INR 207 crores in FY 2018. The company doubled its revenue in FY 2019 to Rs 434 crores.
Urban Ladder - Future Plans
Some of the plans of the company are:
Expanding their services to 100 plus cities
Opening more offline stores
Raising more investments
Increasing customer base
Urban Ladder - Challenges
Significant challenges of the company are:
Pandemic - The current COVID situation has broken the knees of almost every business in the world. Urban Ladder has also suffered as people are less focused on such things.
Competition - Urban Ladder has various competitors in the industry. So, it is one of the biggest challenges for them.
Trust Factor - Most of the people in India are still resistant to buying furniture online for fear of getting damaged and unauthentic products.
Local Vendors - All the cities have local furniture vendor shops. People still prefer buying furniture from them instead of buying it online.
Urban Ladder - Business Model
This company has a pretty sorted and unique business model. They operate both online and offline. The best things about them are that they offer all kinds of convenience to their customers. They even deliver and install the products on their own. They also sell their items on various other retail apps like Amazon, Flipkart, etc.
They are constantly working on bringing in new designs and unique pieces. They have already launched their Fujiwara, Eleanor and Louise, the Malabar, and various other collections.
They offer things like:
Interiors - They provide services like interior design consultations in 2016. They help their customers to select the best-suited design for their homes, making their job easier while picking the furniture.
Design Network - The Company provides external designers. They work with various external designers in partnership and, both of them benefit from it. Their customers are getting everything in one place and, the designers get a commission when their designs get selected by any client. They have around 600 designing firms working with them and, they are planning to increase more.
Exchange offer - Urban Ladder has partnered with Zefo and Quikr to provide furniture exchange services. Their furniture and picked up and delivered by them at no extra cost.
Urban Ladder – Amalgamation of Perseverance
Urban Ladder has seen commendable growth in a short period and, the expectation is to grow only. People have worked hard in bringing this company to this position with their innovative ideas and unique business model. Its success is a true amalgamation of determination and perseverance. All the entrepreneurs must take a lesson from this company if they are planning to do something extraordinary.