Startup Story of DotPe: Would it End Zomato Monopoly?
DotPe, a Gurugram-based startup, is an offline-to-online network that offers brick-and-mortar stores digital transformation and commerce solutions as well as comprehensive customer engagement services. PayU, Sachin Sinha, Rohit Bansal, and Kunal Bahl led an initial seed funding round of about $8 million.
Basic information - DotPe
Legal name - DotPe Pvt Ltd
Headquarters - Gurgaon, Haryana, India
Founding date - May 2019
No. Of employees - 125
Website - dotpe.in
Founders - Shailaz Nag, Anurag Gupta, and Gyanesh Sharma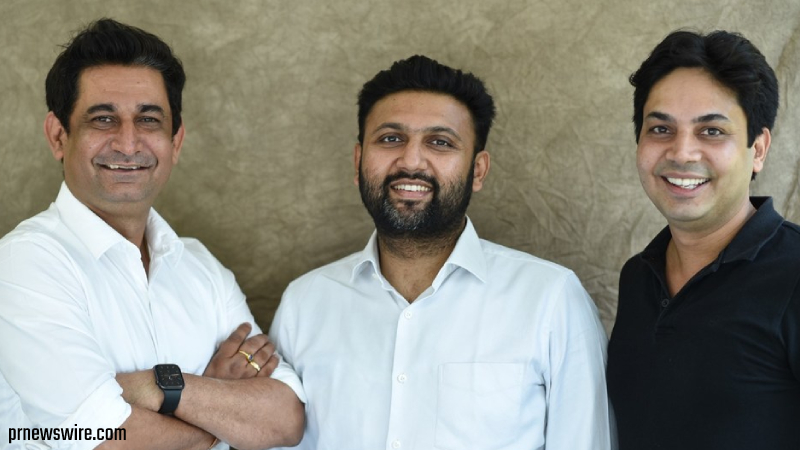 DotPe Founders Shailaz Nag, Anurag Gupta, and Gyanesh Sharma
What is DotPe?
DotPe, established in 2020 by ex-PayU founder Shailaz Nag, Gyanesh Sharma, and Anurag Gupta, is the only Indian platform to digitize enterprise and SMB merchants full-stack approach successfully. The app focuses on online presence to enabling seamless ordering (in-store and remote), online payments, and delivery. It has strong integration with 10,000+ restaurants and food courts, including leading global and domestic FnB brands, on the enterprise side.
How Does It Operate?
DotPe specializes in catalogue management, in-store buying, digital payments, and customer experience for restaurants. DotPe claims to give restaurants access to their customers' identities, which established aggregators currently deny.
Restaurants can access their QR codes or a direct link to their DotPe microsite through Facebook and Instagram, according to the company. Restaurants communicate with customers through WhatsApp after they place an order on the microsite. "The next time they want to order from that restaurant, instead of logging in to a food delivery app, they can simply WhatsApp their order to the restaurant.
DotPe: Funding and Investment
DotPe has received funding from a few companies now -
PayU
Payments and fintech business of Prosus earlier known as (Naspers)
Fosun RZ capital
Info Edge Ventures
Google
Ruizheng Investment
The startup has now raised a total of $35.5 million (roughly Rs 257 crore) in seed funding.
DotPe has recently made several key hires and expects to use the new funds to speed up product growth, business expansion, and technology scaling.
DotPe Story: Successful or Not?
DotPe partnered with the National Restaurant Association of India in May of last year to launch a digital ordering solution for restaurants looking to reduce physical interaction with customers. Over 10,000 restaurants and food courts have used their facilities in India so far. More than 5 million SMB merchants have already adopted their Digital Showroom solution.
During the pandemic, offline to online e-commerce became extremely common, and thousands of small businesses, retailers, and shopkeepers adopted it. Several other platforms, such as Khatabook, Bikayi, OKShop, and Dukaan, have gained a lot of traction from small retailers in the last year, especially neighbourhood stores severely impacted by the lockdown and were forced to turn to online commerce to avoid business disruption.
DotPe Competitors
Before DotPe was launched, there were enough companies in the market providing almost the same services. Some of the biggest competitors of DotPe are -
Zomato - Pankaj Chaddah and Deepinder Goyal formed Zomato, an Indian multinational restaurant aggregator and food delivery business, in 2008. Zomato offers restaurant menus, content, and feedback. It is located in every city of Indian now.
Swiggy - Swiggy was created in 2014 and is India's largest online food ordering and delivery platform. Swiggy has its headquarter in Bangalore, India, and as of 2019, it operates in more than 100 cities of India. In early 2019 it also launched Swiggy's general product delivery service and Swiggy Stores.
Challenges Faced by DotPe
The National Restaurants Association of India (NRAI), representing over 500,000 restaurants and hotels across India, announced a nationwide digital strike last year. The group urged its members to log out of all food delivery apps, including Zomato and Swiggy, which are both very common. The refusal of these online aggregators to exchange customer details with restaurants was one of NRAI's key concerns.
Many restaurants in India still depend on Swiggy and Zomato, two apps that provide users with restaurant recommendations.
DotPe: Future Plans
DotPe has greater ambitions than just the food and beverage industry. In Gurugram, the company is currently testing a grocery delivery service, with plans to expand to other cities in the coming months. By the end of the year, it hopes to have 30,000 merchants onboard and a million transactions.
How Does DotPe Manage Its Database Security?
Data protection is a vital component for startups. Leakage of merchant financial data can have a significant effect on small companies, which may lose a lifetime's worth of profits due to cyberattacks. In such a situation, Sharma says he needed to find a partner that DotPe could trust and that had experience working with startups because, while enterprise-grade technology was required, the vision was still disruptive and required flexibility.
In an interview, Mr Gyanesh Sharma, the co-founder of the company, mentioned that they decided to go with AWS security even before launching the product.
Summary
DotPe is another example of how you can achieve your goals with hard work and utmost dedication. DotPe introduced itself in the market when there was tough competition, and then the pandemic hit the world, even after all of this product managed to thrive.