Story of Freshly Cooked Delivery Meal App: Eatfresh
Indian Markets have witnessed the growth of many startups, owing to a large market due to a vast population. With people demanding more and more convenience, food delivery startups are constantly rising. One such food delivery startup is Eatfresh. The most exciting thing about Eatfresh is that, unlike Zomato, Swiggy, and other food delivery platforms that are limited to food delivery, Eatfresh has a full-stack approach. In this article, we will look at the startup story of Eatfresh in depth.
About Eatfresh:
Eatfresh.com is an online marketplace for delicious meals. The startup is famous for providing fresh and delicious food with the best ingredients. They have a daily changing menu. The salads, desserts, beverages, and other cuisines are prepared by Eatfresh's chefs, who work in Eatfresh owned kitchens, and the Eatfresh team itself also handles delivery. This brand has always focused on quality food and customer satisfaction at affordable prices.
Eatfresh Startup Story - Key Points:
Company Type: Online Marketplace for Food.
Founding Year: 2015
Founder and CEO: Rajiv Subramanian
Website: eatfresh.com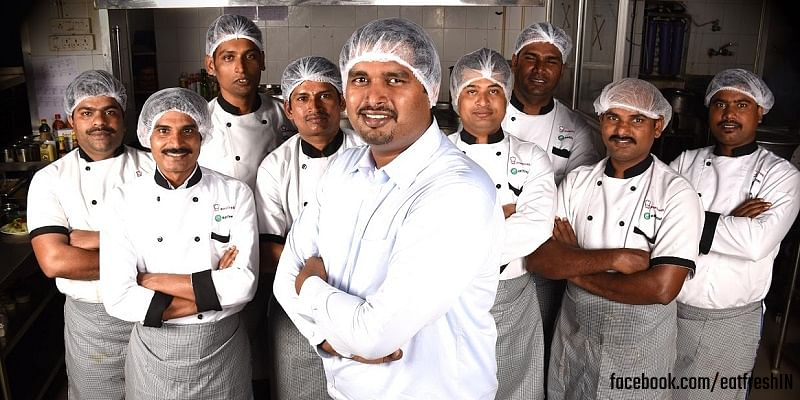 Rajiv Subramanian with the team
Eatfresh business model:
Eatfresh is based on a full-stack approach. Full-stack means that they handle everything themselves, from making the food to owning the commercial kitchens and delivering it. Traditional food delivery platforms tie-up with local eateries, restaurants, hotels, etc., and then distribute it to the customers. But at Eatfresh, when you order something, it is freshly made in their kitchens by their chefs and delivered to you.
History of Eatfresh Success Story
Rajiv Subramaniam started Eatfresh. Rajiv is an IIM, Ahmedabad graduate. He had worked with Lehman Brothers, an investment bank. But after the financial crisis, he looked for alternatives.
He started a profitable business in the food and dessert business, named oven-fresh in Chennai. In 2008, a bakery chain called Ovenfresh was started. His mother was the co-founder.
But seeing the potential of the internet, he decided to venture into the Internet restaurant space in 2015.
Rajiv says that he saw the prevalence of online ordering among Indian customers. This gave him an idea to take advantage of their learnings at Ovenfresh and use it to satisfy more consumer needs.
He saw that significant players in the food delivery business were acting only as aggregators. They were delivering food made by a third party. He felt that if he adopts a full-stack model, he can earn higher profits.
He collaborated with the following people to launch Eatfresh:
Vinay Karodiahad previously worked on Ola's delivery business.
Sharan UR, who ran a restaurant startup
Jipy Mohanty had worked in a horizontal on-demand food delivery startup and knew about the demand patterns in the food delivery business.
The main objective of the Eatfresh team is to make food ordering as convenient as turning on a switch.
Unique features of Eatfresh:
Daily changing of product catalogue
Replenishment of inventory every hour.
Consumer-oriented systems and internal working have been streamlined so that the quantity of food delivered within 45 minutes is displayed on the website.
Orders can be tracked from the beginning (when the order was placed, when the nearest delivery hub got the information when chefs started working) to the final delivery step.
To ensure the correct food temperature for giving you the right taste, IOT based temperature sensing devices and geo-locating detection apps are installed by the team.
You can also choose the food items based on the chef you like. This improves the feedback system, and accountability is ensured. But on the other hand, in other online or offline eateries, chefs remain anonymous and unaccountable.
These unique features are beneficial for this startup, and they have managed to expand their outlets from 9 to 50.
Story of Eatfresh: Funding
At the end of the first quarter, Eatfresh could get $5,15,00,000 across ten deals, including FreshMenu, Swiggy's series C funding of $35 Million.
According to CEO, Rajiv Subramaniam the significant investor of Eatfresh is Kalaari capital, which has played a crucial role in expanding the company.
Revenue and achievements:
It is claimed that Eatfresh has an annual revenue run rate of over Rs. 25 crore.
The makers also expect a ten times growth in sales and orders.
Within few months, Eatfresh was able to add 11 new delivery hubs.
They have a profitable chain of 50 outlets in Chennai and Bengaluru and serve over 8k customers daily.
Eatfresh has a considerable team. It has almost 100 delivery boys and 60-70 cooks. Together they ensure the quality of product and timely delivery within 45 minutes.
Future goals:
Eatfresh has a stronghold in Bengaluru and Chennai, and the founders also wish to expand it to other metropolitan cities like Hyderabad, Mumbai, Delhi, etc., in the next one or two years.
Charity work:
Besides providing quality food, Eatfresh also believes in working for society. The company had collaborated with 'Let's Feed' Bengaluru to deliver food to the city's underprivileged and undernourished slum children and residents. Approx. 150 Eatfresh food boxes were distributed in Tilaknagar Slum.
This initiative has been supported since 2015, and Rajiv Subramaniam calls for sharing a shared vision in eradicating the hunger problem.
Top competitors:
Eatfresh is a successful startup. But every small and big company faces some kind of competition. So the major competitors are:
Zupermeal: Founded in 2015 in Mumbai, Maharashtra, it is contended as a significant competitor of Eatfresh.
Box8: a private company founded in 2012 in Bangalore, Karnataka, gives a tough competition to Eatfresh in terms of food distribution.
Freshmenu: Headquartered in Bengaluru and founded in 2014, this is also seen as a top competitor.
InnerChef: Founded by Rajesh Sahni, this startup is also on the list of competition.
Zomato: Since it has developed a pan-India presence, it is also conceived as a competitor to Eatfresh.
Closing words:
Eatfresh counts as a perfect example of an inspiring startup. The startups give us lessons that if the adoption of new technologies and new demand is combined with customer satisfaction and unique strategies, no one can stop you from achieving success. Eatfresh has shown considerable growth from its beginning years, owing to all its special features. Similarly, we should also aim for out-of-the-box solutions for becoming successful.