Learn Branding Strategy with India's Budget Hotel Chain: Treebo
Hotels were easily available at lower prices before June 2015, but the quality was always meant to be compromised. And with this budget, travelling seemed out of the league. Well, now, Treebo assures a 100% guarantee on quality and comfort in the budget for travellers all over India. "We use a deeply embedded hospitality DNA to offer a great customer experience," says Sidharth (Co-founder at Treebo) in an interview with Hotelogix.
Treebo Hotels: Introduction
Spread all across India, Treebo Hotels is the country's first and the only brand in the budget hotel segment. Siddharth Gupta, Rahul Chaudhry, and Kadam Jeet Jain co-founded a hotel chain with 600 hotels in 113 cities across India in June 2015. The problem they wanted to solve through their startup was the poor quality of hotels found in budget accommodations.
Treebo Hotels: Founders & Idea
Every startup story has a reason and motive hidden behind its establishment. Being from IIT Roorkee, Siddharth, Rahul, and Kadam shared a perfect bond of friendship and decided to do something to make a difference. "We just solved whiteboard problems every day, where we would list down all the opportunities we had in front of us," Siddharth Gupta (Co-Founder Treebo Hotels) told the audience at a seminar. And this continued for another 6-8 weeks. "To this, he added, "After all the discussion and researching, we finally came to the idea of starting Treebo Hotels. We wanted to build quality hotels on an affordable budget in India. "
Treebo Hotels-Key points
Company type - Startup
Industry - Budget hotels
Founding year - 2015
Headquarters - Bangalore, India
Founders - Siddharth Gupta, Rahul Chaudhry, and Kadam Jeet Jain
Official Website - www.treebo.com
Founders Biography
Sidharth Gupta (Co-founder of Treebo Hotels)

Education: Presently working as a co-founder of Treebo Hotels, Sidharth has pursued his MBA from IIM Bangalore. In 2006, he completed his B.Tech in mechanical engineering from IIT Roorkee and there, he met his friends and co-founders Rahul and Kadam.
Experience-Having experience of 6.5 years as a co-founder of Treebo, he started his professional career at Tata motors in 2006. After working as an assistant manager for a year, he served at McKinsey & Co. for five years as an engagement manager. He also worked in Myntra for three months as VP. It is then that he decided to follow his dream of a startup.

Rahul Chaudhry (Co-founder of Treebo Hotels)

Education-Rahul completed his bachelor's degree in Metallurgy and Materials from IIT Roorkee and then went to IIT Ahmedabad to pursue his Post Graduate Diploma in Strategy and Operations.
Experience-He also held the position of the co-founder of Treebo hotels for the last 6.5 years. He started his professional career at McKinsey & Co. in 2008. He worked as a research guy at Olympic Gold Quest in 2009 and then joined Myntra in 2014 with Sidharth.

KadamJeet Jain (Co-founder of Treebo Hotels)

Education-Kadam Jeet obtained his B.Tech degree in Electronics and Communication from IIT Roorkee in 2006.
Experience-Kadam has been a co-founder of Treebo Hotels for 5.5 years, having joined the other founders late. After his graduation, he worked at Webaroo for four years and then at Mygola for the next 5 years. Before joining the Treebo team, he worked at MakeMyTrip.com for 6 months as an associate director.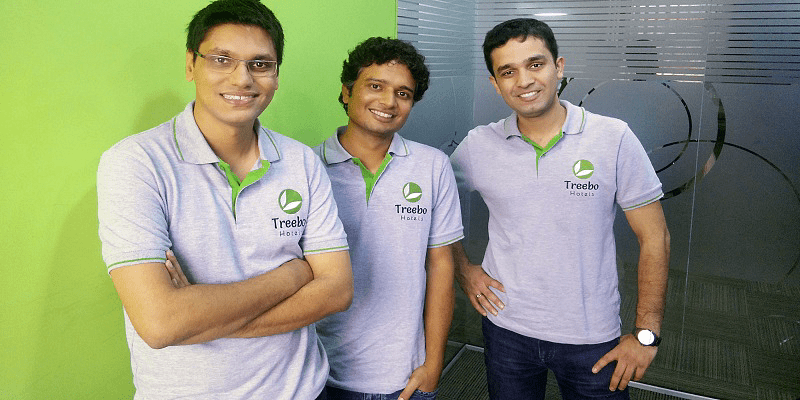 Treebo founders Sidharth Gupta, Kadam Jeet Jain and Rahul Chaudhary.
Why Treebo: Founder's Viewpoint
When asked, "Why Treebo?" According to Siddharth, there were three things they desired in the idea to which they devote their lives:
It should be a large market opportunity- They preferred not to choose a market that is still niche and needs to be created and, as hotels have a large existing market with a total of $20B, they thought this could be a great idea.
They should have a personal connection to the problem- According to Siddharth, no one can have the passion for solving the problem if they have never gone through the same.
Their natural abilities should align with the business that they were trying to build- They felt they should choose an industry they are more comfortable with, like sales and marketing and operations
At the intersection of these three criteria is where the idea of Treebo hit them. The main concern of the founders was to provide a quality and comfortable stay for the customers on a budget.
Treebo Hotel- Brand Name and Logo
Name: Formerly, Treebo was called Zipotel. Treebo derives its name from "Bo Tree", the fig tree under which Gautam Buddha attained enlightenment.
Treebo Logo: The logo of Treebo represents a colorful pinwheel that, through its movement, creates a sense of joy for everyone irrespective of their age, gender, income, or occupation. It has a child like spirit of wonder that accompanies travel.
Treebo Hotels - Funding and Investors
Treebo Hotels is funded by 16 investors, including:

Deepak Parayanken,
Bennett Coleman and Co. Ltd,
InnoVen Capital,
Matrix Partners India,
SAIF Partners,
Shantanu Deshpande,
Vijay Shekhar Sharma.

Funding: The hotel has raised a total of $69.2M in funding over 9 rounds. In 2020, Treebo Hotels raised $6M in its series C funding round from its existing investors as bridge financing to continue survival.
Treebo Hotels - Competitors
When you set your foot in the world of startups, there is a fair chance for you to find a good amount of competition. The same happened with Treebo Hotels. Their competitors are:
OYO Rooms
Yatra
Fabhotels
ClearTrip
MakeMyTrip
Treebo Hotels - Challenges
Sidharth Gupta (Co-founder) believes that only three things have a competitive advantage; network business, proprietary assets, and execution DNA of the organization. According to him, failure is a reward, and unless a person fails, he does not learn. Sidharth says, "There is a lot to be done, and several things have yet to be improved. But it gives me great satisfaction that the entire Treebo team works the whole day relentlessly to answer a straightforward question-how do you put dignity back into budget travel? "
Closure
We saw the journey of Treebo from when it was established in 2015 to becoming a huge success at present. Challenges are meant to be faced, but the real success is for those who fight their failures and still manage to stand with their head up. Treebo Hotels has marked its name in history by winning the award for the "Best Budget Hotel" in the Lonely Planet Travel and Lifestyle Leadership Awards 2017.