Story of Xerox Machines: Company That Changed the Corporate World
Xerox is a multinational document processing company headquartered in the United States that manufactures and sells various colour and black-and-white printers, multifunction devices, image copiers, automated production printing presses, and associated advisory services and supplies. In 2011, the company generated net sales of $23 billion. This global and multi-faceted corporation began with the audacious act of introducing the recently developed technique of Xeroxography (Greek for dry writing) and redefining the world.
Xerox Story: How it began?
The Haloid Company, a manufacturer and dealer of photographic paper, was founded in 1906. The company acquired the legal rights to xerography, a technique patented by Chester Carlson, in 1947. In 1958, the company was renamed the Haloid Xerox Company, and in 1959, the 914 xerographic copiers were introduced. The method of making photographic copies on white, uncoated paper had been around for a while, but this was the first time it had been used commercially. The product was so successful and well-known that the corporation has continued to fight to keep the trademark Xerox from being a common expression. Finally, in 1961, the company was renamed Xerox Corporation.
Xerox Founder: Chester Carlson
With the invention of the Xerox 914, the first plain paper photocopier using Chester Carlson's Electro-photography (later renamed to xerography) process, the firm rose to fame in 1959. The 914 was so successful that Xerox had almost $60 million in sales by the end of 1961. Other products were later produced about half the size and weight of this, still significant, machine, which printed on hand-fed, a cut-sheet paper that was dragged through the device by one of two gripper bars. It brought Carlson's idea of a copier that could fit on anyone's office desk to fruition. During the 1960s, the company grew, turning some long-suffering investors into millionaires after shepherding the company through the product's lengthy research and development process.
Xerox Story: Developments
The Wilson Center for Research and Technology, a xerography research centre, opened in Webster, New York, in 1960. The 'New York Stock Exchange' listed Xerox common stock (XRX) in 1961, and the Chicago Stock Exchange listed it in 1990. In 1969, a Xerox copier was modified to create the first laser printer. The Xerox 9700 was the first commercially available laser printer as a result of this development. Xerox's laser printing industry grew to be a multibillion-dollar enterprise, and it still exists in our office.
Xerox PARC
The Xerox PARC (Xerox Palo Alto Research Center) research facility opened in 1970. Many modern digital technologies were developed at the site, including the graphical user interface (GUI), laser printing, text editors, and Ethernet. The corporation was resurrected by improving the consistency of its design and realigning its product portfolio. Xerox gained a technological advantage over its rivals once again with the development of automated photocopiers and a revamp of the entire product range—high-end laser printers with attached scanners known as Multi-Function Machines, or simply MFMs. The machines could be connected to computer networks— Xerox sought to turn the inventory into service, offering businesses a full paper service that included supply, maintenance, setup, and customer assistance.
Xerox Story in the 21st Century
Anne Mulcahy, who became Xerox's first female chief executive in 2001 and chairperson the following year, was responsible for most of the company's 21st-century developments. Mulcahy chose Ursula Burns, the company's president, to succeed her when she retired in 2009. Burns' hiring marked the first time an African American woman led a Fortune 500 corporation and the first time a female CEO succeeded a male chief executive.
Recognitions
Xerox received the 2003 IEEE Corporate Innovation Recognition award, which is given by the Institute of Electrical and Electronics Engineers, Inc. to industrial, governmental, academic, or corporate entities for the creation of outstanding products or concepts that advance electrotechnology. The award was given for its DocuTech product line, which incorporated copier and computer resources to allow for the digital transfer and storing of documents for print in a single unit, resulting in the birth of the print-on-demand (POD) industry. In 2006, Xerox filed a patent for photosensitive "erasable paper," which created prints of photographs that only lasted a day, allowing for continuous paper reuse. In addition, global Imaging Systems (GIS), a hardware distribution and services provider, were purchased by the company in 2007. The National Medal of Technology was presented to Xerox the same year, the highest honour bestowed by the president on the country's leading innovators.
The Downfall
Burns took over when Xerox saw sales declines, and she set out to change the business. To that end, she supervised Xerox's purchase of Affiliated Computer Services (ACS), a provider of enterprise consulting services, in 2010. The deal represented an increasing trend among technology firms to emphasize services rather than merchandise. However, this and other moves failed to save Xerox from losing money. It split off ACS and other utility assets in 2017 to form Conduent, an independent corporation. In the same year, Jeff Jacobson took over as CEO from Burns.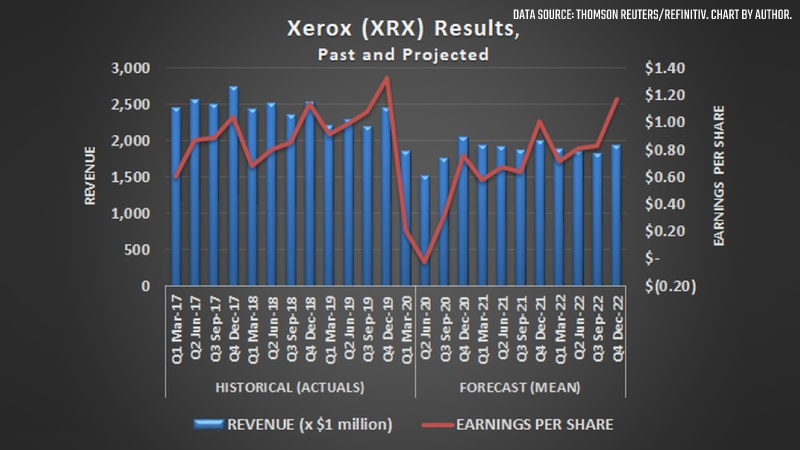 Acquisitions and Failures
In January 2018, Xerox revealed that it would be purchased by Fujifilm in a transaction worth more than $6 billion, despite its continuing downturn in the electronics sector. The two firms had a long-standing trading partnership, having formed Fuji Xerox as a joint venture in 1962. The newly formed corporation was supposed to keep its identity and operate as a Fujifilm subsidiary. However, Carl Icahn and Darwin Deason, two of Xerox's largest owners, were also opposed to the potential acquisition, believing that Xerox had been undervalued in the transaction. They filed a lawsuit, and Xerox declared in May that the merger would be scrapped. Several personnel changes were also revealed, including Jacobson's resignation as CEO.
Services and products
Scanners, printers, and multifunction devices that scan, print, copy, send, and fax is among the products that Xerox produces and offers. WorkCentre, Phaser, and ColorQube are among these model families. In addition, the Xerox product range comprises high-volume optical printing presses, output printers, and large format printers that use xerographic and inkjet printing technologies for the visual communications and industrial print industries. The iGen, Nuvera, DocuPrint, and Impika series, as well as the Trevor, iPrint, and Rialto (inkjet) machines, are among the company's offerings.
Xerox Story: Organizational structure
Despite becoming a global brand, Xerox has a joint venture, Fuji Xerox, with Fuji Photo Film Co. of Japan to develop, manufacture, and distribute in the Asia-Pacific region. Fuji Photo Film Co actually holds 75% of its shares, making it the largest shareholder. Xerox India, previously Modi Xerox, is a Xerox subsidiary based in India. It was established in 1983 as a joint venture between Dr Bhupendra Kumar Modi and Rank Xerox. In 1999, Xerox bought a controlling interest in the company to buy out the remaining owners. Newfield, IT is a wholly-owned Xerox subsidiary that integrates and maintains third-party MPS applications. Under the tag "Xerox Ducati," Xerox currently sponsors the Factory Ducati Team in the World Superbike Championship.
At Present
Today, Xerox is the world's leading provider of document-related equipment, with operations in the United States, Europe, Asia, Australia, and the Southeast Pacific Rim. It isn't just the equipment, though. The Xerox research team is primarily responsible for a significant amount of personal computer advancement. They created features that a corporation like Apple Inc. was willing to purchase and implement.