All about Pay per Click Marketing: Are PPC Ads Worth it?
Pay-per-click (PPC) advertising is a sophisticated digital marketing channel & provides an excellent chance for digital marketers to increase their traffic and conversion metrics. However, without a well-thought-out plan and prudent approaches, pay-per-click can bring enormous issues. To further explain PPC marketing, here, in this article, we shall answer all your doubts.
PPC Marketing: Introduction
Pay-per-click marketing, or PPC, is a type of internet advertising in which marketers pay when consumers click on their advertisements. Advertisers bid on the perceived worth of a click-based on the keywords, platforms, and audience type from which it was generated. PPC is used to achieve a variety of campaign objectives, including:
Improving Sales
Creating leads
Increasing brand awareness
Explanation
At every given time, users are looking for certain products, services, and information. Advertisers may present a tailored ad at the exact moment this search is taking place. Relevance is everything in PPC. For example, if a user searches for "White Sneakers," an advertiser can display an ad speaking in that language.
PPC Marketing: Advantages
There are compelling reasons for both small and large enterprises to use PPC. Once you've figured out how PPC works and how to create efficient advertising campaigns, you can look at the benefits of PPC and how to optimize them. Aside from choosing how much you want to spend and only paying when you have a visitor to your site, here are some more advantages of PPC.
Easy to Track Businesses should always have one or two objectives in mind. Your initial purpose might be as easy as attracting potential clients to your website. Perhaps you provide a service, and the goal of your advertisement is to persuade individuals to fill out forms to join up for your company's services.
Example: Google Analytics, for example, can assist you in tracking your objectives. See how your ad is functioning in real-time and decide what needs to be done to achieve your goals more efficiently.
High Exposure You can increase the exposure of your website and get your brand out there faster. Platforms often accept advertising on the same day, resulting in maximum visibility nearly instantly. This may be a text ad found through a Google search, an image ad found on Instagram, or even a video found on YouTube. Using many platforms in various formats might help your business get attention.
Reach Target Audience Using a service like Google Ads, you may rapidly and efficiently reach your target demographic. PPC will assist you in targeting the precise audience that you wish to attract. You may even target individuals based on their habits and interests; social media sites like Facebook can help you get your ad in front of the people who are most inclined to buy.
Target Audience: PPC can reach out to males in their late twenties who live in Boston and earn roughly $75,000 per year.
Experimenting Pay-per-click allows you to eliminate any components of your campaign that aren't functioning in your favor. If you're debating between two distinct CTAs, for example, you may test each of them against other advertisements to determine which works best over a given period of time. This is true whether it's your CTA headline, Meta description, or landing page.
PPC Helps New Players: Low Domain Websites These days, keywords are pretty competitive! That implies that if a company lacks domain authority, it will find it more challenging to reach its target audience or rank at the top of search results. Because there are so many adverts nowadays, organic search results display in the center of the page rather than at the top. This is because many firms utilize PPC to acquire visibility that they would not have otherwise.
PPC is essentially a shortcut to the top of your pool of rivals. If you do well, PPC will become an essential element of your inbound marketing tactics.
PPC Marketing: Best Marketplaces
Google, Bing, Yahoo, and other well-known platforms employ PPC advertisements. For simplicity, we'll concentrate on the two most notable programs: Google and Microsoft Advertising.
1. Google Adwords
Most people have heard someone exclaim, "Hold on, let me Google it!" at some time in their lives. That very much points to the fact that Google searches are unrivaled in popularity among search engines. As a result, the prices for sponsored ads are greater.
How it Works: Advertisers bid on Google to have their ad shown, their services offered, a product mentioned, or promote a video. Google now allows you to place advertising on mobile applications, movies, and non-search websites (search partners).
High Search: Google Ads is the most popular pay-per-click platform. Google handles around 40,000 search queries every second. This statistic indicates a high likelihood that your ad will be noticed by your target demographic, perhaps resulting in a customer or profit. Google Ads is ideal for both Fortune 500 corporations and small enterprises.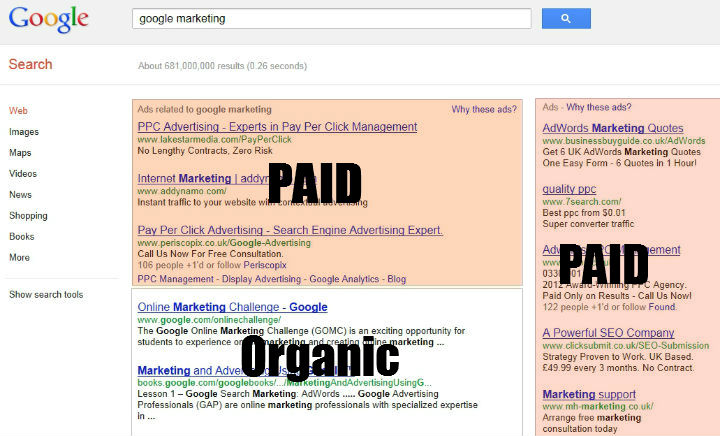 Microsoft Advertising
Microsoft Advertising has a distinct range of users that access it via platforms such as Bing. Every month, Bing is responsible for 37.7 percent of desktop searches in the United States and around 15 billion searches globally. You might be shocked to learn that Microsoft search networks may connect you to around 46.5 million searchers who are not available via Google.
Ad Partners: Microsoft Advertising partner sites also include Windows 10, Microsoft Office, Cortana, third-party platforms, Siri online results, Spotlight Search, and many more.
You may also tailor your adverts to different times and days of the week, different geographic locations, and other demographics.
PPC Marketing: Tools to Use
With PPC advertisements, several variables must be tracked. Specific PPC tools and resources may help make the process go more smoothly before, during, and after the fact. You may use the platform to monitor adverts, create well-organized spreadsheets, and more.
Ensure you choose tools and software that provide tracking, scheduling, reporting, multi-user support, ad grading, and ad management.
Google Keywords Planner
SEMRUSH
Uber Suggest
Google Ads Editor
Ninja Cat
HubSpot
Word Stream
Google Analytics
PPC Marketing: Hiring an Expert
So, this was all about PPC marketing. Remember, paid advertising is indeed helpful, but a minor mistake might bring blunders. Therefore, it is recommended to hire an expert, like SEOYug.
Paid advertising enables you to stand out in competitive marketplaces. You can attract consumers who are unaware that your organization exists. You may boost marketing campaigns, increase your ranking on difficult search words, and even raise public knowledge of your business.