6 E-Commerce Strategies to Improve Conversion Rates
Shopping cart abandonment or dropping conversion rates on the checkout page is the biggest concern of a website owner or online marketing platform. It is a bitter truth that every customer that lands on the website won't turn up.
Most people add items to their cart and leave them without completing the purchase. There are plenty of reasons for the abandonment, but the most common is the problem of the checkout page.
If you can boost your checkout process by 10% – 15%, it will improve your return on investment.
What is the Average Checkout Abandonment Rate?
Based on research conducted by 'Baymard Institute', the average cart abandonment rate is 69.80%, which's incredibly high. It means more than half the customers add items to their cart and abandon it. Improving this percentage would increase the sales and reduce the cart abandonment rate.
Let's study this with reasons and a chart: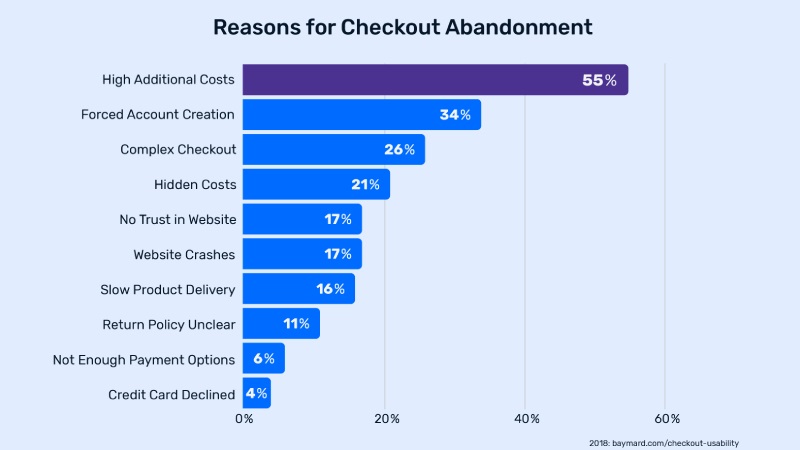 Baymard Institute gives the following reasons for the abandonment of carts by customers:
A. Extra costs on shipping, taxes, and fees
B. Having to create an account
C. Complex checkout
D. Trust issues with the website
E. Hidden costs
F. Slow delivery time
But, it doesn't have to be this way. Shoppers want to make an informed and confident decision while buying something online. With some simple steps, you can start optimizing your checkout process to improve conversion rates and reduce abandonment.
"Great companies start because the founders want to change the world, not make a fast buck". - Guy Kawasaki
6 Steps to Improve Conversion Rates
Giving distraction-free payment page User interface plays a significant role in conversion rates. If you want customers to turn up, the first step is to create a distraction-free payment page. Consider removing every link present on that page, which takes them to a different page.
For instance, imagine someone purchasing items on an e-commerce platform, and on the payment page, he sees a blog that excites him, and he leaves the payment process to read the post. This strategy might be useful in pages other than payment because it keeps the user engaged.
Removing additional costs This is the place where most shopping carts get abandoned. Time and time again, consumers abandon their shopping carts because of extra costs like shipping costs, local taxes, and many more. Customers assume the time they see a product with its price. They continue to take that as the final price.
Extras that appear after an item is added to the cart are very painful to the customers. Shipping costs are also likely to cause cart abandonment. Here are few points which might be useful, such as:

Provide free shipping
Offer free shipping when the customer spends $x
Use promo codes

Reports suggest that offering free shipping leads to significantly more sales.
Use FOMO strategy Consumers are more likely to get attracted to limited-time deals. Fear OF Missing Out (FOMO) marketing strategy is beneficial, and many people come across this kind of situation. Consumers have the fear to miss a deal if they don't grab it by time.
It's a jaw-dropping idea to Include a countdown timer on top of a deal, which shows exactly how much time is left before the deal ends, will do the thing for you. Amazon and Flipkart have excelled in making use of this strategy by showing a limited supply of goods, and it triggers the customers, resulting in higher conversion rates.
Use credit card logos and security seals Let shoppers know that you have a secure and trusted business. It means customers often look for verified websites on which they can put their personal information.
There are many ways to display these trust signs on your website. The best way to encourage the consumers to complete their payment is by showing them security seals like Verisign or BizRate on the payment page.
Also, adding a trust badge from companies like 'Norton' or 'McAfee' will enhance the website. Consumers tend to go towards a place and purchase if they see a trusted certificate from a reputed brand.
Honest reviews play a major role in making a consumer turn up. Consumers like to see what others think or have faced when they bought the goods. Placing these reviews on the payment page will give new customers evidence of authenticity.
Let create an account after checking out It's annoying to see a pop-up dialogue that says to create an account to proceed further. Often, merchants might lose a deal if the buyer is not interested in creating an account at the time of checkout.
As an option, the merchant can provide a way out by which the buyer can purchase the product without losing the deal, and, later on, he can create an account, if interested, and can link the previous purchase.
If the buyer is interested in making an order with you, he will make an effort to register himself with the merchant.
Being customer-supportive Being an e-commerce giant is never easy as clients have a business to do 24/7. They might have an issue, product question, or anything at any given point in time. So, addressing them and clearing their worries all hours is essential for a high conversion rate.
Tip: It is never possible for you to be online 24/7, so including FAQs, self-help resources, or chatbots might assist the clients if they run into any issue while checking out.
Summing Up
As you can see, there are scores of effective ways to optimize checkout pages that can help improve your conversion rates. Start optimizing by using these simple tips and keep an eye on the progress of sales. See which strategy works for your digital marketing business. Using SEO tools also might help increase the traffic that might boost the sales as well.
It takes time to build a business and, it takes even more before it gets going smoothly.