Bangalore-based HealthifyMe is Helping Millions through Health Help
HealthifyMe is an Indian digital health and fitness platform that allows users to track health related factors, such as, diet, calories, & nutrition. It allows its users to have one-on-one fitness coaching by planning their workout routine. The app is available for both Android and iOS users. Having a healthy and fit body is something that everyone wants. But it is not easy to achieve your fitness goals. It is where this unique startup enters. Let's get to know the journey of this Health-tech app that is helping millions of people to reach their fitness goals.
Fun Fact : HealthifyMe offers premium subscriptions to their users that help them in choosing certified trainers, nutritionists, & yoga coaches.
HealthifyMe Startup – Key Points
Startup Name - HealthifyMe
Headquarters - Bangalore, Karnataka, India
Founded - 2012
Founders – Tushar Vashist, Mathew Cherian, Sachin Shenoy
Sector - Health and Wellness
Area Served - Worldwide
Revenue - INR 182 crores (As of March 2021)
Parent Organization - HealthifyMe Wellness Private Limited
Website - www.healthifyme.com
HealthifyMe Startup Story – Founders
Tushar Vashist Tushar is a graduate of the University of Pennsylvania and worked as an Investment banker. He also worked for the Government of India for almost two years. Tushar is the CEO of the company and a passionate musician by hobby.
Sachin Shenoy Sachin Shenoy is a coder by profession and an ex-employee of Google. He has experience of over fifteen years and, he is currently the CTO of the company.
Mathew Cherian Mathew Cherian left the company in 2013 (soon after its incorporation).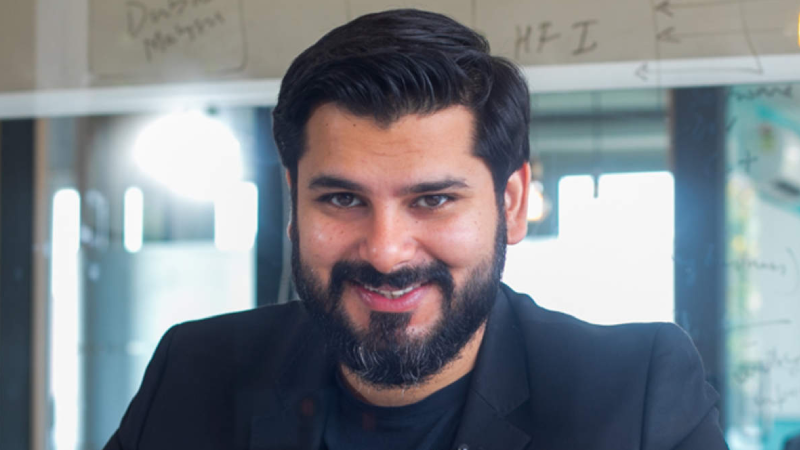 HealthifyMe – Founders
HealthifyMe Story – Logo and Brand Name
Brand Name: HealthifyMe's brand name resonates with their work and, they do what they are signifying.
Logo: Their brand logo is in red color that explains passion, energy, and desire.
HealthifyMe Startup – Products and Services
The services provided by the app are as follows:
Lifestyle Tracker - This is one of the first calorie trackers in India. It helps their users to count the calories and lose them accordingly.
Social Feed - This allows the users to find people having the same fitness goals as them. You can train together if you want to or, you can discuss your issues.
Tech Augmented Coaching - This is the most innovative thing on the app, as it combines human trainers and artificial intelligence. Their AI named Ria (Artificial fitness coach) can handle almost 77% of the questions and, the rest will be taken care of by the nutritionists and trainers.
HealthifySense - The Company also launched a mental health segment for its users in 2020. It allows its users to connect with qualified counselors through its platform.
HealthifySmart Legends Edition - The company ties up with various sports legends to give workout, diet, etc., tips to its users. They recently partnered with tennis player Mahesh Bhupati as a Strategic Advisor for their app.
HealthifyMe Success Story - Business and Revenue Model
HealthifyMe has a B2C and B2B2C business model. They offer various subscription plans to their users. They all range from INR 999 to INR 1699 per month, depending upon the features you want.
Growth Reports:
More than 80% of their revenue comes from the B2C model.
The rest comes from the B2B2C model by selling their services via healthcare institutions and corporate.
HealthifyMe has seen a growth of three times in the last financial year
It surpassed revenue of INR 100 crores last year.
The company entered Singapore, Brunei, and Malaysia and saw a turnover of $1 million in less than a year in the Southeast Asian Market.
They have also entered the Gulf counties and are already in the top three apps in UAE.
The app has over 250 nutritionists and trainers on the platform and, each of them can handle around 250 customers with the help of Ria (AI).
HealthifyMe Startup - Funding, and Investors
The company managed to rise a funding of $100 million in a total of 8 rounds of funding. Some of its investors and money raised are as follows:
$134,238 - Non-Equity assistance, by Microsoft Accelerator Bangalore, 2013
Not disclosed - Venture Round, by Microsoft Accelerator, 2014
Not disclosed - Seed Round, by Gopal Srinivasan, Roopa Nath, Sashi Reddi, Pallav Nadhani, and Amit Gupta, 2015
$6 million - Series A, Blume Ventures, Chiratae Ventures, Inventus Capital & NB Ventures, 2016
$1 million - Series A, Neelesh Bhatnagar, 2016
$12 million - Series B, Sistema Asia Capital, 2018
$6 million - Series B, InnoVen Capital, 2018
$75 million - Series C, Leapfrog, Vinod Khosla, Health Quad, Elm, Unilever, Investus Capital & Chiratae Ventures, 2021
HealthifyMe Startup Story – Revenue
The user base of the company has doubled from the last financial year. They now have a user base of 25 million and, they are planning to add millions of new users this year. The revenue is more than INR 100 crores that got fueled by their international expansions and AI-enabled plans.
HealthifyMe Story – Partnerships
HealthifyMe has partnered with various hospitals, food apps, grocery apps, booking apps, etc., to provide all kinds of facilities to its customer on one platform. Some of its partnerships that are helpful for the users are as follows:
Medanta
Apollo Hospitals
Manipal Hospitals
Swiggy
Milkbasket
Fitternity
HealthifyMe Startup Story – Awards and Achievements
Some of the awards and achievements of the company are as follows:
Google Play Top Developer Badge - 2015
Best Apps of 2015 - 2015
Made in India feature on App Store - 2015
Best Apps on the Google Play Store (Health & Fitness Category) - 2016
Editor's Choice award (Health & Fitness category) - 2017
Best Apps of the Year - 2017
HealthifyMe Story - Competitors
Competition is in every field and, it is impossible to hide from it. Some of the competitors of the company are as follows:
WebMD Health
Credit
Weight Watchers International
GOQii
Google Fit
Apple Health
HealthifyMe Startup – Challenges
Some of the challenges of the company are:
Competitors - Competitors are one of the biggest challenges for the company. They already have a lot of players in the market who are performing equally well. HealthifyMe will soon have to come with various new features to beat its competitors and gain more users.
Lethargy - This might not be a physical challenge for the company. But tackling lazy people who hate exercising could be an issue. The company must also run some campaigns and advertisements to raise health awareness amongst all age groups.
HealthifyMe Story – Future Plans
Some of the upcoming plans of HealthifyMe are as follows:
Expanding to new territories.
Giving Ria (AI) more capabilities.
To become go-to fitness and health service provider.
By providing more access to its users in terms of fitness and nutrition tips.
To cross $50 million in terms of revenue in the next financial year.
Aiming a turnover of $400 million in next three years.
HealthifyMe – Best Stay Fit App
HealthifyMe is currently one of the best apps to help you stay physically and mentally fit. It is for all those people who are fitness enthusiasts and also who think fitness is not their cup of tea. The easy access of this app to various facilities does 50% of the job. Users have to gear themselves up and start using this app to stay fit and healthy.