Food Startup Licious - Successfully Cracking the Non-Veg Way
Licious is a Bangalore-based company that offers a varied range of non-vegetarian for its customers and has been a boon for all meat lovers. If you are a non-veg lover, you are surely going to love the idea of this company. They deliver fresh meat, chicken, fish, seafood to your doorsteps within few hours. The startup was founded by Abhay and Vivek who came with the idea to organize this market with the concept of - India deserves better meat. Today, the write up will put forward the Licious startup story to understand its business model & other important aspects.
Fun Fact: Almost 95% of the meat industry is unorganized, full of unhygienic markets, stench, and filthy.
Licious Startup Idea – Indian Deserves Better Meat
A lot of people believe that India has a maximum population of vegetarian people. But it's wrong. In India, more than 73% of the people are non-vegetarian who eat meat, seafood, etc. The idea behind this company is to organize the non-vegetarian industry of the country.
The founders wanted to bring a change in this industry, making it hassle-free for the customers.
Licious Startup – Key Points
Start-up Name - Licious
Headquarters - Bangalore
Founded - September 2015
Industry - E-commerce and Food Beverages
Founders - Vivek Gupta and Abhay Hanjura
Revenue - 133 million-plus
Total Funding - $286.5 million
Website - licious.com
Licious Startup – Founders and Team
Licious got founded by Vivek Gupta and Abhay Hanjura.
Vivek Gupta :

Vivek Gupta is a Chartered Accountant by profession and completed his B.Com from Punjab University. He worked as a Corporate Finance Manager for Tavant Technologies and as a Finance Controller for Helion Ventures before founding this company.

Abhay Hanjura :

Abhay Hanjura started working as a Deputy Manager at India Insure Risk Management Services. He also worked as a head of Business Intelligence for Futurisk Insurance Broking Pvt. Ltd. Abhay worked as a campus ambassador of Infosys.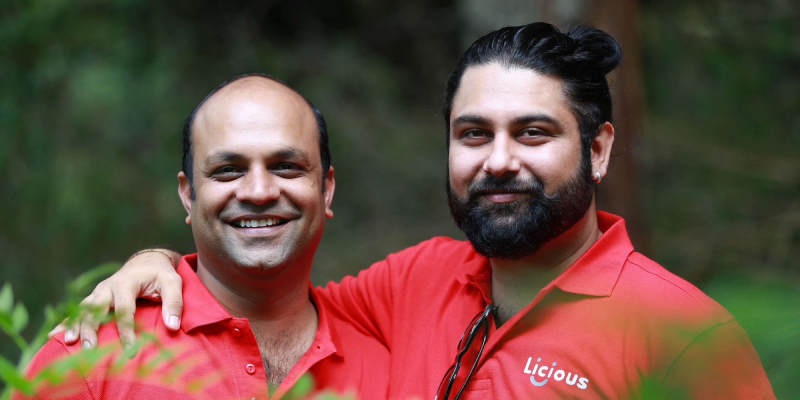 Licious Startup – Founders
Licious Startup Business Model - Farm to Fork
Licious works on the farm to fork business model. They handle the entire chain, from owning the back-end supply chain and the cold storage to managing all the deliveries. They procure, store, and deliver it to their customers. The company has over 4000 supplies and claims to handle more than a million orders per month. They deliver within 90 to 120 minutes and, the customers can also book their slots for delivery.
They keep a check on the freshness and quality of their products as customer loyalty is their prime focus.
Licious Startup Growth - 500% in One Year
Licious has seen business growth of 500% in the past year. Almost all the products saw a significant hike in their sale. The ready-to-eat and ready-to-cook categories contributed a lot to the revenue of the company.
90% of their customers went for a re-order.
Basket size also grew by 30%.
They have added two million new and unique customers.
They have catered to a large customer base in the last few months.
The lockdown months have also been fruitful for the company as it made all the customers shift here.
The average price of the products is INR 700.
The company collected revenue of INR 1.47 crores in the first year.
In the financial year 2019-20, the gross income of Licious rose to INR 180 crores.
Licious Startup Story – Funding and Investors
Licious rose a funding of USD 286.5 million to date. Some of its investors are as follows:
) Series F Round - $192 million, Multiples Alternate Asset Management, Vertex Ventures, Brunei Investment Agency, In 2021
) Series E Round - $30 million, Vertex Growth Fund, Nichirei Corp, 3one4 Capital, Vertex Ventures Southeast Asia and India, Bertelsmann India Investments, Sistema Asia Fund, In 2019
) Series D Round - $25 million, Nichirin, Bertelsmann India Investment, 3one4 Capital, UCLA, Vertex Ventures Southeast Asia and India, Sistema Asia Fund, In 2018
) Series C Round - $25 million, Bertelsmann India Investment, UCLA, Vertex Ventures Southeast Asia and India, Sistema Asia Fund, InnoVen Capital, In 2018
) Series B Round - $10 million, 3one4 Capital, Neoplux technology Fund, Mayfield Fund Sistema Asia Fund, In 2017
) Series A Round - $3.5 million, Mayfield Fund, 3one4 Capital, In 2016
) Seed Round - $1million, T.V Mohandas Pai, Entrepreneur Kanwaljit Singh, Manipal Global Education Private Services, In 2015
Licious Starup – Benefit from Pandemic Situation
Contrary to what the pandemic has done to most companies (especially start-ups), Licious has benefited from this pandemic. All the shops got shut due to the lockdown. Most customers had to shift to this online alternative and Licious delivered fresh meat and seafood to the doorsteps of its customers.
Licious Story – Competitors
There's competition in every field. However, Licious is one of the first entrants in this industry; it still has a lot of competitors. Some of the competitors of the company are as follows:
FreshToHome
ZappFresh
TenderCuts
EasyMeat.
Licious Startup Challenges
No matter what you do, you will have to face challenges at every step. Some of the challenges faced by the company are as follows:
) Competitors - Competitors are in every sector and, this is why customers get a benefit. Licious also has a few customers who are ready to give this company competition in the coming year. Licious will soon have to come up with a proper plan to overcome this challenge.
) Local Vendors - Many people in the country still prefer the traditional way of buying non-vegetarian items. They have a belief that buying these things online will not match the quality. It is why street vendors are competing with the company. Licious will have to come up with new strategies and marketing plans to attract their offline customers.
Licious Story – Future Plan
Licious has seen significant growth in the past two years. They currently operate across 14 cities all over the country, namely, Bangalore, Delhi, NCR, Hyderabad, Kochi, Kolkata, Chennai, Chandigarh, Pune, Mumbai, Jaipur, Coimbatore, etc. They are planning to expand to ten plus cities and also a global expansion.
Licious Startup – Pioneer Meat Marketers
Licious is one of the first entrants in this sector and, it is getting the benefit of that. The company is working hard to deliver the best quality products to its customers. The best part is that they have good reviews and, most of their customers go for a repurchase. Licious has outperformed itself and, the company is only going to grow in the coming future.