Discord - Gaming Chat Startup Hits $7 Billion Market Valuation after Funding
Discord is a community-building platform publicly released in May 2015 that combines VoIP, instant chat, and digital distribution. The firm connects users in private conversations or as part of "servers" via voice calls, video calls, text messaging, media, and files when playing video games. Discord began as gaming chat software and has since grown in popularity. However, users began to find non-gaming uses for the platform, prompting Discord to make a few adjustments.
Discord is compatible with Windows, Mac OS X, Android, iOS, Linux, and web browsers. Discord's open-Bot friendly ecosystem is one of the most critical differentiators that make it the go-to software for video games.
Fun Fact: Discord secured $20 million funding in January 2016 from Warner Media.
Discord Startup – Key Stats
Startup Name - Discord
Developer - Discord Inc.
Headquarters - San Francisco, CA
Industry - Social Media, Gaming
Founded - May 13, 2015
Founders - Jason Citron and Stan Vishnevskiy
CEO - Jason Citron
Area Served - Worldwide
Website - www.discord.com
Discord Startup – Features & Working
Screen Sharing: You can converse, view videos, and, of course, play games via the screen share feature of Discord. You can also participate in voice conversations.
Inline responses: Users can reply to someone straight on their text channel by hitting a message. This improves conversation flow, and firms that wish to react to consumers inquiries would profit from it.
Noise Cancellation - When you're speaking with someone, do you ever hear those awful chewing sounds in the background? With the most recent update, that's no longer the case. This functionality may be found in the voice channel.
Transparency: Discord allows community users to view your server's rules before joining.
Note: In 2018, Microsoft announced that Xbox Live users could link their Discord and Xbox Live accounts, allowing them to communicate with their Xbox Live friends list through Discord.
Discord Startup - Beginning of Idea
Stan Vishnevskiy and Jason Citron came up with the idea for Discord. Initially, they only sought a means to communicate with other gamers. However, Discord has over 100 million monthly active users, and it shows no signs of slowing down. Citron states:
"He saw how tough it was for his team to work out techniques in games like Final Fantasy XIV and League of Legends using accessible voice over IP (VoIP) technologies throughout the development process".
As a result, a chat service emphasizing user interface and minimum performance effect were created.
Discord Startup - Founders
Discord, founded in May 2015 by Jason Citron and Stan Vishnevskiy, is still the most popular software for gamers to communicate.
Jason Citron : Jason Citron also founded OpenFeint, a social, mobile game platform. It was sold for US$104 million in 2011, which he used to establish Hammer & Chisel, a game production firm in 2012.
Stanislav Vishnevsky : Stanislav Vishnevsky had also founded Guildwork, another social gaming platform.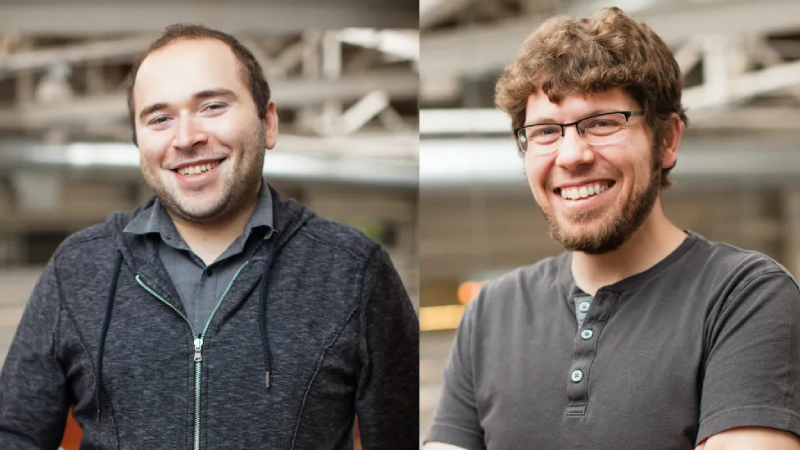 Discord Startup - Founders
Discord Startup Target Audience – Reddit Gaming Groups
Discord took no particular steps to target any one demographic, but certain gaming-related subreddit groups rapidly began to replace their IRC links with Discord links. Discord has become popular among E-sports and LAN tournament players. Relationships with Twitch streams and Diablo and World of Warcraft Reddit groups benefitted the firm. The possibilities are almost limitless, from huge business meetings to job recruiting, from live karaoke nights to virtual wedding celebrations. The services offered by their platform are increasingly attracting more consumers outside of the gaming sector.
Discord Startup – Logo & Tagline
Tagline – "Your Place to Talk"
Mission : Discord stated in June 2020 that it would move its focus away from video games and toward a more all-purpose communication and chat client for all purposes, with a new motto, "Your place to talk", and a redesigned website.
Logo : The most common perception of Discord's logo is that it resembles a game controller with a face. But according to its Twitter account, it's actually a lovely Bot named Clyde
Discord Startup – Funding & Investors
Discord was started back in 2015 as a gaming bot startup and has received funding from 18+ investors in over 10 rounds. With a total investment inflow of $479.3 million, Discord secured its latest funding in December 2020 by Index Ventures & Greenoaks Capital. Here are the complete investment details about the startup:
| | | | |
| --- | --- | --- | --- |
| Year | Investors | Round | Funding Amount |
| 2020 | Greenoaks Capital | Series H | $100M |
| 2020 | - | Secondary Market | - |
| 2020 | Index Ventures | Series G | $100M |
| 2018 | Greemoaks Capital | Series F | $150M |
| 2018 | - | Series E | $50M |
| 2017 | Index Ventures | Series D | $50M |
| 2016 | Greylock, Spark Capital | Series C | $20M |
| 2015 | 9+ Program, Benchmark, Tencent | Series B | - |
| 2013 | Benchmark | Series A | $8.2M |
| 2012 | - | Seed Round | $1.1M |
Discord Startup Business Model - $10 Premium Service
Advertisements and the sale of user data are not authorized on Discord. It has relied on financing money until recently, and it has no plans to charge customers to use the app in the future. Discord's Basic service is available for free. However, you can upgrade to Nitro for $10 a month, which includes additional features like unique emoticons, higher-quality video for streaming gaming screens, and bigger file-upload limits.
Discord Startup – Revenue & Profit
Discord has more than 140 million monthly active users and 300 million registered members. Nitro, Discord's premium upgrade bundle, accounts for nearly all of the company's revenue.
In 2020, Discord made $130 million in sales, up 188% from the previous year.
Amazing Fact: Discord is valued at over $7 billion in 2021, doubling in value in less than a year.
Discord Startup – Mergers & Acquisitions
| | |
| --- | --- |
| DATE | ACQUIRED |
| Nov 2018 | Blitz App (Personal Gaming Advisor) |
| June 2021 | Ubiqquity6 (Augmented Reality Startup, 2017) |
Discord Startup Challenges – Spam & Bully Users
One of Discord's most important challenges is that it provides users with anonymity, allowing them to engage in "anything goes" behavior. Technically, anyone from anywhere may build "servers," which are essentially chat rooms. Unfortunately, young audiences may be exposed to explicit content or be bullied as a result of this.
Steps Taken: Discord has already suspended over 133,000 accounts due to spam content such as indecent images posted without permission or two minors trading personal photos.
Discord Startup – Partnerships with Giants
Discord has a high potential to help companies and the community flourish. Several brands have found success using Discord. Some instances are as follows:
Adobe's Discord community & users can obtain feedback, ask questions, and discover commissions
Newegg has a Discord channel where you can find new deals and receive answers to your questions.
Stream Labs, a company that makes streaming software and solutions, also has a Discord account. Its Discord servers include lessons, general conversation, and a variety of other features.
Discord Startup - Competitors
Discord started as a gaming chatbot but has grown exponentially now. The firm has market competition from the following companies:
Microsoft Teams
Skype
Hangouts Chat
TeamSpeak
Telegram
Viber
Steam Chat
HeySpace
Rocket.Chat
Slack
Discord Startup Future Plans – Making an All-Rounder Platform
Discord promises to advance and improve its services by adding features such as guided bots, meme bots, bots that gather player information, and more, making it an entertaining platform for users to engage on. Only the founding team's in-depth understanding of the gamers' psyche and insight into industry trends allowed this to happen.