Bank Bazaar Startup – Helping India Achieve Financial Freedom Easily
BankBazaar is a dynamic online marketplace based in Chennai that aims to raise financial knowledge among Indian customers by providing quick and personalized prices on a wide range of financial instruments available in the Indian financial market. The company was founded by Adhil Shetty, Arjun Shetty, and Rati Shetty in 2008 as a long-awaited remedy to the rigged Indian banking system. It has carved out a niche for itself in the fin-tech industry over the years.
Bank Bazaar Startup - Key points
Company name: BankBazaar
Headquarter : Chennai - Tamil Nadu (India)
Founders: Rati Shetty, Arjun Shetty, Adhil Shetty
Sector: Fintech
Founded: 2008
Parent: A & A Dukaan Financial Services
Website: www.bankbazaar.com
Bank Bazaar Startup – India's Financial Products Marketplace
Bank Bazaar aims at providing customers' with awareness as to what goes in the financial markets. It is the first online platform that gives consumers instant quotes on loans, credit cards, insurance products and mutual funds.
BankBazaar Startup – Features & Strengths
It is easy and convenient which can easily be applied, searched, and compared.
Paper work assistance is provided with guidance
It is easily understood. There is no befuddling finance jargon
Offers and discounts are customized
No charge is applied
Bank Bazaar Startup - Founders
Adhil Shetty Adhil Shetty is the CEO and co- founder of India's one of the biggest startup the Bank Bazaar under A&A Dukaan. It is claimed to be the world's first neutral online platform for customized loans and credit cards. He was born in 1980 in Chennai and now he is the director and CEO of Bank Bazaar. He has a graduation degree in International finance and business. He completed his graduation from Columbia, University of New York.
Arjun Shetty Arjun Shetty is the COO of BankBazaar & holds a master's degree in Operations Research from the Georgia Institute of Technology. He has studied from the college of Engineering in Guindy.
Rati Shetty Rati Shetty is the CPO of BankBazaar. She holds a bachelor degree in Business administration. She pursued her bachelor's from MOP Vaishnav College in Chennai.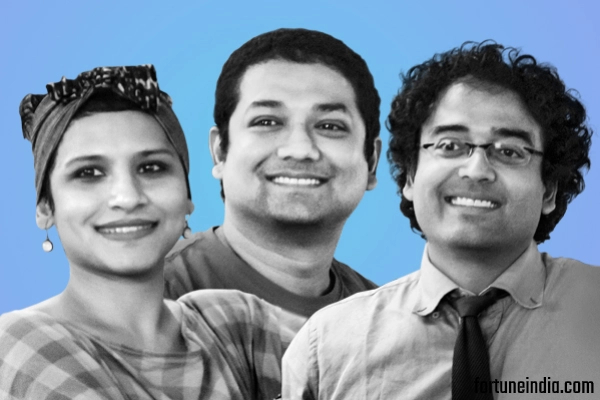 Bank Bazaar Founders - Adhil Shetty, Arjun Shetty, and Rati Shetty
Bank Bazaar Startup - Important Core Team
Iype Isac : Chief Delivery officer
Senthil Arumugam : Head of process Excellence
Sriram V : Chief Human Resource Officer
Murari Sridharan : Chief Technology Officer
Ramesh Shrinivasan : Chief Financial officer
Aparna Mahvesh : Chief Marketing Officer
Bank Bazaar Startup - Funding
Bank Bazaar has raised around $110 million details of which are:
October, 2017 - $30 Million
July, 2015 - $60 Million
January, 2014 - $13 Million
March 2011 - $6 Million
Bank Bazaar Startup – Investors
Sequoia capital
Amazon Mousse partners
Walden International
Fidelity growth partners India
Eight Roads Ventures
Experian
Sequoia
Sequoia India
Eight Roads Ventures
Walden SKT Venture fund
Eight roads Ventures India
GUS Holdings
Iype Isac
Murari Sridharan
Ramesh Srinivasan
WSV
Bank Bazaar Startup - Services
Basic credit information report of the consumers
Enhanced credit Information Report
Equifax Portfolio Review
Equifax Alerts
Equifax Risk Score
Bank Bazaar Startup - Achievements
It has won top honors in the financial Communications Category at PR Awards Asia 2019
It has gained recognition at the India Content leadership awards 2018
Bank Bazaar has also been awarded the 4th Indian Banking reforms conclave & BSFI award for the best Fin-tech Bank Collaboration
Bank Bazaar Story – Competitors
Though Bank Bazaar is one of the finest Indian startups but there are still there are competitors growing to achieve fair share in the market
Competitors of BankBazaar include:
Vera Bank - Financial Services - Private
Bank of the James Financial Group
BIMA
Huntswood
Gullakh
MoneySmart
CoinHako
Bro4u
Bank Bazaar Startup - Challenges
Though it is one of the finest startups still it had to face a lot of challenges. Some of the challenges faced by Bank Bazaar include
A single advisor had to handle multiple customers
Hampered productivity
Business downtime
No ways to recover lost database
Increased amount of call drops
Bank Bazaar Startup – Business Model
BankBazaar works & revolves around the Business Model of providing fast & easy paperless loans. It offers its clients to apply for all types of loans such as personal loan, car loan, home loans, fixed deposits, health insurance, life insurance and car insurance.
Bank Bazaar Startup – Growth & Financial Numbers
BankBazaar's operational revenue was INR 53.92 crore in FY16-17, with total revenues of INR 71.16 crore.
BankBazaar had a revenue of INR 240 crores in FY 17-18.
One of the founders, Adhil, reported in October of the same year that the BankBazaar platform had had close to 23 million visits, a 100 percent increase from October 2016, when the platform had only received close to 11.5 million visitors.
The Startup has a total team of over 1000 people.
169 million unique people visited BankBazaar's website to acquire financial products in 2018.
In 2017, BankBazaar gained close to 15 to 20 new financial institutions to its roster, bringing the total number of financial institutions on board to 85.
In addition, BankBazaar expanded its product offering to include two-wheeler insurance and a free consumer credit score in collaboration with Experian.
BankBazaar - Initiative to Develop India's Banking System Solution
BankBazaar's online credit processing platform aims at providing a solution to India's long awaited banking system. Their dedication towards providing simple, clean and clutter-free product experiences using smart technology with innovations such as paperless transactions and instant approval/disbursal is commendable.