LensKart- The Fastest Growing Eyewear Company in India
Lenskart is a leading Indian optical company that sells a wide range of eyewear, from reading glasses to sunglasses to contact lenses and other accessories. It is now available on both online and offline distribution platforms. It has over 550 stores across the country now. Every month, around 300,000 glasses are manufactured in its Delhi manufacturing facility. It is indeed one of the magical unicorns of India.
Stats and Facts of Lenskart
Legal Name: Lenskart Solutions Private Limited
Parent Company: Valyoo Technologies
Founded: November 2010
Founders: Peyush Bansal, Sumeet Kapahi, and Amit Chaudhary
Type of Company: Privately Held Company
Headquarters: Faridabad, Delhi NCR, India
Number of Employees: 2689
Type of Industry: Prescription EyeWear, E-commerce
Key People: Peyush Bansal (CEO), Amit Chaudhary (COO)
Investors: 15
Total Funding Amount: $554.6 M
Last Funding Type: Secondary Market
Latest Deal Amount: $300 M
Known As: DealsKart Online Services Private Limited
Company Type: Privately Held (backing)
Financing Status: Venture Capital-Backed
Website: www.lenskart.com
The Origin of LensKart
Lenskart was founded by Peyush Bansal along with Amit Chaudhary and Sumeet Kapahi in 2010.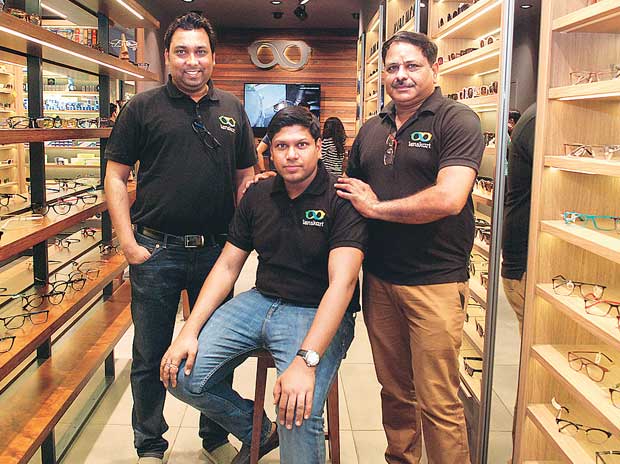 Lenskart Founders - Peyush Bansal, Sumeet Kapahi, Amit Chaudhary
Peyush Bansal: CEO
Ex- Microsoft techie, Peyush founded Valyoo Technologies, which is the parent company of Lenskart, when he was in IIM B. In 2007, the company launched SearchMyCampus as the first business portal. It offered books, part-time work, internship opportunities, carpooling as well as accommodation for the students.
Beginning of Idea
During his exploration of better opportunities, he noticed that the eyewear industry had been highly neglected by famous e-commerce platforms like eBay and Amazon.
Flyrr & Lenskart
In the US, he introduced Flyrr.com and gained success. Finally, he planned even to introduce the platform in the Indian marketplace. Therefore, Lenskart was launched in India in 2010.
They started by selling contact lenses, and then they added eyeglasses after a few months. Further, they extended their collection to sunglasses, which falls under the category of fashion accessory in March 2011.
Features of LensKart
Lenskart has about 5000 different models of frames and glasses and above 45 kinds of high-quality lenses.
The prices are affordable and provide attractive deals and discounts.
It caters to free home delivery with a 14-day replacement guarantee.
It provides a free home eye check-up at your doorstep. Currently, the service is offered in 11 Indian major cities.
An eyewear specialist will also carry 200 best frames along if you book for Home Trial.
It provides facilities to try your glasses online. With the help of your webcam, you can try the eyewear on your face.
It provides eyewear that is appropriate for all age groups.
Detailed specifications of each product are provided on the website.
Both Online Payment and Cash-On-Delivery (COD) options are available.
Mission and Vision of LensKart
The mission statement of LensKart says, "Our mission is to give India a vision." LensKart focused on bringing high-quality, affordable designer glasses to the Indian marketplace.
Also, LensKart aims to bring revolution in the Indian eyewear industry. Its primary target is to decrease the number of visually-defected people in the future. It can be possible by offering high-quality eyewear, which can be done by providing high-quality, inexpensive eyewear to a mass number of people.
Also, the company has taken the initiative to take free eye check-ups at home and is trying to expand its reach in the remote corners of India.
Lenskart: Expansion and Revenue
The revenue of Lenskart increased to 56% to Rs 485.5 Cr in FY19 compared to Rs 310.9 Cr in FY18.
The company's advertisement costs grew 71% from Rs 64.5 crore to Rs 111 crore in FY2020.
Also, it has a factory that produces around 50% of the production in Zhengzhou, China.
The employee compensation of LensKart costs more than doubled, from Rs 83.3 Cr to Rs 167.4 Cr in a year.
It earned Rs 473.7 Cr in FY2019 from India, with the rest Rs 50 Lakh receiving from the US and Singapore markets.
Lenskart Solutions only had two stores in Singapore in FY2019, but by the end of 2021, it is expected that Singapore will be leading the market and earn nearly Rs 217 Cr in revenue.
Lenskart's expenditure on commission paid to the other selling agents grew by 248.2%, or 3.4x, from Rs 56.4 Cr in FY2019 to Rs 196.4 Cr in FY2020.
Lenskart: Funding & Investment Sources
| | | | |
| --- | --- | --- | --- |
| Date | Round | Amount | Lead Investors |
| Dec 20, 2019 | Series G | $275M | SoftBank Vision Fund |
| Sep 16, 2019 | Series F | $55M | Kedaara Capital |
| Aug 7, 2018 | Secondary Market | - | Epiq Capital |
| Jan 9, 2017 | Secondary Market | ₹240M | Unilazer Ventures |
| Sep 6, 2016 | Series E | ₹2B | PremjiInvest |
| May 4, 2016 | Series D | $60.1M | - |
| Jan 2, 2015 | Series C | $21.9M | TPG, TR Capital |
| Dec 1, 2012 | Series B | $10M | - |
| Oct 1, 2011 | Series A | $4M | Chiratae Ventures |
Lenskart: Acquisitions
| | | | |
| --- | --- | --- | --- |
| Date | Organization Name | Round | Amount |
| Oct 13, 2020 | Tango Eye | Seed Round | $500K |
| May 7, 2018 | ThinOptics | Venture Round | $500K |
| Nov 11, 2017 | 6over6 | Series A | $11M |
| Sep 23, 2017 | Ditto | Ditto | $1M |
Business Model of Lenskart
Lenskart follows an inventory-driven business model with a B2C concept acquiring from India and China. Its private designers and stylists maintain the most trending and unique eyewear style. These designs are then provided to the manufacturers, and they keep a check on the total supply chain, which helps keep the costs of the company down.
Also, Lenskart has invested in offline stores through the franchisee business model to reach a wider audience. It has above 50 stores in 30 cities to reach 50 by this year. It expanded its extension across metro and non-metro regions to gain a proper balance.
Currently, Lenskart caters to 4000 people per day and intends to add that number to 200,000 in the future. Around 1000 people work as a team to help in this effort which works in vertical markets like technology, manufacturing, logistics, eye technicians, and customer care. It will be a continuous cycle that will evolve as the company flourishes.
Last Eye: Clear Vision
Lenskart has crossed lots of hurdles and challenges since its inception, and now it highly focuses on setting decisive standards, establishing a better working environment and keeping the excitement of the customer. Already, it had helped to increase a lot of employment, both in the field of manufacturing and retail in India. The company has got a lot of capability to expand its dominance in the upcoming years.