Fresh Startup NimbusPost Grabs Logistic Tech Startup of 2021 Award
NimbusPost wants to create a logistic ecosystem that is tech-based and beneficial for all e-commerce retailers. The company determines to bring all the courier partners (local or national) on a single platform.
The company has set a benchmark for perfect logistics services. They offer 17+ courier options with unmatched benefits such as low shipping rates, early COD settlement, zero subscription cost, and more. They also give access to real-time NDR panel and API integration. In this write up, we will get to know more about this spectacular company.
Fun Fact : The logistics industry in India is expected to grow by $11 billion in the coming 3-4 years.
NimbusPost Startup – Key Points
Startup Name - NimbusPost
Founded - 2018
Founders - Yash Jain and Rajeev Pratap
Headquarters - Gurgaon
Industry - Logistics
Website – www.nimbuspost.com
NimbusPost Startup – Founders and Team
NimbusPost got founded in 2018 by Yash Jain and Rajeev Pratap. Both of them lead the marketing team and clients. The company has more than 200 members and, all of them work together to make a difference. All of them are between 25 – 40 years of age and experts in logistics and technology.
NimbusPost Success Story – Idea Behind the Company
Step 1 – Problem The shipping process for all the e-commerce retailers was a struggle because it depends on third-party courier partners. Online business retailers struggled with issues like delayed delivery, shipping issue, damaged package, etc. They had a dependence on the courier partners for their products and, it often leads to a bad customer experience and a loss to their businesses.
Step 2 – Solution With this startup, the founders determined to bridge the gap between the retailers and the buyers. They will minimize all the losses that the e-commerce retailers had to bear by giving them professional shipping services. The company brought the leading courier partners on a single platform to provide quick and hassle-free shipping services.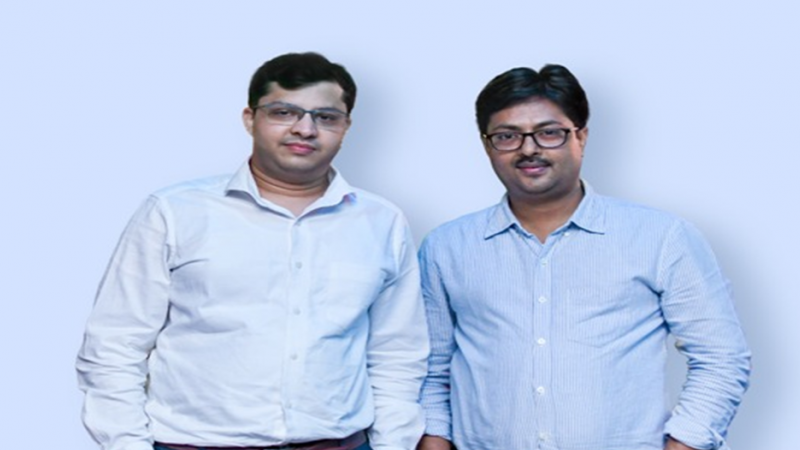 NimbusPost Founders - Yash Jain and Rajeev Pratap
NimbusPost Startup – Brand Name and Logo
Brand Name: The brand name signifies shipping. They wanted to name the company 'Parcel Post' but finally boiled down to the 'nimbus Post.
Logo: The logo of the company is a moving design that signifies smooth shipping.
NimbusPost Startup – Growth Hacks
The company's sole focus is on easing the shipping problems of all the online retailers. They have a seller-centric platform and, with their advanced technology, they are offering free sign-up benefits to their customers with unique features. Some of the growth hacks of the company are as follows:
Tech Front - The firm offers the most advanced technology platform for its clients.
Digital Footprint - They use the 360 of digital marketing space to create the buzz about the company and their etch-enabled platform.
Economical Pricing and Upgraded Services - The organization offers economical pricing to its customers and, they keep upgrading its services according to the need of their clients.
Traditional Marketing Point - Groundwork of the company has been the main factor in increasing their reach. They participated in various exhibitions, webinars, seminars, etc., to leave their footprint in the market.
Alliance Front - NimbusPost has focused a lot on its strategic alliances. It has helped the company to grow with the leaders of the industry.
NimbusPost – Awards and Achievements
Some of the awards won by NimbusPost are as follows:
Recognized for its efforts to provide enhanced logistics solution - By Outlook India, Hindustan Times
Logistics Tech Startup of the Year - By Franchise India
They gained more than 10,000 customers in just one year.
NimbusPost Startup – Competitors
Competition is a part of our life and, we can never dodge this fact. We all have to face a competitor in the market to show our performance. Some of the competitors of the company are as follows:
NimbusPost Startup – Challenges Faced
Some of the challenges faced by the company are as follows;
It was difficult to develop a tech-enabled platform using state-of-the-art tools.
They faced a challenge while enlisting the leading local and national courier partners to get maximum pin codes throughout the country for their sellers.
NimbusPost Startup Story – Partnership
NimbusPost has partnered with many delivery companies such as
Delhivery,
FedEx,
Blue Dart,
Gati,
XpressBees,
DTDC,
Shadowfax
Magento,
Unicommerce,
Shopify,
WooCommerce,
Prestashop
Today, the company has expanded significantly in the logistics sector and collaborated with various companies to provide brilliant customer service.
NimbusPost Success Story – Future Plans
Some of the plans of the company are as follows:
Cross Border Logistics - Due to various legal restrictions, all e-commerce websites can't deliver their products across boundaries. NimbusPost wants to create a platform where this could be possible for online retailers. It will help them in getting more customers and growing their business.
Hyper-Local Delivery - This will help the retailers in having an exceptional distribution service. E-commerce websites selling food, pharmacy products, groceries, etc., will be able to deliver the products in minimal time to the doorstep of their customers.
Increasing Customer Base - NimbusPost already has more than 10,000 happy customers and, they register two million-plus transactions in a single day. The company plans to double this number by the end of this financial year by increasing its operational areas.
NimbusPost – Connecting Shipping Partners
NimbusPost is an outstanding startup that has made the work easier for a lot of online retailers. The market of online shipping is growing and, we need NimbusPost for sorting out these things. The beneficial offers given by them are a treat for all the e-commerce websites and, they are going to benefit a lot from this.