Pratilipi – Karnataka based $265 Million Valued Storytelling Startup
Pratilipi is a Karnataka-based online platform that offers services for readers and writers. It is a digital storyteller and an online self-publishing portal set up six years ago in September 2014. It is available in many languages such as English, Hindi, Bengali, Gujarati, Malayalam, Marathi, Punjabi, Odia, Telugu, and Urdu. The startup also supports sharing of stories & articles with fellow readers and helps to connect the writers and the readers directly and indirectly without any hassle or discomfort.
Note: Startup's Name "Pratilipi" is derived from a Sanskrit word meaning "you become what you read".
Pratilipi – Indian Storytelling Platform
Pratilipi is India's one of the largest digital platforms which help in connecting millions of writers and readers with vernacular languages. Thousands of articles, stories, novels, essays, magazines can be read on this platform is free of cost. People can embrace their writing skills by publishing their articles. It performs self-publishing which has made Pratilipi one of the largest communities of writers.
Fun Fact: The CEO of the company Ranjeet Pratap Singh wants to predict the next Harry Potter Series and 50 shades of grey so that the company makes more income.
Pratilipi Startup – Key Points
Founders : Ranjeet Pratap Singh, Prashant Gupta, Rahul Ranjan, Sahradayi Modi, Sankarnarayan Devarajan.
Founded : September 2014
Type : Digital storytelling platform
Headquarters : Bangalore, Karnataka, India
Website : www.pratilipi.com
Pratilipi Success – Founders
Pratilipi was first launched by Ranjeet Pratap Singh, Prashant Gupta, Rahul Ranjan, Sahradayi Modi, and Sankarnarayan Devarajan to educate people about Indian languages. Here is some information about each founder:
Ranjeet Pratap Singh Ranjeet Pratap Singh is the co-founder and the CEO of Pratilipi. He was a former employee at Vodafone and pursued his BE from KIIT University, Bhubaneswar
Prashant Gupta Prashant Gupta is the Co-founder and the CTO of Pratilipi. He has pursued BE from the Birla Institute of Technology and Science, Pilani
Rahul Ranjan Rahul Ranjan is the Co-founder of Pratilipi. He has pursued his education from KIIT, Bhubaneswar and was also a former employee at the TCS
Sahradayi Modi also called Shally Sahradayi Modi is the Co-founder and the Product manager at Pratilipi. She started her career by working at Vodafone and DHL and has an MBA and MSc degree from SP University Vadodara.
Sankarnarayan Devarajan Sankarnarayan Devarajan is the Co- founder of Pratilipi. He was a former worker at Vodafone, Capstone, and Boroe. He has a BE which he pursued from Anna University and also holds an MBA degree from FMS, Delhi.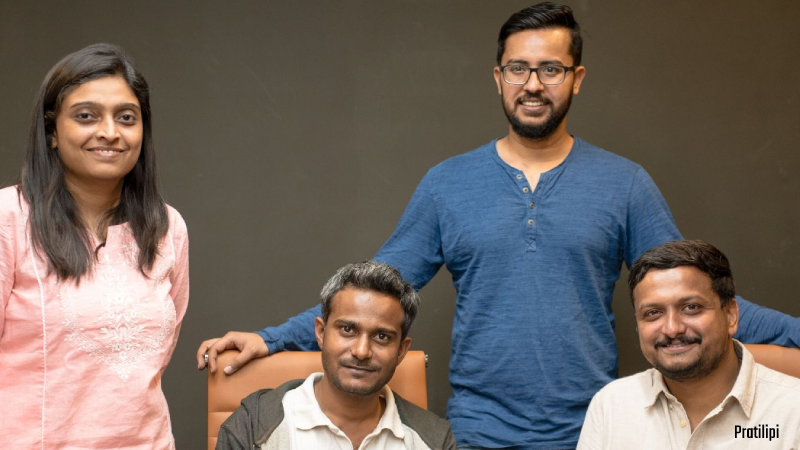 Pratilipi Success – Founders
Pratilipi Revenue Model – Commissions from Books
This online platform makes it easy for book lovers to read anywhere and anytime without any hassle and is a platform that is available in twelve different languages. The books which are sold by the authors on this platform make Pratilipi earn over 70%. This app mainly works through commission. Several Indian authors and writers contribute towards the earning of the company.
Pratilipi Startup – Funding and Investors
Investors Pratilipi is funded by 22 investors and the major names include

Krafton,
Vidit Aatrey,
Ranjeet Pratap Singh,
Gaurav Munjal,
Sahil Barau,
Hemesh Singh,
Mekin Maheshwari,
Amit Aggarwal,
Omidyar Network,
Nishith Rastogi.

Note: During the first stage of launching the company was self-funded. An amount of Rs. 3,000,000 funds were raised by the TLabs in March 2015. In 2016 an amount of US$ 10, 00,000 was funded by Nexus Venture Partners.
Funding Pratilipi has risen over $80.6 million in funds. The total amount was raised in over 7 rounds. The most recent fundraised by Pratilipi was on 14th July 2021 By Krafton with an amount of Rs. 3.6 billion.
| | | |
| --- | --- | --- |
| Investors | Amount | Date |
| Krafton | Rs. 3.6 billion | July 14, 2021 |
| Alteria Capital | Rs. 200 million | June 27, 2021 |
| Tencent | Rs. 706.8 million | April 30, 2020 |
| Qiming Venture Partners | Rs. 1.1 billion | June 6, 2019 |
| Omidyar Network | $4.3 million | February 5, 2018 |
| -NA- | $925 k | June 28,2016 |
| -NA- | $50 k | March 1,2015 |
Pratilipi Story – Competitors
Your quote
Matur Bharti
Share Chat
Helo
Juggernaut
Hubhopper
Kuku Fm
PodBaen
Pratilipi Startup – Awards
Eureka Award for the Best Business Idea by the IIT Bombay
StartUp Launchpad Award for the best startup.
Fun Fact: In February 2020, the app was used by 20 million users monthly which rapidly changed to 20 million users monthly.
Pratilipi – Connecting Regional Writers & Readers
So, this was all about Pratilipi, an Indian platform that helps people to connect by writing and reading. It was started in the year 2014 and has over 2 crore users active. This is a platform that provides reading materials without even downloading any files and had immense growth in the year 2020. This platform had a vast change in a very short period with the introduction of new products to the market.