Story of Kae Capital – A Destination for Early-Stage Companies
Kae Capital is a sector that provides funds and invests in companies to provide solutions to them. It provides funds to start-up companies and small businesses to grow and focus on Investing in Innovation, Leadership, and Growth. It is a sector-agnostic fund that helps by investing in large teams and brings solutions to the gaps which were created in the market. It also seeks to invest in companies that operate in e-commerce, mobile, education, healthcare, cloud, customer internet, and consumer brand sectors.
"Entrepreneurship is a long haul journey. You need to build for the long term. Think of working only with the smartest and most hard-working people you know and who can align with the vision and passion that you have"
– Sasha Mirchandani (In Founder's Words -)
Kae Capital Startup – Key points
Company Name : Kae Capital
Founded : 2010
Founder : Sasha Mirchandani
Headquarters : Mumbai, India
Sector : Finance
Website : www.kae-capital.com
Revenue : $7.8 million
Kae Capital – India's Venture Capitalist
Kae capital was founded in the year 2010 by Sasha Mirchandani and is headquartered in Mumbai, India. It is a venture capital company that provides funds to small companies and start-ups for their future growth. It helps the early-stage companies to acquire growth. Besides, that it also provides solutions to companies in an innovative way for the existing gaps which were created in the market.
Kae Capital Startup – Founder Sasha Mirchandani
Sasha Mirchandani is the Founder and Managing Director of Kae Capital. He pursued his business administration from Strayer University. Besides, that he also pursued the MMDP program at IIM in Ahmadabad. He is also the co-founder of Mumbai Angels. He was also the former Managing Director at Blue Run Ventures. Earlier, before joining Blue Run Ventures he was the founder and CEO of Imercius Technologies. He was also the former Head of Corporate Affairs and business at Mirc Electronics.
Note: Sasha had invested in various firms such as Myntra, 1 Mg, Porter, Fractal Analytics, Healthkart, and Inmobi. It has a cast growth in ranks. Now many companies are working under Kae Capital and each start-up is getting a chance to embrace their talents and help them to grow their sector.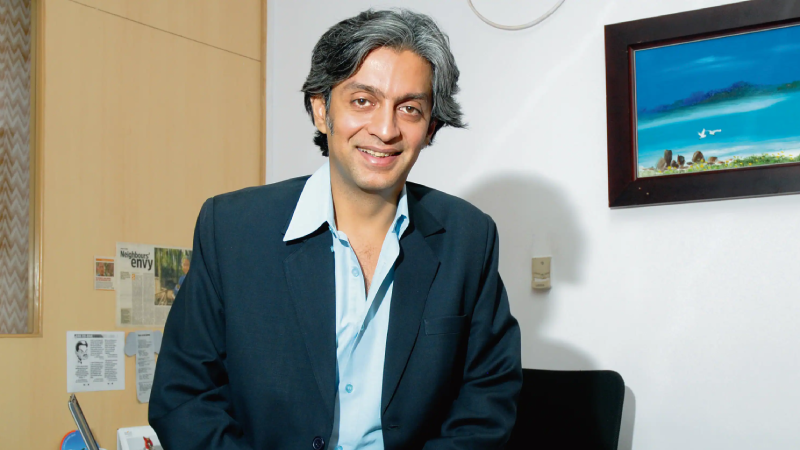 Kae Capital Founder – Sasha Mirchandani
Kae Capital Story – Core Team & Members
Sarthak Biswas: Sarthak Biswas worked in the initial stage and has invested and financed reputed sectors. He holds a B-tech degree from IIT Bombay and also has a Post-graduation degree in liberal studies from Ashoka University.
Navin Honagudi: Navin Honagudi is a partner at Kae Capital. Navin holds a degree in MBA and a degree in Engineering from Mumbai University. Before, Kae Capital Navin worked with Reliance Venture Asset Management (RVAM). Before Reliance Venture Asset Management (RVAM) he has also worked with Darashaw and Company Private Limited (DCPL).
Gaurav Chaturvedi: Gaurav Chaturvedi is a partner at Kae Capital. He pursued his B-tech in Mechanical Engineering from the IIT Bombay. He co-founded Thinklabs in the year 2006 which had great success and became India's leader in STEM Experimental Learning, which serves several top schools in the country. His main focus includes managing the business of the company.
Veenu Choudhary: Veenu Choudhary is in charge of looking at B2B SaaS and Fintech. She has a B-Tech degree from IIT Kanpur and also holds an MBA degree from IIM Calcutta.
Sonia Abraham: Sonia Abraham mainly focuses on Ed-tech, SaaS, and Fintech. She pursued her major in Mathematics from St. Stephen's College, Delhi University.
Vidushi Kumani: Vidushi Kumani is a venture partner at Kai Capital. She first started her career by working at Accenture. She did her MBA in HR from XLRI.
Kae Capital - Competitors
IDG Ventures India : $ 7 million
Helion Ventures Partners : $5 million
Matrix Partners : -NA-
Kalaari Capital : $ 7 million
Sequoia Capital Companies : $100 million
Accel partners BV : $10 million
Nexus Venture Partners : $7 million
SAIF Partners
Kae Capital – Funding
It has recently raised a fund of Rs. 100 crore to invest in various portfolio companies
| | | |
| --- | --- | --- |
| Name | Date | Amount |
| Kae Capital III | 15th September, 2019 | Rs. 100 crore |
| Kae Capital II | 13th September, 2017 | $53 million |
| Venture Road – Kae Capital | 26th April, 2012 | $25 million |
Note: Kae Capital's first fund was raised in the year 2012 with an amount of $25 million. It has invested in various firms from its second funds such as Freightwalla and Zetwerk.
Kae Capital – Angel Investments Made
| | |
| --- | --- |
| Company Name | Date |
| Wysa | June 20, 2019 |
| Nua March | 12, 2019 |
| Zetwerk | March 27, 2019 |
| Niyotail | January 11, 2021 |
| Zetwerk | July 2, 2020 |
| Freightwalla | December 11, 2019 |
| Loanzen | November 24, 2019 |
| Loan Trap | September 30, 2019 |
| 1 mg | June 28, 2019 |
| Healthkart | May 9, 2019 |
| Zetwerk | December11, 2019 |
Kae Capital – Helping India Grow with Capital
It has been a destination for many small companies and helps to gather capital for their future growth. This company helps in building many large companies at their initial stage. Their team consists of over 35+ years of VC investing and has invested in over more than 100 start-ups. Kae Capital is one of the greatest finance sectors established which helps many deserving entrepreneurs to embrace their talents and achieve their dreams when they fall short in money. It has been implemented on the greatest stage.