Whatfix – The Game-Changing Digital Adoption Platform
Whatfix is a platform based on SaaS software that helps & guides performance support for applications available on web and software products. It is most commonly used on various platforms such as Salesforce, SAP SuccessFactors, Oracle Cloud, Workday, SharePoint, Apptus, etc. The startup enabled an SME to announce the digital platform Whatfix and started gathering customers and then realized the need for the product to be interactive. Now it has over 500 customers across the globe and is playing a significant role in the adoption of the digital platform.
Note: The CEO of Whatfix Khadim Batti and the CTO Vara Kumar first designed their marketing product called SearchEnabler.
Whatfix Story – Key Statistics
Company Name : Whatfix
Founded : 2014
Founders : Khadim Batti (CEO) and Vara Kumar (CTO)
Headquarters : Bangalore, India and San Jose, California
Total Funding : $49.8 M
Total number of Employees : 450
Website : www.whatfix.com
Parent Company : Quick Technosoft Labs Private Limited
Whatfix Story – Startup
Whatfix was founded in the year 2014 by Khadim Batti (CEO) and Vara Kumar (CTO). Whatfix is a platform that helps in guiding apps and users to adopt any software application quickly. Its headquarters are in Bangalore, India, and San Jose, California. It also provides performance support that guides the user about the application they use. The company was first started in the year 2013. It first had over 100 customers. Soon they changed to Whatfix.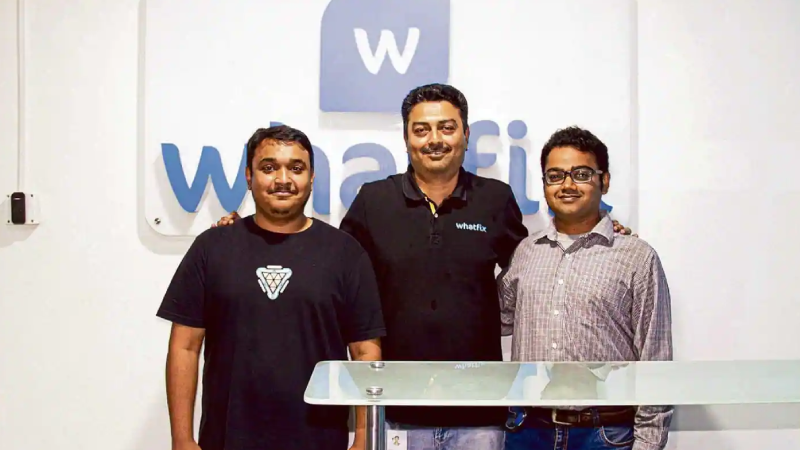 Whatfix Startup - Founder
Note: It allows companies to create communicative walkthroughs that are available within web applications.
Whatfix – Services
It guides using web applications and software solutions without the help of coding
It does require any training. It can be used without any training
It makes learning easier by user touchpoints
It ensures that the data entered by the users are accurate.
It can be used on mobiles
The UI of Whatfix guides the users to create without any coding
The creation of segments are automatic which is provided to the user according to their needs
Whatfix Success – Founders
Khadim Batti Khadim Batti is the CEO and the co-founder of this game-changing digital platform - Whatfix. He holds a bachelor's degree in Electrical Engineering, which he pursued from The University of Bombay. Besides, he also has a master's degree in Information Technology, which he pursued from The International Institute of Information Technology. He is a member of Whatfix since the year 2019. So he has over 20 years of experience in this technological platform.
Vara Kumar Vara Kumar is the Co-Founder and the Chief Technology Founder of this game-changing digital platform-Whatfix. He has an engineering degree which he pursued from the Jawaharlal Nehru Technological University.
Note: It is estimated that SaaS platform market has a growth of about $2.5 billion.
Whatfix – Core Team Members
Alok Goyal - Board Member
Shweta Bhatia - Board Member
Sanjay Aggarwal - Board Member
Ashish Gupta - Board Member
Parent Company: Quick Technosoft Labs Private Limited owns Whatfix.
Whatfix Startup – Acquisitions and Merges
Airim - October 2019
ESOP - 6th July 2021
Whatfix – Investors and Funding
| | | | |
| --- | --- | --- | --- |
| Investors | Year | Round | Amount |
| Powerhouse Ventures | 2015 | Seed | $900K |
| Stellaris | 2017 | Series A | $3.7M |
| CISCO Investments | 2019 | Series B | $12.5 M |
| Sequoia | 2020 | Series C | $32M |
| Soft Bank Vision Fund | 2021 | Series D | $90M |
Whatfix Success – Revenue Model
The annual revenue of Whatfix is about $75.3 M per year. They don't have any leader; they are their leader in their space. Being a private organization, they had strong growth over the years. One analyst estimated that the market is growing at an 11% rate which will be worth about $15.8 billion by the year 2025
Whatfix Startup Story – Competitors
Top competitors of Whatfix are:
EdCast
WalkMe
Userlane
Appcues
Toonimo
AppLearn
Aptrinsic
Userguiding
TTS
Iorad
Helppier
Whatfix Story – Future Plans
They have invested to innovatively develop the services they are providing
They have also developed series-c round in their platform
They have also increased the quality of the services they provide.
It has unveiled its scheme Escop and has allotted over $4.3 million for the Escop buyback scheme
It has landed over $90 million to speed on their apps
Whatfix – Awards and Achievements
2021 Globee Awards Silver Winner (Golden Bridge Awards) - for the customer success team -department of the year
Gold 2021 Steve winner (American business Awards) - for customer satisfaction of the year
Silver 2021 Stevie Winner (American Business Awards) - for the best customer service- department of the year
IT World Awards 2020 Silver - For Best Deployments/ CS Department of the Year
The Clouds awards for " Best Cloud HR and EP solution
Silver 2020 Stevie Winner (American Business Awards) - For Best Customer Service Department of The Year
Whatfix – The Game Changing Platform
The game-changing platform - Whatfix is the most prominent digital program. Companies create interactive walkthroughs through this app. It is empowered many other business companies with their outcomes and is a new technological way to learn content through interactive walkthroughs. Its mission is to remove all the technology complexes for its users.