Unacademy Startup - India's New Digital-Education YouTube Academy
Unacademy is an online learning platform owned by Sorting Hat Technologies, where users can watch online educational videos of their curriculum created by experienced educators. The Unacademy app is offered not only to 10+2 students but also to college aspirants preparing for competitive exams such as the CAT, GATE, UPSC, and others. The learning app is available for Android, iOS, and Windows and is simple to use.
Fun Fact: In 2020, during the COVID pandemic, Unacademy announced to provide 20,000 free classes for students without any subscription.
Unacademy Startup – Transforming Learning Approach
Unacademy is on its way to transforming the nation's learning approach, with a growing network of over 10,000 registered educators and 13 million learners. Gaurav Munjal launched the platform as a YouTube channel in 2010 and was officially started in 2015. Unacademy, which has its main offices in Bangalore, is India's largest learning platform, bringing together expert Educators for millions of students in need of higher-quality education.
Unacademy runs several platforms that have almost 110 million monthly views, including:
Unacademy Plus,
Chamomile Tea with Toppers,
Wifistudy,
The Solutionists,
Unacademy Studios
Unacademy Startup – Core Founders
Unacademy was created in 2010 as an instructional channel by Gaurav Munjal, Roman Saini, and Hemesh Singh but became a profitable startup in 2015.
Gaurav Munjal, CEO Munjal is an Engineering student from Mumbai and sold his first firm, FlatChat, to CommonFloor in 2014. Gaurav launched Unacademy on YouTube and later invited the other co-founders to work on the startup.
Hemesh Singh, Chief Technology Officer Hemant is an engineering graduate of the Motilal Nehru Institute of Technology & rose through the ranks at 'Flat Chat' to become the CTO at Unacademy.
Roman Saini, Chief Educator Dr Roman Saini was a medical graduate who, at the age of 21, was able to pass the UPSC exam. He eventually left his job as an Assistant Collector to work for Unacademy, where he provides online tutoring to needy kids.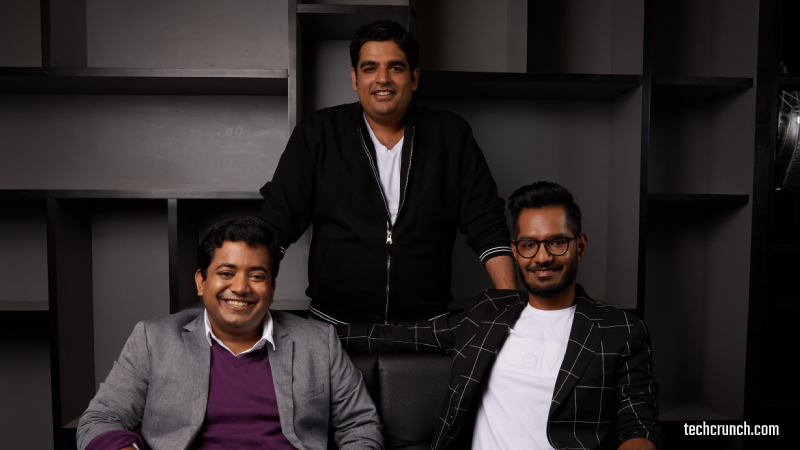 Unacademy founders Roman Saini, Gaurav Munjal and Hemesh Singh
With roughly 1572 workers and a market value of $400 million, Unacademy has grown into a robust community of technology-driven self-learners.
Unacademy Startup - Business Model
Unacademy's business models are B2B and B2C, and the primary source of revenue is paid memberships.
Unacademy Plus: A paid educational service that has approximately 100,000 subscribers.
Learning Resources: It is divided into two categories: pre-recorded videos and LIVE sessions. The LIVE sessions have a separate fee structure, and the pre-recorded videos can be viewed for free.
Unacademy Startup – Brand Name & Tagline
Brand Name: Unacademy is a learning platform that differs from traditional educational practices and literally means that it is "Not An Academy", as opposed to an institution or academy that is open to everybody.
Tagline - "India's largest learning platform."
Unacademy Startup – Objective
Unacademy's goal is to create a diverse number of courses in a variety of languages for students all around the world. Unacademy seeks to cooperate with the best minds and empower India's youth population, representing 19% of the world's youth, to bring themselves into this contemporary world by expanding its educators with their pupils.
70% of its students are from tier 3 locations, where there is a scarcity of quality educators; as a result, the firm is focusing on expanding its teaching base, languages and adding more tests to the mix.
Unacademy Startup – Popular Teachers
In its special "Legends on Unacademy" project, Unacademy imposes life lessons and motivating speeches with prominent educators.
Legends on Unacademy – First Edition
Brian Lara,
Brett Lee,
Jonty Rhodes
Legends on Unacademy – Second Edition
Congress MP Shashi Tharoor,
India's first female IPS officer Kiran Bedi,
Virat Kohli
Anushka Sharma
Unacademy Startup – Mergers & Acquisitions
Unacademy has acquired six startups to expand its position in the Edtech sector till now. The following is a list of acquisitions:
| | | | |
| --- | --- | --- | --- |
| Date | Operations | Company | Value |
| October 2018 | Online exam preparation platform | Wifi Study | $10 Million |
| March 2020 | Online GATE preparation web platform | Kreatryx | Undisclosed |
| June 2020 | Online platform for learning algorithm & coding | CodeChef | Undisclosed |
| July 2020 | Online Medical Entrance Exam Preparation platform | PrepLadder | $50 Million |
| July 2020 | Online platform to master communication skills for Kids | Mastree | $5 Million |
| September 2020 | UPSC Test Preparation Platform | Coursavy | Undisclosed |
Unacademy Startup - Funding and Investors
Unacademy was started in 2015 and got its first $500,000 seed funding in 2016 by Blume Ventures. It has raised $348.5 million in investment throughout eight funding rounds. Here are the details:
| | | | |
| --- | --- | --- | --- |
| Date | Investors | Stage | Amount |
| May 2016 | Sumit Jain, Blume Ventures, Rajan Anandan, and others. | Seed | $500K |
| January 2017 | Blume Ventures, Nexus Venture Partners, Stanford Angels and Entrepreneurs | Series A | $4.5M |
| September 2017 | Sequoia Capital, Blume Ventures, Nexus Venture Partners, SAIF Partners. | Series B | $11.5M |
| July 2018 | Sequoia Capital (India), Blume Ventures, Nexus Venture Partners, SAIF Partners. | Series C | $21M |
| June 2019 | Steadview Capital, Sujeet Kumar, Nexus Venture Partners, Sequoia Capital India, Blume Ventures, etc. | Series D | $50M |
| February 2020 | General Atlantic, Flipkart, Sequoia Capital India, Blume Ventures, Facebook, Kalyan Krishnamurthy, etc. | Series E | $110M ($400M post-money valuation) |
| September 2020 | SoftBank Vision Fund Venture | Round | $150M |
Unacademy Startup - Competitors
Despite having multiple competitors across the country, Unacademy proves to be unique in its educational offerings.
Vedantu
Khan Academy,
Wifi Study,
Study IQ
Toppr,
Byjus,
Bluprint,
Firefly,
TutorVista
Unacademy Startup – Financial Numbers
Unacademy's income grew 4X from INR 21.8 crore in FY2019 to INR 86 crore in FY2020.
In 2020, the startup had a net loss of INR 300 crores.
By 2021, it is expected to reach a market size of $1.96 billion.
The company has raised over $90 million from investors and also generates revenue through subscription efforts.
Unacademy's parent company, Sorting Hat Technologies, reported revenue of INR 21.89 crore in FY19, up from INR 5.22 crore in FY18.
Unacademy offers training for 32 competitive exams, and the organization is focusing on expanding its services by adding more tests and exams to attract new users.
The startup obtained a post-money valuation of $510 million after raising $110 million from General Atlantic and Facebook.
Unacademy Startup – Future Plans
This Ed-Tech startup's total market size is predicted to reach $287 billion by 2023, up from $160 billion in 2017. With the largest distribution of free educational videos and over 100 million monthly views, Unacademy is working to create videos in multiple languages to help students all over the world, to include valuable content and test preparation modules for all possible competitive examinations, and to partner with brilliant minds to build a powerful student network.