This Payment Startup Failed and Rose Again: Instamojo Story
India is undergoing widespread digital transformation, bringing business value chains into the digital fold and allowing for cross-supply chain knowledge sharing. Small and medium businesses are an essential part of India's manufacturing and service industries. To fully realize the benefits of mass digitization, small and medium businesses must have access to enterprise-level technologies with scalable pricing models.
SaaS Business Models in India
SaaS(Service as a Sector) as a business model is well suited to catalyze this change, and cost-effective digital platforms will assist India to transition from a "data-low" to a "data-rich" economy.
This is where Instamojo comes into play. Making digital purchases is a lot simpler with Instamojo. The fact that the technology and other elements are the same as any different payment mode, they have managed to place it so that digital payments are swift and efficient. The problem they face is that many substitutes, such as Paytm, have arisen in recent years.
Instamojo - Introduction
Harshad Sharma, Sampad Swain, Aditya Sengupta, and Akash Gehani formed Instamojo in 2012. The team's current CEO is Sampad Swain, and the company's founder, Harshad Sharma, has left the company. Instamojo is a digital payment portal and e-commerce store located in Bangalore. It is aimed at digitally selling merchandise and paying fees online. Anyone with a bank account can join Instamojo and sell or purchase items on this digital marketplace. Instamojo handles the billing and distribution parts of the process.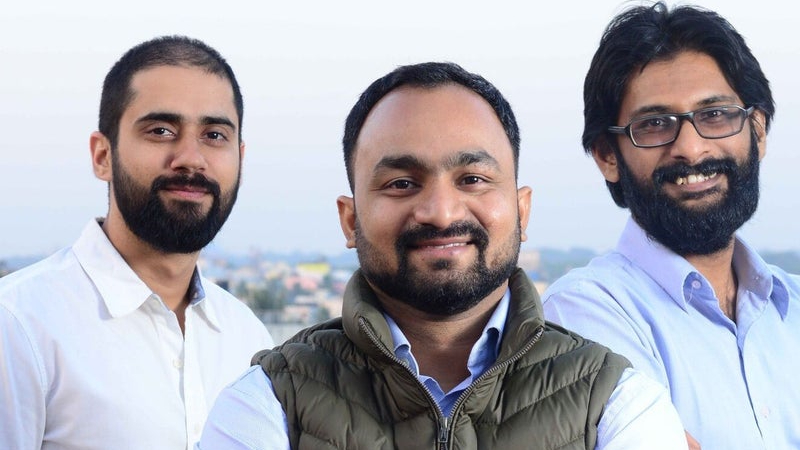 Instamojo founder, L-R: Akash Gehani, Sampad Swain, Aditya Sengupta.
Instamojo Features:
It is easy to use for the following reasons:
It has a quick and easy setup. There is no charge to open an account, and no documentation is needed.
Both major credit and debit cards and net banking are approved, and transactions can be completed via email, SMS, Whatsapp, and other electronic means.
Instamojo works for a wide range of businesses. Digital data, event passes, services, subscriptions, physical goods are only a few examples.
How did Instamojo Start?
Phase1: Sampad Swain's initial beginning When Sampad Swain's blogging site, InStartup.com, was having trouble collecting funds, he came up with the idea that eventually became Instamojo. Sampad debated the idea with the DealsandYou co-founders. That's when this side project grew into a full-fledged enterprise. Instamojo was founded in September 2012 by Sampad and co-founders of DealsandYou.
Sampad Swain (Co-founder/CEO) received his MBA from IBS Hyderabad and worked with ITC before joining Godrej. He began his entrepreneurship journey as a co-founder of wanaMo.com, an e-commerce venture, but could not extend it for various reasons, so he left and launched his blogging platform, Instartup.com, where he interviewed entrepreneurs from all over India.
Instamojo & Side Project
The founder was also working on a side project while blogging since it was not generating any income for him. He eventually agreed to devote his full attention to that idea, which is now known as Instamojo. Sampad co-founded Instamojo, a payment portal for MSMEs that accepts all types of payments and transactions, with Akash Gehani and Aditya Sengupta in September 2012. Sampad's first project, Instartup.com (which also has an "insta" in it), inspired the name Instamojo, which means "instant magic."
Phase 2: Shift to the Financial Sector To assist MSMEs, Instamojo relaunched as a financial services provider, diversifying into logistics and leasing options for MSMEs. With their 'Priority KYC,' 'Sachet loans on Whatsapp,' and 'InstaCash' features, Instamojo made it possible for merchants to go online and get instant access to loans. MSMEs are India's economic pillar and a significant contributor to the country's GDP. MSMEs will benefit from Instamojo's payment solutions, market tools, and useful connections. The aim is to assist these companies in scaling and pivoting to become genuinely entrepreneurial.
Instamojo Challenges:
Phase 1: A detrimental development However, all companies experience ups and downs. Instamojo has had its share of difficulties. Despite raising more than 30 crores from investors and serving 3 lakh companies across India, the firm was on the verge of shutting down in 2017. This was because it had last collected funds in 2014 and had planned to do so again in 2016 but struggled. Following the demonetization of Indian currency, investors withdrew, saying that they no longer understood the market.
Phase 2: A Near-Miss Situation The corporation was in financial trouble and had to turn to Kalaari (Capital) for assistance (Rs. 1.6 crores). This sustained them for the next six to eight months. But, by mid-2017, the funding had run out, and Instamojo was once again cash-strapped. Swain and his team wanted to slash expenses within the organization, and the founders gave up their wages. In August 2017, Japanese payments company AnyPay provided a new round of funding to Instamojo. The corporation had recovered from its near-miss with the finish line. They now want to expand their scope and bring a slew of new features to their burgeoning market.
Instamojo Story: Growth
Instamojo has seen a 25-30% increase in traffic since COVID-19. Instamojo's user base in the education sector has grown by 66.58% in online presence and purchases since April. Computer accessories and services businesses have seen a 95.4% rise in transactions. In comparison, B2B businesses have seen a staggering 117.54% increase. Online sales have increased by 86.12% in the grocery retail and service market.
According to the company, travel volume has increased sixteen times. In addition, the number of transactions in travel companies has increased three times. In the coming years, Instamojo expects to expand its offerings outside India. The firm already has 130 employees and is looking to recruit additional experts in technology, product development, and architecture.
Instamojo Current Userbase
About 1.2 million customers use the payment portal solutions provider, including prominent names like UrbanClap, 91 Springboard, Dunzo, Adani Realty, and others. Instamojo enables any company owner to start selling their products online and accept digital payments in various ways. It also allows companies to create online shops easily, customize them, and maintain them through mobile and web. Its main selling point is an easy and fast configuration process that even a novice Internet user can understand. Instamojo also allows its customers to pay using various online methods, including net banking, wallets, email, SMS, WhatsApp, and even Facebook.
Instamojo Story Future
Instamojo's mission is to encourage individuals and businesses to use the Internet to expand their businesses by providing them with all of the resources they need. Simultaneously, they intend to do the same in other countries around the world in the coming years.