Life Story of India's James Bond: Ajit Doval Biography
Ajit Doval is one of those critical personalities that come to mind when we think of national security. Holding the position of NSA (National Security Advisor), Ajit Doval exemplifies a highly intellectual bureaucrat. He has achieved various milestones in his life that make his life story worth reading. This article would look into his life story and dwell upon the learning from his personality.
Ajit Doval: Early Life
Ajit Doval was born in 1945 in Ghiri Banelsyun village in former United Provinces (Present Uttarakhand) in the house of Major G.N. Doval, an army officer. But he had spent his early years in Ajmer for primary education.
After graduation from Agra University, he worked hard to achieve an honorary Doctorate in strategic and security matters, despite being a graduate in Economics.
Ajit Doval Career: IPS officer
After graduation and doctorate, Ajit Doval joined IPS (Indian Police Services) as ASP in 1968 in Kerala cadre. He played a crucial role in tackling the Thallasery riots of 1971. He efficiently played his part in restoring the looted goods and controlling the violence.
Praising his efforts, AK Vasudevan, the MSP deployed in Thallasery, called him 'a daring police officer with great dreams'.
Negotiation Incidence with Hijackers: Ajit is also known for his negotiations with Hijackers of IC-814 Indian Airlines Flight. He was successful in taking out all the passengers safely from the hijacked plane.
Ajit Doval Career: IB Department
After his successful career as an IPS officer, Ajit Doval was appointed the Director of Intelligence Bureau in 2004. He was also trained in counterterrorism operations under 3rd NSA, M.K. Narayanan.
After successfully serving the country first as an IPS officer and then as IB chief, Ajit Doval retired in 2005. But he always stayed active in political matters through commentaries and talks. He was also part of a public policy think tank named "Vivekananda International Foundation".
Ajit Doval Career: NSA (National Security Advisor)
The turning point for this brave hero came when BJP leader Narendra Modi became Prime Minister of India in 2014. He decided to pick Ajit Doval as his National Security Advisor, and the country got its fifth NSA in Mr Ajit Doval.
It was his efficiency as an NSA that the rank of NSA in the table of precedence (hierarchy of vital positions of various officials) was upgraded from the rank of Minister of State to Cabinet Minister last year. The essential role also influenced the decision in leading the strategic dialogue with several countries.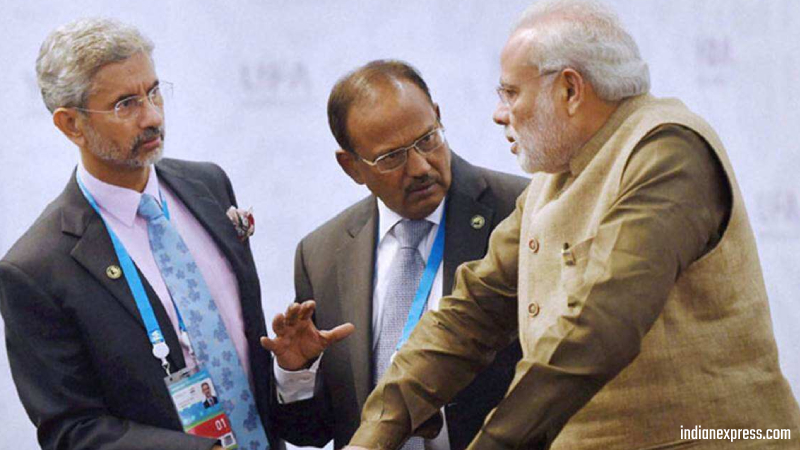 Prime Minister Narendra Modi with Minister of External Affairs S Jaishankar and NSA Ajit Doval
Ajit Doval: Contributions
Mr Doval, as an NSA, is the head of the National Security Council Secretariat. In his tenure as NSA, he contributed to the following matters:
Return of nurses from Iraq In June 2014, 46 Indian nurses were trapped in Tikrit hospital in Iraq after ISIL captured Mosul. But Ajit Doval helped in the safe comeback of these nurses through a top-secret mission.
Undercover operations in Pakistan Ajit Doval is popularly called a super-spy owing to his role in a covert operation, Uri in Pakistan. Ajit Doval is known for bringing a shift in India's defensive policy towards Pakistan to an offensive-defensive policy.
Doklam Standoff The credit for resolving the Doklam standoff in 2017 also goes to NSA, Ajit Doval, and then Foreign Secretary S. Jaishankar and Indian Ambassador to China Vijay Keshav Gokhale.
North-East Delhi Riots When riots happened in North East Delhi owing to the citizenship Amendment Act, Ajit Doval was sent to tackle the situation.
Role in Indo-China Talks Ajit Doval has also played a strategic role in Indo-China relations. He revived the informal group of 1997, namely CSG (China Study Group), to look into the Chinese troop build-up at LAC (Line of Actual Control).
He had also held talks with Chinese representative Wang Yi for outlining the disengagement plans along Galwan valley and adjoining areas.
Achievements and Awards:
Ajit Doval has won several awards for his courage. The list of his achievements is given below:
Ajit Doval won a police medal for his meritorious service and became the youngest police officer to receive this award.
President's Police Medal was also conferred to him.
He also bagged one of the highest Gallantry awards, Kirti Chakra, in 1988. The exciting thing was that it was the first time a police officer received Kirti chakra. Earlier it was restricted to only military officers.
Lessons from his life
Hard Work Doval belongs to a small village & yet he was successful in achieving some of the most challenging milestones that even big town kids fail to achieve. This shows that no matter where you are from if you can work hard and put in extra efforts, you'll outshine others.
Pursuit of Growth Your age doesn't matter in your pursuit to learn and motivate others. We saw how Mr Ajit Doval continued indulging in political talks even after retirement. It was his wisdom of political matters that ultimately paved the way for his tenure as NSA.
Open to Opportunities The third thing that we see in his life is that he never restricted himself to one field. He had done graduation in Economics but achieved a doctorate in the field of strategic and security matters. Also, first, he showed his physical potential as an IPS officer and then as an IB chief, he portrayed his intellectual capabilities.
Presence of Mind The final and the most crucial learning is that no matter how complicated situations you are facing, be calm and look for the best diplomatic solution. In all the issues involving Ajit Doval, we see a remarkable result because he understood the situation and applied his knowledge to reach the best possible solution.
Last Salute
Looking at the extraordinary caliber of Ajit Doval, it's not wrong to say that he undoubtedly deserved a second term as NSA. There are many things that we can learn from his life. In this way, his life is an inspiration for almost every one of us to work hard and achieve incredible feats in life.