Was Gautam Gambhir the Most Underrated Indian Batsman?
Gautam Gambhir is the hero of our country who has led his team to win several matches. He also played a good role in the 2011 World Cup by scoring 97 runs when his team had already lost its opening batsmen. Due to his outstanding knock, it helped India lift the World Cup after 28 long years. His contribution to the field of cricket is unforgettable.
Gautam Gambhir – Statistics
Nickname - Gauti
Born - 14 October 1981 (39 years)
Birth Place - Delhi, India
Residence - Delhi, India
Alma Mater - University of Delhi
Occupation - Cricketer, Politician
Height - 5 ft 5 in
Role - Batsman
Batting - Left-handed
Bowling - Right-arm leg break
Political Party – Bhartiya Janta Party
Net worth - 147 crore
Gautam Gambhir - Early Life
Gambhir started his career by playing domestic cricket for Delhi's team. His coach was Sanjay Bharadwaj, and Raju Tandon & Gautam calls his maternal uncle his mentor as he played a crucial role in his life. He got selected for National Cricket Academy in 2000.
Gautam played various domestic as well as national level tournaments such as Ranji Trophy etc. His performance in Ranji Trophy was brilliant. He helped Delhi beat Uttar Pradesh by nine wickets by scoring an unbeaten 130 runs.
Gautam Gambhir - Family and Personal Life
Gautam was born in Delhi to Seema and Deepak Gambhir. Soon after his birth, he got adopted by his grandparents. He lived with them and studied at Modern School, New Delhi. He also has a sister, Ekta Gambhir, who is two years younger than him.
Gautam married Natasha Jain in 2011. She belongs to a well-known business family.
Gautam Gambhir - Cricket Career
Debut and Early Career: Gautam played his debut match against the Bangladesh team in 2003. He scored 71 runs in his 3rd match and became Man of the Match. His maiden century came in 2005 against Sri Lanka and, since then, it was no looking back for him. However, his test debut was not so good and, he kept getting out very often. But he improved himself and got his 1st test century in 2004 against Bangladesh. He got dropped off the test team due to his inconsistent performance case and, during that time, he played ODI matches for India.
World Cups - Gautam was not selected for the 2007 World Cup and, he got depressed. But he got selected for the 2007 T20I World Cup and, India went on to win that tournament. He was the highest run-scorer in the series with 227 runs. He was also named in the 'Team of the Tournament' for the T20I World Cup 2007 by Cricinfo. In the 2011 World Cup, Gautam's performance was outstanding, especially in the final match. His unforgettable 97 runs knock helped India lift the World Cup trophy.
Captaincy: Gambhir also captained the Indian team for a brief time. Under his debut captaincy in 2010, India won the ODI series against New Zealand to 5-0. He became Man of the Series for his excellent performance.
Gautam Gambhir – IPL Career
Gautam's IPL career has been as fantastic as his international career. He has played under several franchises like Delhi Daredevils and Kolkata Knight Riders. He started his IPL career with Delhi's team and got bought in $725,000. He was the second-highest run-scorer in that season. Due to his outstanding performances, Gambhir goes promoted to the Captaincy post in 2010. He was the only player from the team to score 1000 plus runs.
In 2011, he got bought by Kolkata Knight Riders for $2.4 million. He was the highest-paid cricketer in the history of IPL. He became captain of the team and led the team to several victories. Under his captaincy, KKR won the first-ever title in 2012 by defeating the defending champions Chennai Super Kings in their home ground. He scored 2000 plus runs with six half-centuries and became the second-highest run-scorer in the tournament. He again led the team to win their 2nd title in 2014 by defeating Kings XI Punjab.
For his phenomenal performances, he got named Cricinfo IPL XI and Crickbuzz IPL XI many times. His contribution and dedication towards the team were just incomparable.
Gautam Gambhir - Retirement
Gautam took retirement from all forms of cricket in October 2018. He played his last IPL match for the Delhi Daredevils team.
He played his last knock in Ranji Trophy for Delhi against the Andhra team in December 2018. He scored 112 runs, marking his 43rd century in 1st-class cricket.
Soon after his retirement, he joined Bhartiya Janta Party and became a parliamentarian in June 2019.
Gautam Gambhir - Political Career
Gautam Gambhir is currently a Member of Parliament. He joined politics in 2019 after taking retirement from cricket. He became the BhartijaJanata Part's candidate from East Delhi in Indian General Election, 2019.
He won that election. Gautam defeated Atishi Marlena (Aam Admi Party Candidate) and Arvinder Singh Lovely (Congress Party Candidate) by 695,109 votes.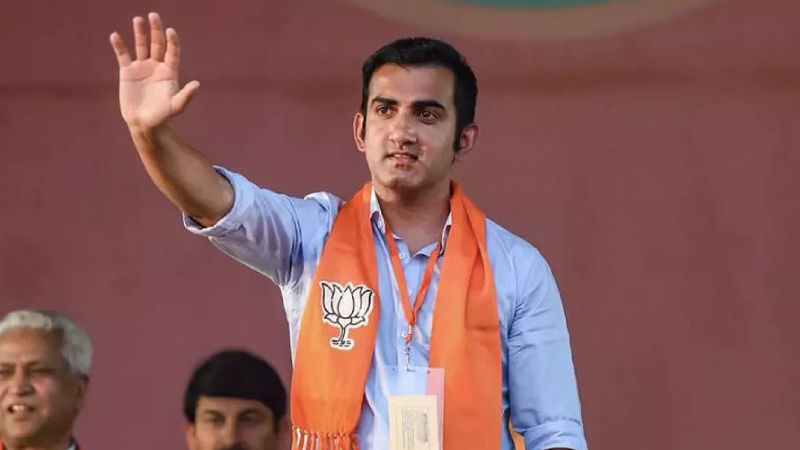 Bhartiya Janta Party (BJP) MP and former Indian cricketer, Gautam Gambhir
Gautam Gambhir - Awards and Achievements
Some of the awards won by Gautam Gambhir are:
Arjuna Award, 2008
Padma Shri, 2019
ICC Test Man of the Year, 2009
Gautam Gambhir - Philanthropy
Gautam's philanthropic initiatives are outstanding. The Gautam Gambhir Foundation got started in 2014. He has set up a community kitchen that helps food to all the needy people in the city. The main objective of the foundation is to reach out to as many underprivileged children as they could. They help in empowering them by providing them food, education, medical support, etc. They also work for adolescent girls from deprived homes by generating awareness amongst them. Also, the GGF foundation is planting many trees across the city to eradicate air pollution and make Delhi look green and clean.
Gautam Gambhir - Brands and Endorsements
Due to his power-packed performances, every brand wanted him to sign as their brand ambassador. Gautam has endorsed a lot of brands in his career. Some of the brands advertised by him are:
Pinnacle
Coca Cola
Lays
Reebok
Gionee
Pepsi
Royal Stag
Airtel Dish TV
Gautam Gambhir - Inspiration to all
Gautam Gambhir's career has been an inspiration to all the youngsters in our country. Even after taking retirement from cricket, he is working endlessly to bring our country to a better place. This man is the epitome of dedication and perseverance. His calm and patient nature has helped him on every path of life. He is a true hero of our country and, every younger generation looks up to him. He has made our country proud several times and, being like him is a dream for everyone.