Padma Shri Winning Actor Manoj Bajpayee's No Godfather Journey
Manoj Bajpayee is one of the most well-known and loved actors in Bollywood who has made it without any godfather. His contribution to the cinema is just unmatchable. There are very few actors in the film industry who are as organic and natural as him. This guy is so versatile that every actor wants to work with him. Bajpayee can mesmerize his fans every time with his acting skills and leave them in awe. In this article, we will study the life story of this amazing screen actor Manoj Bajpayee.
Manoj Bajpayee – Statistics
Full Name - Manoj Bajpayee
Born - 23 April 1969 (52 years)
Birth - Belwa, Bihar, India
Occupation - Actor
Marital Status - Married
Manoj Bajpayee - Early Life
Manoj was born in a small and remote village in Bihar. Just like a typical middle-class family his, father wanted him to become a doctor. But this guy had some other things planned for himself. From a very young age, he had a keen interest in acting. His love for cinema and art was deep inside his heart. Manoj left for Delhi at a very young age of 17.
Manoj Bajpayee: NSD Rejections
He tried to take admission to the National School of Drama (NSD) but got rejected four times. He started doing theatre in college. He made his debut in the feature film Drohkaal in which his role was of just one minute. Satya by Ram Gopal Varma was his breakthrough, which gained much appreciation from the audience and critics.
Manoj Bajpayee - Family and Personal Life
Manoj was born in a middle-class family where his father was a farmer and his mother a housewife. He has five siblings, four brothers and one sister. His sister, Poonam Dubey, is now a fashion designer in the industry.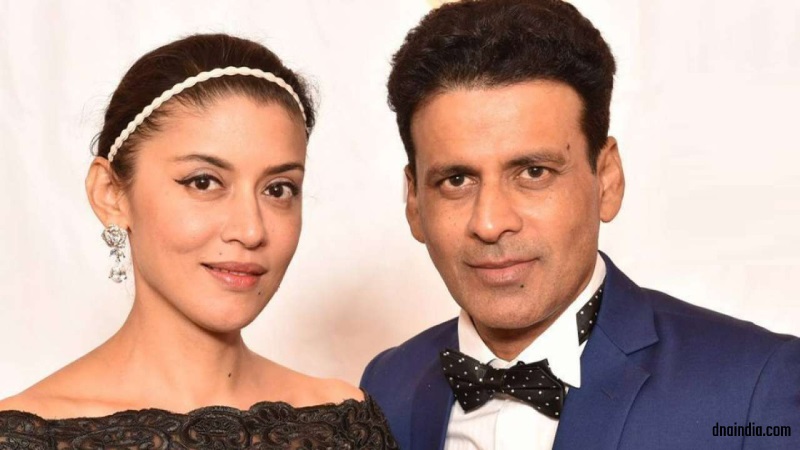 Manoj Bajpayee with wife Shabana
His father had financial issues. Manoj had to go to a small school in the village itself. He later completed his 12th from Maharani Janaki College in Bettiah and moved to Delhi for graduation from Ramjas College, Delhi University.
Bajpayee married a girl during his struggle days but got divorced. He later married a Bollywood actress Shabana Raza (known as Neha) in, 2006. The couple has a daughter.
Manoj Bajpayee – Career
Debut: Manoj debuted in the movie Drohkaal in 1994. He had just a one-minute role in that movie and, he doesn't consider this as his real debut. His main debut was from the film Bandit Queen by Shekhar Kapur in the same year. Along with that, he also did a daily soap Kalakaar which aired on Doordarshan. Manoj had to struggle a lot in his initial days but, he kept on doing some roles here and there.
Breakthrough: Bajpayee's breakthrough was from the movie Satya directed by Ram Gopal Varma, 1998. The film was a crime thriller, and he played the role of a gangster Bhiku Mhatre. The film was a success at the box office and, it received many accolades from the critics. This role also helped Manoj bagging his first-ever National Award for Best Supporting Actor.
Struggle: Even after his breakthrough and some good works, it was still challenging for Manoj to survive in the industry. He had to go through some bad and struggling days when he's back to back movies were a flop. But even during his struggle days, he still managed to give some brilliant performances in the film like Pinjar, LOC Kargil, etc. He also acted in Veer Zaara in 2004 that was a blockbuster grossing $13 million globally.
Success: The bad days were finally over and, now Manoj finally found some excellent roles. His performance in movies like Rajneeti, Aarkashan, Gangs of Wasseypur, etc., was a commercial success. Manoj got highly appreciated for his roles in this movie and, he also received various awards for these parts.
OTT Platform: After his success on the big screen, Manoj also tried to try his hands on the OTT Platforms. His series The Family Man on Amazon Prime has received great reviews from both audiences and critics. Bajpayee also won Filmfare Award for his role in Critics Choice Best Actor in a Drama Series.
Manoj Bajpayee - Awards and Achievements
Padma Shri Award - 2019 (fourth highest civilian award)
National Film Award for Best Supporting Actor - Satya, 1998
Filmfare Critics Award for Best Actor - Satya, 1998
Filmfare Critics Award for Best Actor - School, 1999
National Film Award - Special Jury Award - Pinjar, 2003
Filmfare Award for Best Actor in a Short Film - Taandav, 2016
Filmfare Critics Award for Best Actor - Aligarh, 2016
Asia Pacific Screen Award for Best Performance by an Actor - Bhonsle, 2018
National Film Award for Best Actor - Bhonsle, 2018
Filmfare OTT Award for Best Actor in a Drama Series (Critics) - The Family Man, 2020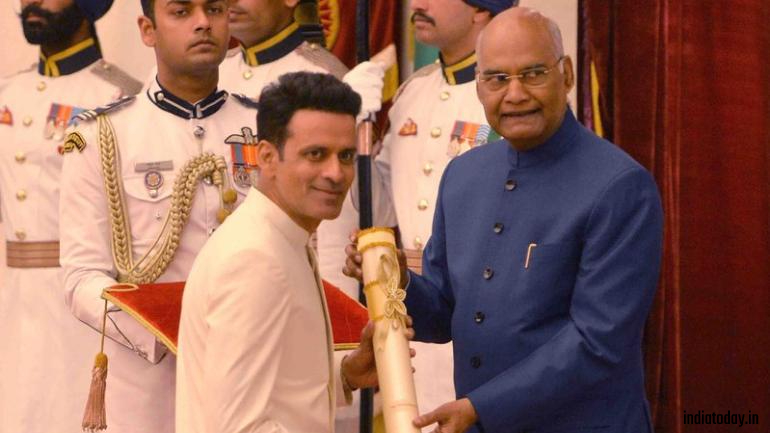 President of India presents the Padma Shri to Manoj Bajpayee for his contribution in the field of cinema
Manoj Bajpayee - Fans and Following
Manoj Bajpayee is undoubtedly one of the most loved actors of this era. He is the absolute favorite of all the directors and actors. Everyone wants to cast him in their projects and, every actor aspires to work with him.
His outstanding work has helped him gain a lot of fans and followers. Though he is not an avid social media user, he is still very famous on various social media platforms. He has around 2.8 million followers on Instagram and more than 1.5 million followers on Twitter.
He hardly posts anything about his personal life and, most of his posts are about his films, series, and upcoming project.
Manoj Bajpayee - Brands and Endorsements
This guy has a different aura which gives him an edge over all of his competitors. It also helps him in bagging a lot of brand endorsements. So many companies want to collaborate with him and make him their brand ambassador.
Some of the brands endorsed by him are:
Housing.com
Indostar TMT
Pan Vilas
Mahindra Maha Bolero
Manoj Bajpayee – Actor with No Breaks
Manoj Bajpayee's life ha has been one of the most inspiring ones. There are very few people in this world who exactly know what they want from their life. Most people are unable to find the purpose of their life till their last breath. But this guy is one of those luckiest people on the earth who knew 100% what he wants to do.
The catch of life is not about knowing what exactly you want to do in life. The main thing is to keep discovering yourself and never stop the process of learning. This guy did this exactly and, now his story has become an inspiration for all of us.