Sardar Vallabhbhai Patel Biography: Legacy of Iron Man of India
Sardar Vallabhbhai Jhaverbhai Patel, or commonly known as Sardar Patel, is one of the most important historical figures of this nation. His role in the independence movement of India and leadership in the subsequently formed new republic is exemplary. Most people know him for his role as the First Deputy Prime Minister and Home Minister of Independent India, but there is so much more to him than that. Here's a glimpse of the life and legacy of Sardar Vallabhbhai Patel.
Sardar Vallabhbhai Patel: Early Life and Education
According to Sardar Patel's matriculation papers, he was born on 31 October 1875. He was born to parents Jhaverbhai Patel and Ladba Patel in Nadiad Gujrat & surprisingly finished his matriculation at the late age of 22, which brought quite a disappointment to his elders. Unbeknownst to them, he always dreamed of studying in England and becoming a barrister. At the age of 36, he fulfilled this dream of his.
Sardar Vallabhbhai Patel: As a Freedom Fighter
In 1917, Sardar Patel delivered a speech in Borsad, advocating for Gandhi's petition for Swaraj.
He also held the position of the secretary of Gujarat Sabha, which would later become the Gujarati leg of INC.
He played a crucial role in the peasant uprising in Kheda, Gujarat.
In 1920, he was elected as the president of the Gujarat Pradesh Congress Committee; he served in the position until 1945.
He recruited over 3 lakh people and Rs 15 lakh from Gujarat for the Non-Cooperation movement.
In 1922, he was elected as Ahmedabad's municipal president.
In 1923, on the behest of the Members of Congress, he led the Satyagraha in Nagpur.
He convinced countless people in Kheda and Borsad to resist the payment of taxes as a form of protest.
In 1931, under Sardar Patel's chairmanship, the Fundamental Rights and Economic Policy was passed by Congress.
In 1931, after the Gandhi-Irwin pact was signed, Sardar Vallabhbhai Patel was elected as the president of Congress.
He was jailed several times during the freedom struggle. Most notably, he was imprisoned with Mahatma Gandhi in Yeravda Central Jail. Their friendship strengthened during this period.
During WWII, when congress leaders such as Nehru, Rajagopalachari, and Maulana Azad, were not in full support of Civil Disobedience, Sardar Patel's faith in Gandhian protest did not waver.
His speech on Gowalia Tank in front of 100,000 people is lauded by historians to have reinvigorated the nationalist towards the freedom movement.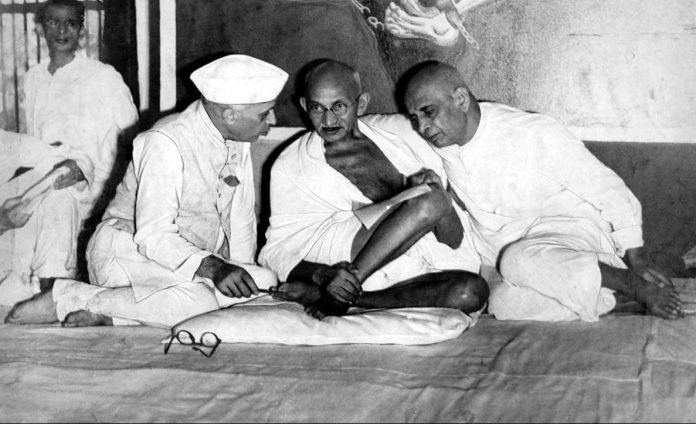 Jawaharlal Nehru, M.K. Gandhi, and Sardar Patel, 1946
Sardar Vallabhbhai Patel: As a Barrister
Before moving to England, he practiced law in Godhra, Borsad, and Anand. After returning to India, he settled almost exclusively in Ahmedabad. He was a fierce and skilled lawyer and had high ambitions regarding both wealth and reputation. He was driven by his desire to give his children a comfortable life and modern education.
Also, he blended right into the English crowd. At this point in his life, he was known to wear western outfits, his mannerisms were urbane, and he was a great bridge player. As most would assume, this did change quite a bit when he joined the freedom struggle. He had to give up all his material goals, and so he did.
Sardar Vallabhbhai Patel: His Role after Independence
He was the first Congress leader to accept the partition. He was originally against it but was convinced of the move after observing all the communal violence in Punjab and Bengal. He played a crucial role in convincing other Congress leaders of the same.
He held the position of Deputy Prime Minister from 15 August 1947 to 15 December 1950
He also held the position of Minister of Home Affairs from 15 August 1947 to 15 December 1950.
He was the first person to hold these positions.
He represented India in the Partition Council, which oversaw the division of assets.
He formed the Delhi Emergency Committee to deal with the aftermath of the partition.
He addressed a crowd of 200,000 in Amritsar, criticizing extreme communal violence in Amritsar and Lahore.
Sardar Patel was also in charge of the integration of the princely states into India.
Sardar Patel, along with Governor-General of India, Chakravarti Rajagopalachari, and Nehru, formed the triumvirate that ruled India from 1948-50.
He worked closely with Muslim and other minority leaders to integrate the electorates.
He was instrumental in the founding of the IPS, IFS, and IAS.
He oversaw the reconstruction and restoration of the Somnath temple.
In 1947, when Pakistan attacked Kashmir, Sardar Patel oversaw critical military operations.
Sardar Vallabhbhai Patel: Titles and Recognitions
Iron Man of India His unshakable devotion towards the Independence movement and his unwavering effort towards the development of India as an independent country earned him this title. The title also alludes to his contribution to the military and All India Services.
Unifier of India This title was the inspiration behind the name of "Statue of Unity". His tireless dedication towards integrating the 565 princely states, and his efforts towards minorities, earned him this title.
Patron saint of India's civil servants / Father of All India Services He was instrumental in the creation of the Civil Services of India, including Indian Administrative Service (IAS), Indian Forest Service (IFS), and Indian Police Service (IPS). He referred to the All India Services as the "steel framework" of the nation.
Bharat Ratna 1991 He was posthumously awarded the Bharat Ratna for his contribution as a leader of the country.
Sardar Vallabhbhai Patel: Statue of Unity
It is a 182 meters giant statue of Sardar Vallabhbhai Patel, erected to commemorate the life of this great leader. Prime Minister Narendra Modi announced the project on 7 October 2013. The construction was undertaken by Larsen & Turbo and cost the country around Rs 2700 crore or US$422 million. Sculptor Ram V. Sutra designed it. Since its inauguration on 31 October 2018, it has amassed nearly 3 million visitors.
Saluting the Hero
The Statue of Unity is one of the many ways that India and its people remember and pay tribute to its "Iron Man". The nation has not forgotten the one man who gave his best to lead the country with integrity, knowledge, and unwavering faith.