Remembering the Real Hero of India: Netaji Subhas Chandra Bose
When Subhas Chandra Bose said, "Tum Mujhe Khoon Do, Main Tumhe Azadi Dunga" (You give me blood and I'll give you freedom) and 'Jai Hind', something in the Indians sparked a desire for independence. He was a man who fought for India until he died. Indian soldiers of the Indische Legion in Germany bestowed the title "Netaji" on him.
Today, we'll have a look at his life and philosophies with this short write up.
Subhas Chandra Bose: About
Bose, who was born on January 23, 1897, was an Indian nationalist who became a hero because of his passion for his homeland. He is known for his struggle against the British. He was a key figure in the Indian independence movement and was deeply inspired by Swami Vivekananda's teachings. The Bhagavad Gita inspired him to become a freedom fighter, and he established the Indian National Army to expel British rule from India.
Subhas Chandra Bose - Early life
Childhood Netaji Subhas Chandra Bose was born in the village of Cuttack, Orissa, and was a brilliant student from an early age. Janaki Nath Bose, his father, was a well-known lawyer, and Prabhavati Devi, his mother, was a homemaker and a devout Hindu. Bose was the ninth child of his parents and had 13 siblings. His mother, who used to tell him stories from the epics of Mahabharata and Ramayana, instilled in him the spirit of helping those who are in need.
Education From 1902 to 1909, Bose attended the Baptist Mission's Protestant European School in Cuttack, where the medium of instruction was entirely English. In 1909-1912, he attended Ravenshaw Collegiate School in Cuttack. Following in the footsteps of his elder brothers, Bose completed his education in Calcutta. He attended Calcutta's Presidency College, a historic and traditional college for Bengal's upper-caste Hindu men.
Bose was expelled from the University of Calcutta in February 1916 after assaulting a professor for harassing Indian students. Following this incident, Bose was denied admission to Calcutta University, so he enrolled at Scottish Church College, where he received his B.A. in 1918. Subhas applied for and passed the ICS exam in 1919 and went to Cambridge for the same. After hearing about the Jaliawala Bagh incident, Bose had to leave his training and decided to return to India.
Subhas Chandra Bose Politics Career – Indian National Congress
Subhas Chandra Bose joined Gandhi Ji's Non-Cooperation movement and collaborated with Chittaranjan Das, his political mentor. Following the campaign, he became a youth instructor and the Bengal Congress volunteers' commandant. He founded the newspaper Swaraj and served as the Bengal Provincial Congress Committee's publicist. Subhas Chandra Bose was elected president of the All India Youth Congress and secretary of the Bengal State Congress in 1923 & also edited 'Forward,' a newspaper founded by Chittaranjan Das.
Bose in Prison In 1925, Bose was arrested and sent to prison, in Mandalay, due to a roundup of nationalists. After he was released from prison in 1927, he became the general secretary of the Congress party and worked with Jawahar Lal Nehru for independence.
Congress Presidency In 1938, he was elected as the president of the Indian National Congress and formed a national planning committee, where the policy of broad industrialization was formulated. But due to a lack of Mahatma Gandhi's support, Subhas Chandra Bose had to resign as the president.
Subhas Chandra Bose - Indian National Army
Formation Rash Behari Bose, an Indian nationalist, immigrated to Japan and spent several years there. Rash established the Indian Independence League with the help of Indians living in Southeast Asian countries during those years. The league created the Indian National Army from among the Indian prisoners of war after Japan defeated the British armies. The formation of the Indian National Army, also called Azad Hind Fauj, was one of the most significant developments during World War - II. General Mohan Singh was instrumental in the creation of this army.
Netaji's Role Bose went to Singapore in 1943 to lead the Indian Independence League and restore the Indian National Army so that it could be an effective tool for India's independence. Subhas Chandra Bose declared the establishment of Independent India's provisional government in Singapore in October 1943. Three units of the Azad Hind Fauj took part in the assault on the north-eastern parts of India in 1944, which was aimed at driving the British out of India. However, despite several attempts to liberate India, the Azad Hind Fauj (Indian National Army) was unsuccessful.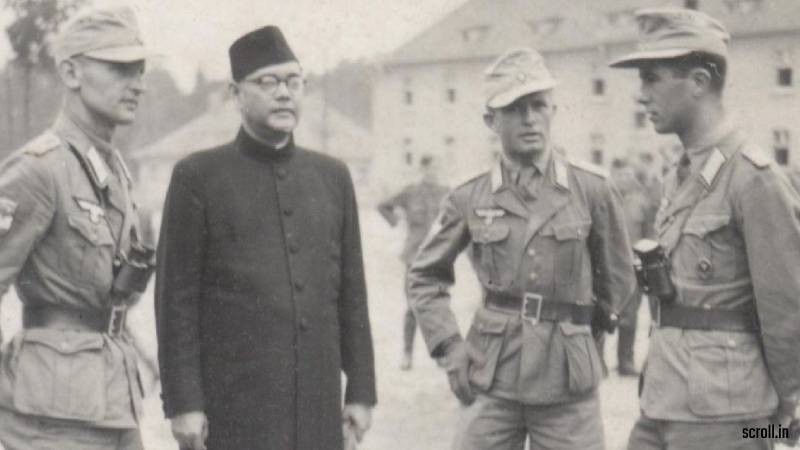 Netaji with German officers attached to the Azad Hind Fauj. | Major Abid Hasan
Subhas Chandra Bose - Death
After his plane crashed in Taiwan, the hero of Indian independence died of 3rd-degree burns. Subhas Chandra Bose's airplane turned violent and crashed to the right, shattering it into two pieces and bursting into flames. Many passengers on board the plane were killed immediately, and others were seriously hurt. Bose was conscious and not seriously injured, so he and his assistant attempted to flee through the back door but were unable to do so because it was blocked by luggage.
Bose then decided to join his assistant in jumping through the flames. However, it turned out that his clothes had been heavily saturated in gasoline and had caught fire as soon as he came into contact with it. People in the area attempted to put out the flames, but he was severely burned. He was immediately taken to the hospital and treated by the best surgeons. Despite the best treatment given to him, Bose went into a coma on August 18, 1945, and died.
Subhas Chandra Bose- Memorials and Media
From 1964 to 2018, Subhas Chandra Bose appeared on Indian stamps in the years 1964, 1993, 1997, 2001, 2016, and 2018. In 1996 and 1997, he was also featured on the Rs 2 coin. He was also honored by the construction of the Netaji Subhash Chandra Bose International Airport in Kolkata, which bears his name. The Indian government declared January 23 as Parakram Divas in 2021 to commemorate Netaji Subhas Chandra Bose's birth anniversary.
Documentary & Biography
Netaji Subhas, a documentary directed by Chhotubhai Desai and released in 1947, is one of several films and documentaries about Subhas Chandra Bose life. His Majesty's Opponent, written by Sugata Bose and published in 2011, is a biography of Subhas Chandra Bose.
Subhas Bose has given a lot to this country in the name of patriotism, and he has taught us what true patriotism is. Even though he had a life of his own, the exams he needed to pass and the goals he needed to accomplish were replaced by a single dream to set India free. He slashed his wings to give the country its wings back. His supporters now want to follow in his footsteps and do something positive for the nation.