Story of Rajat Sharma: India's Fair and Fearless Journalist
In India, there are only a few journalists who keep themselves grounded after having closing relation with political parties. Among this list of unbiased journalists, there is always the name of the chairman of India's most viewed news channel – India TV's Rajat Sharma. Rajat Sharma is a free, fair, and fearless journalist & has an inspiring personality because of his works in journalism and the struggles he faced in life. So, this article features the story of the self-made man, Rajat Sharma.
Fun Fact: Rajat Sharma hosts "Aapki Adalat," the longest-running show in India's television history.
Rajat Sharma: India TV Founder
Rajat Sharma is one of the few TV journalists who made his name in this field through hardships and struggles. He is the Founder, chairman, and editor-in-chief of India TV, the most viewed news channel in India. It didn't happen in a day; rather, it was a failure but, Rajat's strategies and conscience pulled through that tough time. He has been conferred with India's 3rd highest civilian award, the Padma Bhusan Award, for his contribution to the field of Journalism.
Rajat Sharma: Early life and Struggles
Rajat Sharma came to this world on 18th February 1957 in Delhi, India. He shared a 10 X 10 small house with his parents and his six brothers, and one sister. He belonged to a low-income family and spent his childhood in poverty. His father couldn't afford to give expensive education, so he did his elementary schooling at Ramjas School, a community school.
As he belonged from a poor background, there was no electricity available at home, which compelled him to go to places like railway stations to study.
Rajat Sharma: Education amidst Poverty
Attaining success without struggles is not a true success story. And Rajat's story is a true success story. After completing his elementary education, he pursued graduation in B.Com from Sri Ram College of Commerce in Delhi University (DU). He studied hard to secure his place in that college. He used to finance his studies by teaching at a tutorial. As he had financial problems, his friend and senior in college, Arun Jaitley, helped him pay the college fees. Mr. Arun Jaitley was one of his closest friends, but he is no more with him as he passed away in 2019. He then went on to complete his post-graduation degree in M.Com from the same college.
Rajat Sharma: Personal Life
He has spent many years living in poverty, but he has worked hard to put himself as a top news anchor in India. As of current, he has a net worth of $15 Million. All this is because of his hard work, patience, and continuous efforts. He is married to Ritu Dhawan, and the couple has a son.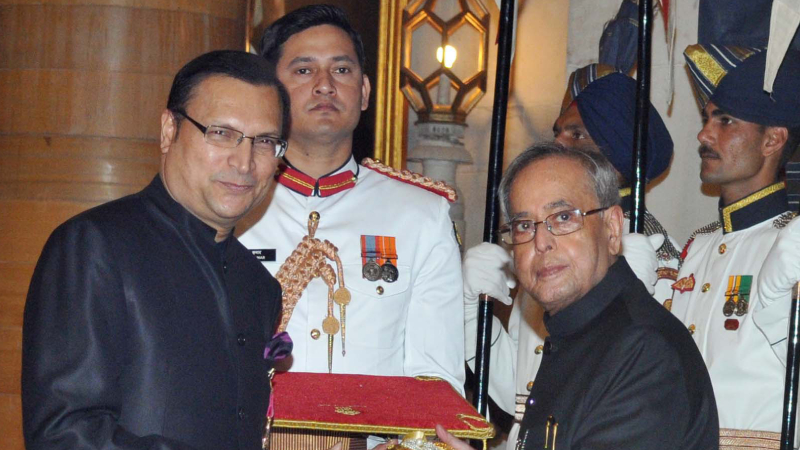 Rajat Sharma: "Padma Bhushan Award"
Rajat Sharma: Achievements
Throughout his career, he has received many accolades for his contribution to the journalism sector, and here is a list of them.
Awarded with the "Padma Bhushan Award"
Appointed as the President for "The News Broadcasters Association (NBA)
Declared as the INBA "Entrepreneur of the year."
Conferred with "Tarun Kranti Award"
Awarded with Best Anchor award several times, even the Indian Television Academy Lifetime Achievement Award
Named as the "Hero of the media industry" in a nation-wide survey
Elected president of Delhi Cricket Association
Rajat Sharma: Career Timeline
Researcher After completing his Masters, Rajat was vigorously searching for a job. He accidentally found Janardan Thakur, a journalist at Anand Bazaar Patrika, Old Delhi. He started as a researcher for Mr. Thakur. His job was to give the research work on various topics to Mr. Thakur for Rs 400/month.
But, once he sought permission from Janardan Thakur if he could utilize the research material for his use. He used that material to write his own story for Onlooker magazine. It was a fortnight magazine. He was amazed to receive Rs 300 for a single story. It was much more than what he got for his monthly work at Janardan's office.
Onlooker Sharma joined Onlooker magazine as a trainee reporter in 1982. And, within two years, he got the designation of Bureau Chief, and in 1985, he was made the editor of the magazine. He preferred to make his way to 'The Land of the Dreams.' He was only 28 when he moved to Bombay.
Sunday Observer As he was 28, many journalists kept doubting his skills as an Editor. He got the taste of success at a very young age, but it is not always good as people started judging him by his age. People refused to accept him as an editor. After a rigorous struggle for three years, Rajat joined 'Sunday Observer' as an editor, and then he moved to 'The Daily.'
Rajat Sharma: Aap ki Adalat
In 1992, he met Dr. Chandra through his friend Gulshan Grover who was on the same flight to talk with Dr. Chandra. The trio landed upon an idea of an interview in the format of an 'Adalat.' Dr. Subash Chandra was interested in this idea. And, after a few days, he got a call from Subash Chandra to send him the details. Without any delay, he briefed him about the show.
Dr. Chandra offered him to host the show, and without thinking anything, Rajat Sharma agreed. On 13th March 1992, "Aapki Adalat" went on air.
Working in Adalat: Becoming a Star
This show made him a star. He started the show with Lalu Prasad Yadav as his guest. No one ever thought that a show like this could attain much height except Dr. Chandra. He went on to interview high-profile people from different sectors. He became a star after interviewing such big personalities and attaining recognition from the audience.
Rajat Sharma: INS Bulletin
In 1995, Rajat launched India's first private television news bulletin. And two years later, he, along with his wife, launched their own production house – Independent News Service (INS). It is the parent company of India Tv. In 2004, the couple took a big decision to launch their news channel, India Tv.
Rajat Sharma Challenges: Lack of Funds
Everything was good, and he received several awards for the serious content of his channel. But, the next two years were frightening as there were no takers for the channel, and Rajat was running out of funds, plus India Tv became cashless. He had to sell his wife's jewelry and sell his property to give salaries to the staff.
Rajat Sharma: Arrest during Emergency
When he was 18 and studying at Sri Ram College of Commerce, he joined the JP movement (Jayaprakash Narayan movement). It was against misrule and corruption in the state government and later turned against Prime Minister Indira Gandhi's government. But Indira Gandhi was shrewd; she clamped Emergency in India on 25th June 1975 to save her prime minister's seat and government. Many activists were arrested for opening their mouths and publishing content against the government. The list includes Jayaprakash Narayan, Morarji Desai, Atal Bihari Vajpayee, L K Advani, Chandrashekhar, and Arun Jaitley.
Rajat was also on that list, and he spent ten unforgettable months in Tihar Jail.
Rajat Sharma was not born with a silver spoon. He had nothing, but he made everything for himself through his hard work and determination. Though he had many political connections, he never asked for help from anyone, even during bad career days. Rather he took everything upon himself. He is one of the few journalists who put fair news content without any fear of anyone.