Sandeep Maheshwari Life Story: The Most Inspiring Yet Fearless Man
Many entrepreneurs and motivational speakers have come to the forefront to create an impact. Still, no one has been able to match the insightful impact Sandeep Maheshwari has created over the young masses. He has become a household name among the youth of the country who wants to make it big.
He is a name that also has had his share of failures but overcame all the obstacles to achieving success and contentment. His success proves itself by the fact that today every youngster feeling lost and low in his career goes to YouTube and look at his videos to have clarity of vision. Today, we are going to delve deeper into the rags to riches story of Sandeep Maheshwari.
Quote: "Once you become fearless, Life becomes Limitless" - Sandeep Maheshwari
Sandeep Maheshwari : Early Years
Sandeep Maheshwari was born in New Delhi in 1980. His first entrepreneurial stint came at the age of 13 when he used to rent his father's scooter to his friends for Rs 50 an hour. At this tender age, he used to think out of the box. After school, he enrolled in the prestigious Kirori Mal College in B.com.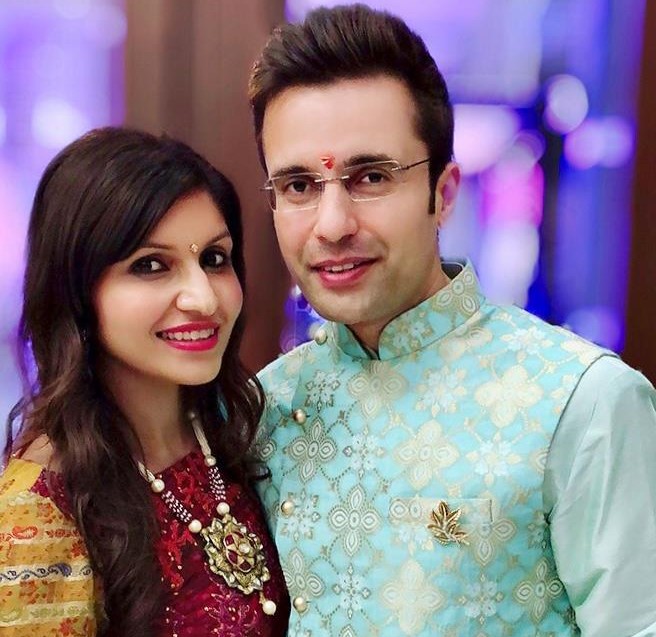 Sandeep Maheshwari's Wife - Ruchi Maheshwari
Sandeep Maheshwari: College Dropout
Destiny turned its back against him when he was 19. His family's aluminum business collapsed, and the family responsibility came on Sandeep's shoulders. Eventually, he ended up dropping out of college.
Sandeep Maheshwari: First Failure
He tasted another failure when he started a business with a partner. The terms and conditions were decided for the profit sharing. But, later he came to know that he was fooled by his partner and ran away with all the money. This episode was a massive learning experience for Sandeep. The turning point came in his life when he did a 2-week photography course and started freelancing photography.
Sandeep Maheshwari: Achievements
Sandeep Maheshwari started "Mash Audio Visuals", a company to make modeling portfolios to combat the exploitation witnessed by models.
In 2003, he made a Guinness record of taking 10000 shots of more than 122 models in just 10 hours and 45 minutes.
In 2006, he took the biggest bet of his life by starting his company infamously known as Images Bazaar.
ImagesBazaar.com became the company having the most extensive collection of Indian Images in 2010.
Today, ImagesBazaar has more than 7000 clients and making millions of dollar per year in its revenue.
Sandeep Maheshwari YouTube: Fastest 10 Million
Sandeep Maheshwari did not stop after ImagesBazaar's success and wanted to share his journey among millions of people, so he started giving motivational speeches across India. He started life-changing seminars to inspire people, and gradually his seminars got so popular that colossal auditoriums started getting filled with masses.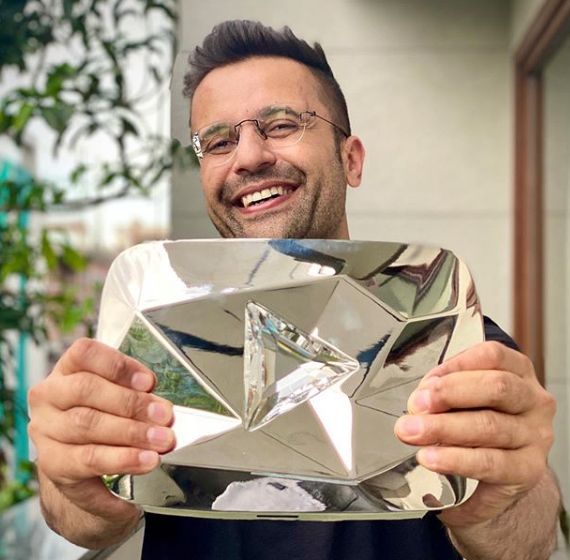 YouTube Achievements
Sandeep Maheshwari's last life-changing seminar became a sensational video as it garnered more than 35 million views on YouTube.
Sandeep became one of the fastest YouTubers to gain more than 10 million subscribers. As of now, he has staggering 19 million subscribers on his channel.
After he ended his life-changing seminars, he started his live audience sessions in a small auditorium to give an insight on topics like success, love, goals, business etc.
He has given special consulting to people aspiring to do business in his videos.
Sandeep & Spiritual Growth
There is a famous saying that the only way out is the way in. Sandeep Maheshwari often credits his success to his Meditation and spiritual growth. He has had his share of some spiritual experiences. So, to share his spiritual wisdom with people, he started another channel named "Sandeep Maheshwari Spirituality".
Sandeep's spiritual videos on Meditation, the Sound of silence, The Absolute Truth have amassed a massive number of views. These videos have ignited a spark of spirituality in youngsters, which seemed to be impossible in past times.
Podcast
In 2021, Realizing the big opportunity in the budding podcast culture, he launched his podcast. But, he does not invite renowned personalities on it, unlike other podcasters. He hosts common people and answers their questions.
One unusual fact is that Sandeep does not earn even a single penny from his videos & podcasts. In one of his videos, he said he wanted to gain contentment by inspiring millions of people over the money he could earn. It shows his revering personality.
Sandeep Maheshwari: Awards & Recognitions
Sandeep Maheshwari has received "the Young Entrepreneur Award" from the "British High Commission".
Business World Magazine awarded him as "One of India's Most Promising Entrepreneurs"
In 2013, he was awarded as "Creative Entrepreneur of the Year" by the "Entrepreneur India Summit".
He was awarded as "Star Youth Achiever Award" by the "Global Youth Marketing Forum".
Sandeep Maheshwari World Record
He holds the world record for taking 10,000 photographs of 122 models in ten hours and forty-five minutes. It was an once-in-a-lifetime experience that became a world record.
Sandeep Maheshwari's Thought: It is Okay to be Lost
Sandeep Maheshwari has proved that it is okay to feel lost and have blurred vision at a young age. But, how he overcame all the constraint like being cheated or failing as a model and climbed the ladder of success is nothing short of an inspiration.
His success story unravels that you do not need to have a college degree or some high expertise skills to become successful. With a common skill of photography, he made his business empire.
Sandeep Maheshwari: Help over Money
One trait which differentiates most successful people from unsuccessful ones is that they share their wisdom to inspire people to make it on their own. Sandeep has made an indelible impact on people especially the youth to chase their dreams and materialize them into reality.