Was Gandhi A Villain or Hero? Mahatma Gandhi Biography
Mahatma Gandhi, the father of the Nation, has been an essential personality in the history of India. He inspired everyone to fight a battle through non-violent methods. But the tragic end of his life by Nathuram Godse's pistol is a strange mystery. It leaves us wondering whether Gandhiji was a good person whom everyone liked or whether some traits we missed in Gandhiji persuaded Godse to take such stringent step.
If you also feel confused about the positive and negative aspects of Gandhiji's life, then stay tuned to this article. In this article, we will look at Mahatma Gandhiji's life study and figure out the good and bad characteristics of his personality.
Mohandas Karamchand Gandhi - Early life
Gandhiji was born on 2nd October 1869 in Porbander, Gujarat, in the family of Mohandas Karamchand Gandhi and Putli Bai. Gandhiji was an average student, and his only friends were books, and he had no interest in sports. He was married at the age of 13 years to Kasturba Bai.
Mahatma Gandhi - Education
After graduating from high school, he was admitted to Samaldas College, the cheapest college in their area, but he dropped out. Then his family friend, Mavji Doshji, asked him to join London Law College. Gandhiji's brother, Laxman, supported this idea. Before leaving, Gandhiji gave him a famous vow to his mother that he would always stay away from meat, alcohol and women.
Mahatma Gandhi Biography: Major Timelines
Experience at London College Gandhiji, who was a shy student from childhood, joined a public speaking practice group. This helped him to gain confidence and laid the foundation of his future leadership qualities. He always remained vegetarian in London.
Failed law career in India After completing his law studies in London, Gandhiji returned to India. He discovered that his mother is no more. He tried to earn his livelihood as a lawyer, but he felt it challenging to cross-examine witnesses. He also attempted to draft petitions and earn income, but this was also prevented due to some reason.
Gandhiji goes to South Africa Finally, he got a call from his cousin, who needed a Kathiwadi lawyer. Gandhiji agreed and moved to South Africa. South Africa was the place where his political views were nurtured. He faced racial discrimination in South Africa. Then he decided to protest against this apartheid system. He went to jail several times for protesting against the British, but he did not give up. Gandhiji emerged as a national hero, and he managed to win voting rights for South Africans.
Gandhiji returns to India Gandhiji returned to India on 9th January 1915, popularly celebrated as NRI day (Bhartiya Parvasi Diwas). Gandhiji's first significant satyagraha after coming back to India was Champaran Satyagraha. He successfully protected the rights of poor peasants who were paying a considerable tax instead of Indigo to the British planters.
Major Movements Led by Mahatma Gandhi:
Satyagraha
After this significant victory, Gandhiji was engaged in Kheda Satyagraha. He developed a leadership quality, and finally, he launched many nationwide Satyagrahas and Movements for India's freedom struggle.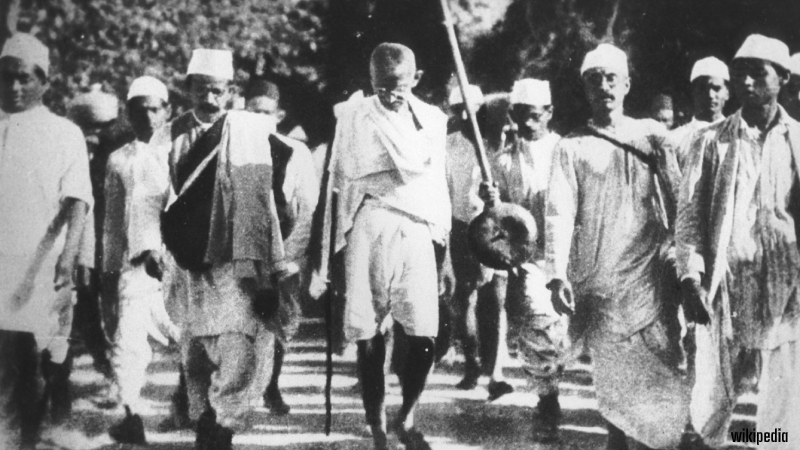 Non-cooperation Movement - 1920
In 1920, he began the famous Khilafat Non-cooperation movement. People were persuaded to boycott British goods and switch to Swadeshi goods. This movement was aimed at destroying the economic dominance of the British. But the movement was called off due to the Chauri Chaura incident.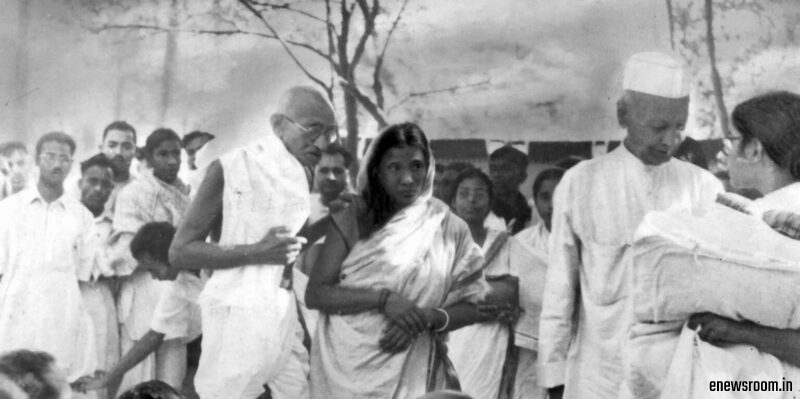 Salt March & Quit India - 1942
Then there was no stopping to Gandhiji's leadership in various movements. He then led the famous Civil Disobedience movement (Salt March), signed the Gandhi-Irwin pact and concluded with the Quit India movement in 1942.
His efforts, combined with the struggle of other freedom fighters, bagged independence for India on 15th August 1947.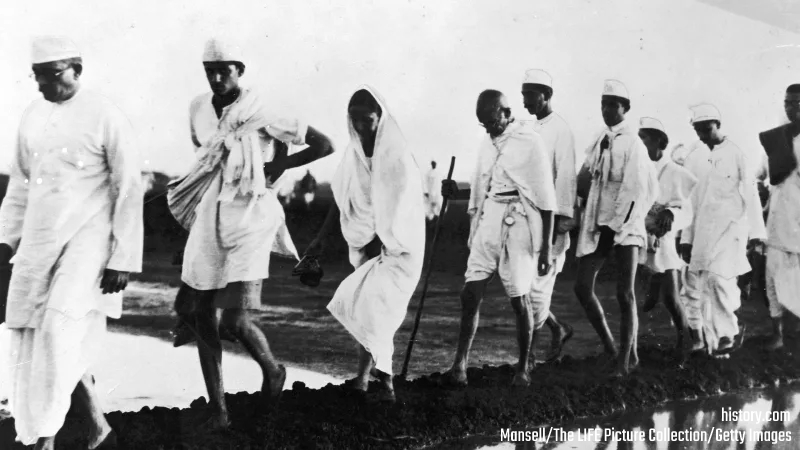 Mahatma Gandhiji's Preachings:
Gandhiji always believed in truth and used non-violent method for fighting against the British colonial Government.
He led nationwide campaigns to eradicate poverty, expand women's rights, finish untouchability, and achieve Swaraj or self-rule for India.
He was known for simple living and high thinking.
Gandhiji always abstained from meat and alcohol.
Gandhiji used fasting to fulfilling his demands.
He firmly believed in women rights. Women participated in his satyagrahas in a large number.
Gandhiji always gave preference to Khadi cloth.
Gandhi: Last Years
India gained independence in 1947, but a dreadful partition accompanied this freedom. Partition led to the bifurcation of Punjab and Bengal, which led to violence in many areas. To stop that religious violence, Gandhiji fasted. He also asked the Government to pay some cash and assets to Pakistan.
This kindness towards Pakistan was not well-conceived by many people. One of the Hindu extremist NathuRam Godse fired three bullets into the chest of Gandhiji, and he died on 30th October 1948. When he was asked about the reason, he cited several reasons. Gandhiji's last words were 'Hey Ram', and his Samadhi is at Raj Ghat.
Mahatma Gandhi: According to Nathuram Godse
Gandhiji is infamous for showing so much complacency towards Muslim, which was also cited as a reason for his murder.
Godse believed that Gandhiji was responsible for the division of the country and the sufferings.
He says that Gandhiji had brought problems for the country under the veil of non-violence and truth.
Gandhiji was dominating force for the beginning and withdrawal of all significant movements. For instance, when the non-cooperation movement was going very well, he called it off in the name of violence in Chauri Chaura.
Gandhiji failed to understand that people gave their jobs for the sake of patriotism, but by calling it off, he is wasting their efforts.
Godse called Gandhiji's politics an irrational one.
He also blamed Gandhiji for destroying the purity of the Hindi language by mixing with it Urdu words and calling it Hindustani.
He blames Gandhiji and INC to secretly accept the partition formula and shoving the country into violence, riots, and separation.
He also mentioned Gandhiji's condition for breaking his fast. The condition was that Hindu refugees should leave the mosques in Delhi to give shelter to Muslims. But he failed to acknowledge the miseries of Hindus in the Pakistan area.
We don't know whether Godse's words are valid or not, whether Gandhiji supported the partition and drove the country to immense sorrow. One thing that we surely know is that it takes a minute to destroy one's reputation, but it takes several years of hard work and dedication to build that reputation.
Remembering Gandhiji
Gandhiji will always remain alive in the memories of Indian. His birthday, 2nd October, is celebrated as Gandhi Jayanti and Internation non-violence day. His birthday is one of the three national festivals of India.
Gandhiji neither became a leader in one day nor was it an easy journey. Godse raises some criticism that one can ponder upon, but it needs concrete historical evidence to say anything wrong about the father of Nation, Mahatma Gandhiji.
Closing words
This article looked at the complete life study of Gandhiji. He established himself as an influential leader in the Indian freedom struggle, but some apprehensions about his characters persuaded Godse to shoot him.
It can be concluded that what we believe about others is purely based on our thoughts, and we can't figure any person as good or bad because beauty lies in the eyes of Beholder.