India's Best Bet on Football Sunil Chhetri Surpasses Lionel Messi
Sunil Chhetri is a sportsperson of India and the current captain of the Indian Football team. He worked against all the odds and made his luck work for him. This guy has recently added one more feather to his cap. He has scored 74 International goals and surpassed Lionel Messi to reach this spot and, he is just behind Christiano Ronaldo with 103 goals. This fantastic captain is like M.S Dhoni of the football team. He is a legendary player and one of the best captains that the Indian Football Team could ever have.
Fun Fact: Sunil is now the second player in the world to score the most International goals.
Sunil Chhetri – Statistics
Full Name - Sunil Chhetri
Nickname - Captain Fantastic
Born - 3 August 1984 (36 years)
Birth Place - Secunderabad, Andhra Pradesh, India
Position - Striker, winger
Height - 5 ft 7 in
Current Team - Bengaluru
Sunil Chhetri - Early Life
It is a lesser-known fact that Sunil wanted to become a cricketer. But due to poverty and lack of resources, he had to shift his focus towards football matches. His father is also a football player and, his mother and twin sisters have represented the national football team of Nepal.
It helped him in developing an interest in Football.
Sunil Chhetri : Football Club Beginning
He started his career in 2002 at Mohun Bagan for three years contract.
It was one of the most famous and successful Football clubs at that time. Sunil learned a lot of skills and trained hard there. He later moved to Jagatjit Cotton & Textiles Football Club and scored 21 goals in just 48 matches.
Sunil Chhetri - Personal Life and Family
Sunil Chhetri was born to K.B Chhetri and Sushila Chhetri. His father was an officer in the Indian Army and, his mother was a football player too. He has a twin sister who is also a footballer.
Sunil married his long-time girlfriend, Sonam Bhattacharya, in 2017. She is the daughter of the famous Indian Footballer Subrata Bhattacharya.
Sunil Chhetri – Career
Debut Sunil debuted in 2007 in the Nehru Cup. He scored two goals against Cambodia in his first International Match. India won that won since 1997 and, Sunil ended up scoring four goals in the entire tournament.
Championships In the year 2008, he played several tournaments like SAFF Championship and AFC Challenge Cup. Sunil ended up scoring 2 and 4 goals for each Cup. He also scored a hattrick in the AFC Challenge Cup that helped India in winning the trophy. This victory helped the team to qualify for the 2011 Asia Cup. He also made a record by scoring seven goals in a single season of the SAFF Championship.
Captaincy Sunil becomes the captain for the 2012 AFC Challenge Cup Qualification. These years were equally crucial for him and, he ended up scoring many in various tournaments. His performance in the Nehru Cup was also outstanding.
AFC Asia Cup Chhetri helped his team qualify for the AFC Asia Cup 2019. They won 13 straight matches but lost the final game against Kyrgyzstan. He scored a hattrick in the 2018 Intercontinental Cup against Chinese Taipei.
100th Match However, the turnout in the stadium was poor, so he posted a video on Twitter urging people to support the Indian team. The result was excellent and, for the rest of the games, the stadium was jam-packed. The second match in the tournament was also Chhetri's 100th International match for India. He also helped India to register a historic win in the AFC Asian Cup 2019.
Sunil Chhetri - Mumbai FC Team
Sunil Chhetri played for Mumbai City in the Indian Super League, 2015. He was the most expensive player in the auction by a bidding price of over 1.5 crores. He missed the first two matches for his team due to the qualifiers match for World Cup, 2018.
But he came back and made a record by scoring a hattrick in his fourth match and scored a total of 6 goals in four games. His next two seasons with the team were also good. Sunil became the highest-paid football player in 2017.
Bantai and all his Hindi from Bombay, both will be missed sorely. You've been terrific for this club, dost @RahulBheke and I will always wish the best for you. That ISL trophy will forever have a little piece of your head on it. It's been a pleasure playing with you. pic.twitter.com/fToOhbbEWl

— Sunil Chhetri (@chetrisunil11) May 31, 2021
Sunil Chhetri - Awards and Achievements
Sunil has won various awards in his career. Some of the major awards won by him are:
Arjuna Award, 2011
Padma Shri Award, 2019
AFC Asian Icon, 2018
AIFF Player of the Year, 2007, 2011, 2013, 2014, 2017, 2018
Football Ratna Award by Delhi Football Association, 2019 (first recipient)
AFC Challenge Cup - Most Valuable Player, 2008
Hero of the Intercontinental Cup, 2018
SAFF Champions Player of the Tournament, 2011
FPAI Indian Player of the Year, 2009, 2018
Hero of the I-League, 2016
AFC Cup All-Time XI, 2021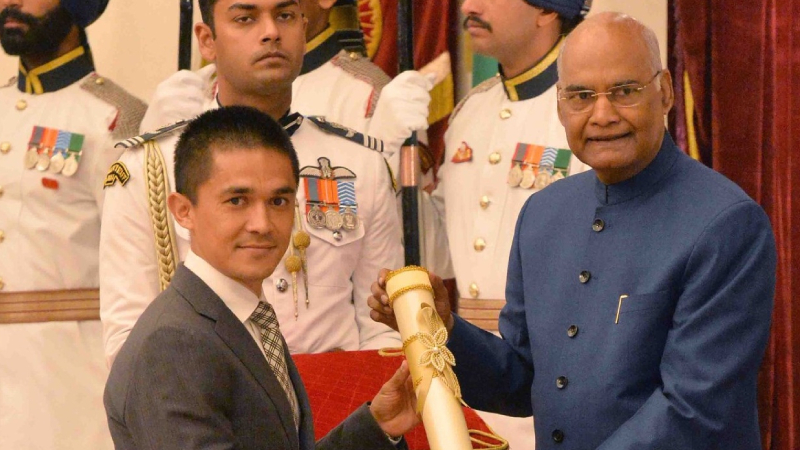 Sunil Chhetri Padma Shri Award
Sunil Chhetri - Brands Endorsements
Sunil Chhetri is one of the most loved footballers in India. It had helped him in bagging a lot of brand endorsements. There are several companies to want Sunil to be their brand ambassador. Some of the brands endorsed by him are as follows:
Puma
Celio
Herbal Life
Flipkart
Sunil Chhetri - Fans and Followings
Due to his unbeatable contribution to Indian Football Team, Sunil has managed to make a place in everyone's heart. He is not an avid social media user and, his posts are mostly related to his practice sessions, games, or some brand endorsements. He posts very rarely about his personal life.
He has more than 1.5 million followers on Instagram and around 1.6 million followers on Twitter.
Sunil Chhetri – Bringing Football to India
Sunil Chhetri's life is a great inspiration for all the youngsters in the county. This guy managed to create a football craze in India where most people only love watching Cricket matches. He followed his guts and made a name in this field. His hard work and dedication brought him very far and, now every citizen of the country knows his name. This guy is the epitome of patience and perseverance. His honesty and love for football games made him one of the best footballers in India. He broke many records on national as well as on international levels.