Motivational Para-athlete Mariyappan Thangavelu Life Story
It is often said that no disability can stop you if you are willing to win. The best example of this saying is a para-athlete. A para-athlete is a sportsperson who has some form of disability. Special athletic programs are organized for these para-athletes to showcase their talent.
Many Indian para-athletes have won numerous accolades for India in various para-athletic events. One prominent Indian para-athlete and the winner of the recent Rajiv Gandhi Khel Ratna Award Paralympic high jumper is Mariyappan Thangavelu. She is also amongst these brave heroes. In this article, we will look at the life history of this brave sportsman and learn lessons from his story.
Mariyappan Thangavelu: Early Life
Mariyappan Thangavelu was born on 28th June 1995 in village Periavadagampatti in Salem District of Tamil Nadu. His mother raised him and his 5 siblings alone because his father had left them.
Her Mother, Saroja, used to carry bricks and sell vegetables for raising her children. One can imagine the acute poverty that he had experienced.
Mariyappan's Disability: Accident
Mariyappan was born as a normal child. At the age of 5 years, when Mariyappan was walking on the road, a negligent and drunken bus driver mounted the bus over his right leg. His mother had to take a loan of Rs. 3 lakh for the operation. Unfortunately, the accident led to permanent disability in his right leg, and his leg below the knee became stunted. But he never gave up. He completed his studies and saw his stunted leg as a lucky charm.
Mariyappan had completed his BBA degree from AVS College of Arts and Science.
Mariyappan's Athletic Career
Mariyappan's athletic career did not begin as an athlete. He had an interest in volleyball initially. One day his physical teacher advised him to try high jumping.
This high jumping bagged him 2nd rank in a competition and that too among the normal kids. All his teachers and classmates were impressed by his performance.
When he participated in a national para-athletic competition in 2013, prominent coach Satyanarayan saw his potential. He persuaded him to come to the Sports Academy of India for differently-abled sportspersons in Bangalore, where he polished his skills.
SALUTE #Mariyappan!!#MariyappanThangavelu creates history by winning #GOLD in high jump at #Paralympics . pic.twitter.com/WovfbvUm5l

— Doordarshan National (@DDNational) September 10, 2016
Mariyappan Thangavelu's Achievements
After his training at Sports Academy, he first showed his potential at national level para high jumping competition and was sent to Tunisia for the Paralympics qualifying stage.
Mariyappan had qualified for the 2016 Rio Paralympics by clearing the qualifying stage in Tunisia. In the 2016 Rio Paralympics, he made a jump of 1.89m and won a gold medal in the high jumping competition and made an Asian record.
Mariyappan was also selected as the Indian flag bearer for the 2018 Jakarta Asian Para Games.
In the 2019 World Para Athletics championship, Mariyappan had won a bronze medal in Men's high jumping competition.
His name has also been recommended for the post of coach in Sports Authority of India.
Awards & Recognition
Mariyappan was conferred with India's 3rd highest honor, Padma Shri and Arjuna, award in 2017 for his incredible performance.
A film is also made on her life by the name: Mariyappan. It is directed by Aishwaryaa Dhanush.
Mariyappan Thangavelu also won the recent Rajiv Gandhi Khel Ratna award, India's highest Sports honor, along with paddler Manika Batra, cricketer Rohit Sharma, Hockey player, Rani Rampal and wrestler, Vinesh Phogat.
He is only the third Indian Paralympic athlete after swimmer Murlikant Petkar and Javelin thrower Devendra Jhajharia to win a Paralympic gold medal.
Owing to his spectacular performance, the Sports ministry awarded 75 lakhs, and Tamil Nadu Government gave Rs. 2 crores to him. With this prize money, he had bought a paddy field in her mother's name.
Sachin Tendulkar also runs a sports fund in his name because of his impressive game.
Mariyappan is only the second sportsperson from Tamil Nadu to receive India's highest sports honor, Rajiv Gandhi Khel Ratna Award, after chess master Vishwanathan Anand.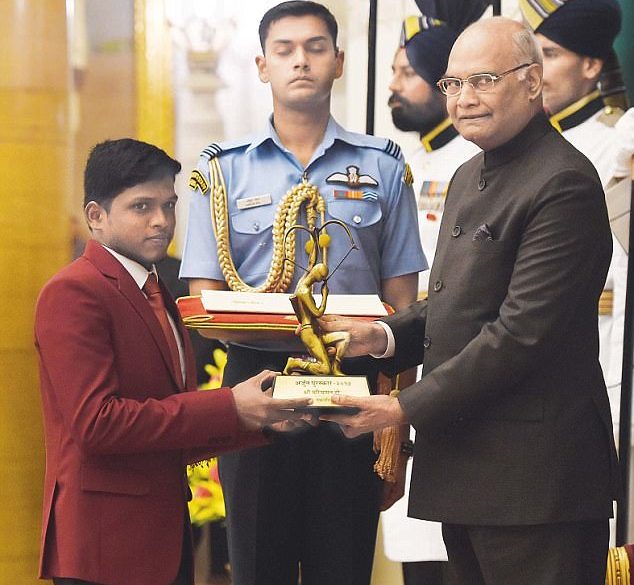 Mariyappan Thangavelu - Awards & Recognition
Future Goals
Mariyappan is now preparing hard for the 2021 Tokyo Paralympics. In an interview, he revealed that the Rajiv Gandhi Khel Ratna award is a constant motivation for him to work harder.
Mariyappan aspires to enroll in an MBA course.
Mariyappan also wants to do something for his family and village. He had requested Tamil Nadu Government to provide him with a job for monetary security.
To improve the sports culture in his village, he wants to establish his school.
Learnings
There are many lessons that we can learn from the life of Mariyappan Thangavelu.
Hard Work The first lesson from Mariyappan's life is that with your hard work and passion, you can turn any weakness into strength. Mariyappan never let his stunted leg become a hurdle in his journey. He always called it a lucky charm. Similarly, we can also turn any obstacles into our strength with our efforts.
Positivity The second lesson is to always have a positive attitude towards life and never give up on your dreams. Despite all the hurdles like poverty and stunting of the right leg, Mariyappan completed his studies and won gold for India in the Rio Olympics. This wouldn't have been possible if he had lost hope.
Down to Earth The third lesson is that no matter how high you go, never forget your roots. Mariyappan had revealed in an interview that although he enjoys his success, sometimes he does not feel good when his friend treats him like a VIP. It shows his down to earth nature.
Social Responsibility He always aspires to do something for his family and village. Similarly, we should also try to do something for society besides our individual growth.
Ending with Inspiration
Mariyappan's life is an inspiration for every person. With his hard work and compassion, he managed to achieve even those feats that even a normal person can't imagine.
We should also learn from this brave hero and inculcate these learning in our life. In the end, it can be said that you can't avoid a disability, but you can conquer your disability with your determination.