Nawab of Najafgarh Biography: Indian Batsman Virendra Sehwag
Virendra Sehwag is one of the biggest names in the history of cricket. This man started as a middle-order batsman. Due to a lack of good openers, Sehwag got pushed to open in the matches. Many players tried for the opening spot but, most of them either failed or had a very inconsistent performance. But Virendra Sehwag came out as a brilliant opening batsman and, his hunger for runs made him one of the most successful batsmen of the decade.
Virendra Sehwag - Early Life
Sehwag lived in a joint family. He is a Jat who hails from Haryana but, his family lived in Delhi. He first started batting at a very young age. His father wanted him to become a cricketer, so he gifted him a bat. He has been training to become an attacking batsman from the beginning of his career. His coach Amar Nath Sharma motivated him and made him practice every single day.
Virendra Sehwag – Statistics
Full Name - Virendra Sehwag
Born - 20th October 1978 (42 years)
Birth Place - Najafgarh, Delhi, India
Nickname - Nawab of Najafgarh, Viru, Sultan of Multan
Role - Opening Batsman
Batting - Right-handed
Bowling - Right-arm off-break
Virendra Sehwag - Family and Personal Life
Sehwag completed his education at Arora Vidya School, Delhi, and completed his graduation from Jamia Milia Islamia College. He lived in a happy joint family with many cousins, uncles and, aunties. He got married to Aarti Ahlawat after dating for five long years. The couple has two sons Vedant Sehwag and Aryavir Sehwag.
Virendra Sehwag – Career Timeline
Domestic Cricket Sehwag started playing cricket under Delhi's cricket team. He was a part of many tournaments such as the Deodar Trophy, Ranji Trophy, Duleep TROPHY, ETC. His consistent performances and top scores got the selector's attention and, he became a permanent player of the Indian Cricket team in no time.
ODI Career Sehwag has played 251 ODIs with a batting average of 35. He is one of those cricketers with the highest number of records in ODI. He has one of the highest numbers of double centuries in ODI. Sehwag also had his ups and down but, he managed to overcome every time. His 219 runs against West Indies in just 149 deliveries in just unforgettable.
Test Career Sehwag's performance in Test career is even more impressive than the ODI career. He has played 104 tests with a batting average of more than 49. He scored 8,586 runs having his top score being 319. His attacking batting has led India to win many matches. He is also the only cricketer with the highest 290 plus scores (joint record by Don Bradman). He was also named in the World Test XI in 2010 by ICC.
World Cups Sehwag is one of those lucky players who got a golden opportunity to play in 3 World Cups. His performances in the 2003 and 2007 World Cups were good but, India lost both the tournaments. While in the 2011 World Cup, Sehwag's performance by mediocre, including his 0 runs in the final match against Sri Lanka, but India won that tournament after 28 long years.
Virendra Sehwag - IPL
Sehwag started playing with Delhi Daredevils and, he was also the captain in the first two seasons. He later gave up his captaincy to focus on his batting.
He was the only player to be retained by the team apart from the captain Gautam Gambhir. Sehwag became the captain in the 5th season and, he was the only player to score five consecutive 50s.
Virendra Sehwag - Retirement
Sehwag took retirement from all forms of cricket in 2015. He also stopped playing any IPL franchise as well. However, after his retirement, he continues to play carious charitable matches. He has also been a part of the Legend's cricket team and Cricket All-Stars T20 series.
He does commentary now for various International matches and IPLs too.
Virendra Sehwag - Records
Only opening batsman to have more than 7500 runs in both ODI and Test matches.
Highest ever Test score with a strike rate of more than 100.
Fastest Triple Century in Test
First Indian Batsman to have a triple century
Second fastest 250 in Test
Third Fastest 200 runs
Second Fastest 200 runs in ODI
Third highest score (219)
Second highest no. of fours in Test (47)
Second highest no. of fours in ODI (25)
Most 290 plus runs in Test (same as Don Bradman)
The only cricketer of takes five wickets haul and have two triple centuries in one Test Match.
Highest score as a Captain in ODI (219)
Most Man of the Series Awards (5)
Third-highest Man of the Match awards in ODI and Tests (31)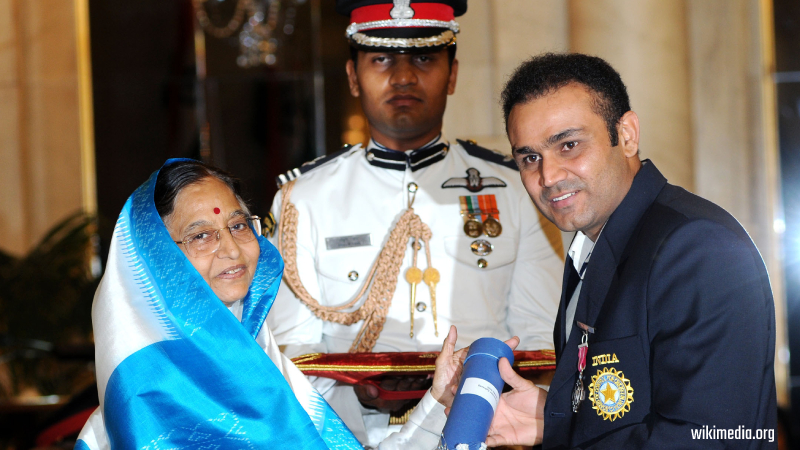 Virendra Sehwag - Padma Shree Award, 2010
Virendra Sehwag - Awards and Achivements
Arjuna Award, 2002
Padma Shree Award, 2010
Wisden Leading Cricketer in the World, 2008, 2009
ICC Test Player of the Year, 2010
Polly Umrigar Award for International Cricketer of the Year, 2007
Virendra Sehwag - Brand Endorsements
Virendra Sehwag has successfully bagged many endorsements as a brand ambassador due to his fan base. He has millions of followers and, this is what makes him one of the most preferred celebrities. He charges somewhere around $300,000 - $350,000 for a year-long deal with the brands. Some of the brands endorsed by him are:
Adidas
Samsung Mobiles
Boost
Reebok
Hero Honda
Finolex Pipes
Asian Shoes
Pepsi
Virendra Sehwag - Fans and Following
Sehwag is one of the most loved sportspeople in the history of cricket. He has a huge fan following and, he also loves interacting with his fans. He is pretty active on his various social media handles.
He has around 6 million followers on Instagram and more than 22 million followers on Twitter.
Virendra Sehwag - Sportsperson to Remember
Virendra Sehwag is one of those sportspeople who has left a very significant mark on the hearts. His hard work and dedication proved everyone. He is a true inspiration for all the youngsters in the country who wants to make their country proud.