Acharya Balkrishna Biography: The Real Man Behind Giant Patanjali
Whenever we think of Patanjali, two names come to our mind: Baba Ramdev and Acharya Balkrishna. But do you know that the real driving force behind Patanjali Ayurvedic products is not Baba Ramdev but Acharya Balkrishna? In this article, we will look into the biography of Acharya Balkrishna to understand his journey from an ordinary person to a billionaire.
Acharya Balkrishna: Introduction
Acharya Balkrishna is the chairman of Patanjali's consumer goods company. Baba Ramdev is just the brand Ambassador and face of Patanjali products. With almost 98.5% stakes in the Patanjali Company, he is credited for the massive growth and success of the company. Patanjali occupies a central place in the Indian consumer market. From toothpaste to washing bar, there's hardly any household product in which Patanjali doesn't have the edge over its competitors.
Balkrishna: Early Life
Balkrishna Suvedi was born in Haridwar in Uttarakhand on 4th Aug 1972. His parents, Jay Vallabh Subedi and Sumitra Devi were migrants from Syganja, Nepal.
Balkrishna believes in a simple lifestyle, and he is always seen in a white dress that reflects his spirituality.
Schooling and Education
Balkrishna has not taken his degree from any prestigious university but has done his academics from a Gurukul. He completed his early education from Acharya Baldev's Gurukul in Haryana. Then he was admitted to Varanasi's Sampurnanand Sanskrit University, where he completed his higher studies and graduation. After completing his studies, he decided to travel across India to learn about plants and their medicinal properties.
Balkrishna & Baba Ramdev Duo
Balkrishna worked with Baba Ramdev in Haryana's Khanpur Gurukul Ashram. Two had met in a resident Indian school named Gurukul and became fast friends. Balkrishna had studied Ayurveda in school while Ramdev gained expertise in yoga. In 1995, Balkrishna and Baba Ramdev collaborated to establish Divya Yog Mandir Trust. Later, the duo started Divya pharmacy to make Ayurvedic and Herbal medicines.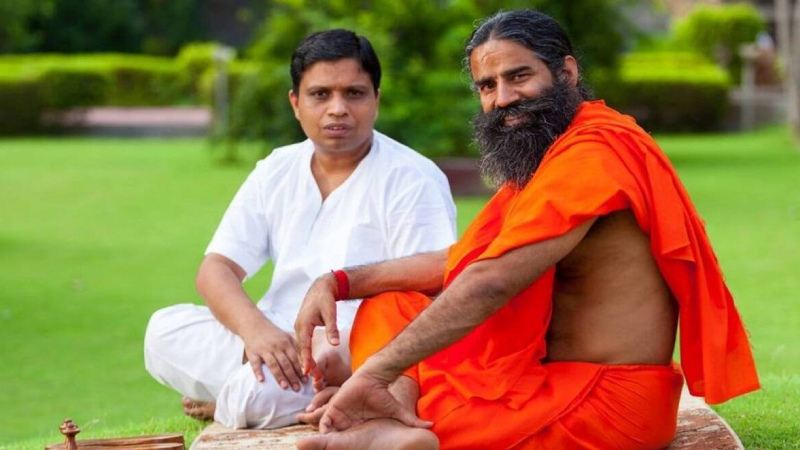 Balkrishna - Baba Ramdev
Balkrishna & Patanjali
The famous brand Patanjali Ayurveda, as we know it today, was founded in 2006. It was launched due to the efforts of Balkrishna, who took a loan of Rs. 60 crore to set up Patanjali Ayurveda. Being a purely ayurvedic company, it was not able to generate profits. So the duo decided to venture into FMCG (Fast Moving Consumer Goods). The venture became successful, and today, Patanjali has achieved many milestones.
Acharya Balkrishna: Key positions
He is a scholar of Vedas, Ayurveda, Sanskrit language, Sakhya Yoga, Panini, Upanishads and Indian philosophy.
Presently, he is the chancellor of the same Gurukul from which he had studied.
He aims to revolutionise the health and education sector.
He is also the Vice-Chancellor of Patanjali University. The University offers various degrees and diplomas in Yoga, Computer Science, Ayurveda, Panchakarma and PhD.
He is also the chief editor of 'Yoga Sandesh' magazine.
He has written almost 41 research papers on Yoga and Ayurveda.
Brand Success: Balkrishna's Role
The 'Swadeshi' Tagline In almost every Patanjali Ad, we see a 'swadeshi' tagline. This tagline has appealed to Indian sentiments and attracted a substantial Indian population. Balkrishna suggested the idea to use the word 'swadeshi' to attract Indian customers. In this way, he succeeded in turning Baba Ramdev's followers into Patanjali customers. Seeing the incredible turnover of Patanjali, one can say that this strategy worked quite well.
The company even aspires to replace multinational products in the Indian market with local products.
No Salary He is indeed the largest shareholder of Patanjali Ayurveda, but he doesn't take any salary from Patanjali. However, the value of his shares is so much that he became the third-youngest Indian Billionaire in 2020.
Affordable Products We Indians usually look for budget-friendly products. Balkrishna identified this trait of Indians. Accordingly, he decided to sell its products at a low price. The budget-friendly nature of Patanjali products further boosted the brand's popularity.
Workaholic: 15 Hours/Day Balkrishna is the head of almost 34 companies and three trusts associated with Patanjali. He is also the central figure in Patanjali's an advertising and marketing decisions. He is responsible for dealing with advertisers and senior management along with the recruitment of Patanjali's staff.
Balkrishna works almost 15 hours a day, even on Sundays and holidays, to make the company better. He is also known for his quick and efficient decisions. According to his associates, he takes only 5 minutes to make a decision.
Allegations against Balkrishna
Balkrishna was accused of forgery and cheating in 2011. It was claimed that Balkrishna had submitted a fake degree to get an Indian passport. Even his school degree was missing from official government records. Accordingly, his Indian citizenship was questioned. These allegations severely damaged his reputation. But the authorities could not find any concrete evidence to support these allegations. The case was therefore closed within two years.
Coronil: He was also trolled recently for false claims about Coronil.
Balkrishna: Quick Facts
Balkrishna holds 98.6% share of Patanjali Company.
Owing to the massive popularity of Patanjali products, Acharya Balkrishna had become the third-youngest Indian Billionaire in 2020.
Balakrishna's assets have a total worth of 200 Crores, according to Forbes.
He was also honoured by former President APJ Abdul Kalam during a yoga camp.
He was also listed in India's 50 most influential personalities.
He was also conferred with the 2019 Champions of the change award to recognize his efforts in Ayurveda.
For his contribution to the healthcare sector, he was presented with the UN SDG 10 Most Influential People in Healthcare Award.
He has also received the 'Best Wellness Impact Global award.
For his efforts in Ayurveda, former Governor of Haryana, Kaptan Singh Solanki, presented the Bharat Gaurav award to Balkrishna.
He was also bestowed with the '2016 Bloomberg Special Recognition Award' and the 2017 'Lokmanya Tilak Award' for promoting Ayurveda.
His business skills bagged him the 'Indian of the Year Business Category- 2017' award.
Lessons to Learn
Tap Your Potential Balkrishna's journey from rags to riches is a perfect example of 'simple living, high thinking.' He tapped the potential of Ayurveda to attract Indian citizens, which in itself is unique. He has successfully broken many stereotypes and proved that your capabilities matter, not degree.
Dedication His journey teaches us the importance of Indian values. He showed the world that even our ancient texts and rich culture could create a successful business model. One should also learn from his hard work and dedication that enabled him to handle so many departments efficiently.
Last Strategy for Holding Market
Unfortunately, Patanjali is losing its stronghold over Indian markets. Due to this, Patanjali has recorded a decline in annual revenue. Therefore to keep his billionaire status and Patanjali business intact, Balkrishna has to develop a strong strategy. It will remain interesting to see how he brings Patanjali back into the race.