Himanshu Singh Rajawat: Be Positive and Good Things will Come
Indian Defense is our nation's pride, and it is our duty to keep them respected and proud. While we always have a wrong or fearful perception about Indian police, they might not always be wrong. We individuals also face difficulties, but we cannot underemphasize their struggles. One of such police personnel was Himanshu Singh Rajawat, who was in jail for 7.5 years for encountering a criminal.
Today, we will study about massive ups & downs of his life and how he overcame them all positively.
Quote: Every negative has a positive; it takes the right person to see. – Himanshu Singh Rajawat
Himanshu Singh Rajawat: Introduction
Himanshu Singh Rajawat is an Indian Police Inspector with Rajasthan Police. He was born and raised in a small village in Pali, Bhitwada, Rajasthan, where he used to live with his four siblings and parents. Himanshu describes that his parents educated him & his other siblings to their best capacity. He was falsely accused and was in jail for 7.5 years for doing well in society.
रात को आँखों में नींद नहीं, ना दिल में करार,
ये मोहब्बत नहीं, पुलिस की नौकरी है मेरे यार.#Police #MotivationalQuotes #himanshu_singh pic.twitter.com/PBgTxkAV1z

— Himanshu Singh Rajawat (@Cop_Himanshu) June 20, 2021
Himanshu Singh Rajawat: Early Life
Himanshu was raised in a community where education did not carry much value, and individuals used to migrate to other places for earning after completing their secondary schooling. But, Himanshu wished for a different life and wanted to go for civil services from the inception. He completed his 12th from one of his local village schools and did his graduation from Udaipur. After graduation, he started preparing for Rajasthan defense services, but his family abandoned him for not following the family's conventional path, saying he should take care of his own.
Himanshu Singh Rajawat: Exam Preparation & Job
Himanshu Singh Rajawat was all alone after being left by his family, and no friend or relative came forward. However, one of his friends, who was preparing for the same examination, helped Rajawat and allowed his stay in his room. Himanshu had four months to his exams and had no option to look anywhere but to prepare for written tests & physical both. During this time, Himanshu realized the need for food, travel costs, books, and other petty expenses, after which he decided to join somewhere.
Hotel Receptionist Rajawat's first job was at a hotel as a receptionist, where he used to attend calls and greet & assist guests. In between, he also used to take study breaks. His daily routine during those days was to wake up early, go for his physical training for the exam, head for his job, come back, prepare his food, and then used to study with his friend.
Passing the Exam: Sub Inspector Himanshu Singh Rajawat After preparing hard for his exams, Himanshu cleared his defense exams in the first attempt and joined Rajasthan Police as a Sub Inspector in 1999. Himanshu mentions that each selected candidate must go through horse riding, shooting, parade, PT, and more courses, and he was one of the best performing personnel.
Owing to his exceptional performance in police training, Rajawat was honoured by Rajasthan Home Minister as "Outdoor Best".
Rajawat Posting
Rajsamand After completing his training, Himanshu was posted in Rajsamand district in Rajasthan, where he worked hard & earned respect among people and peers. He was believed to be popular among village people due to his attitude and truthfulness.
Udaipur After Rajsamand, Himanshu was posted to Udaipur where he kept doing his duties.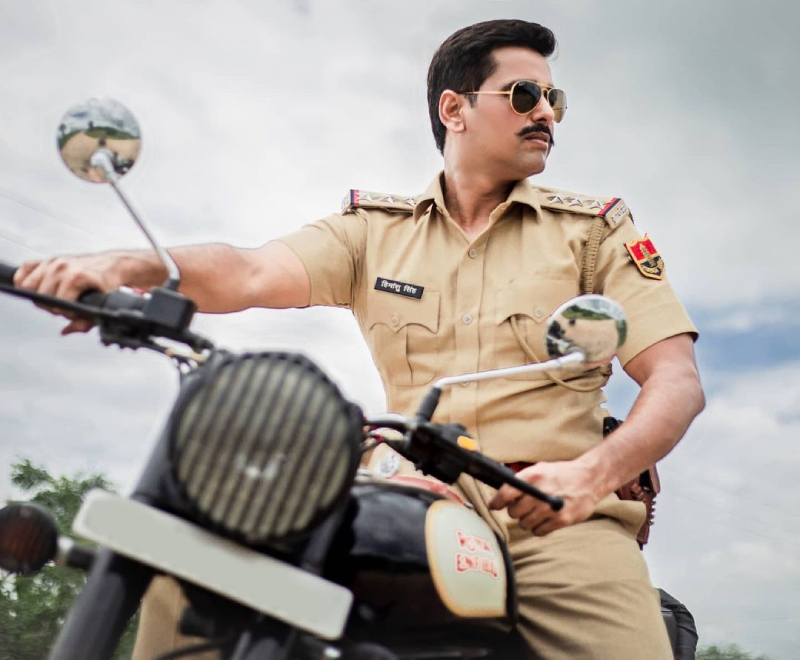 Himanshu Singh Rajawat - Police officer Rajasthan
Sohrabuddin Encounter Case
During his Udaipur posting, Himanshu was selected among 150 police officers for a high profile criminal mission by his seniors. The criminal was Sohrabuddin, and Himanshu & team did good research & analysis to catch him. However, unfortunately, in an encounter conflict, the criminal was shot dead, and Himanshu & his peers were blamed for a fake encounter case. The case witnessed controversies and invited high commission agencies for investigation.
Himanshu Rajawat: Accused & Jailed
Himanshu had to go to jail until the final verdict came, and he was kept in Central Jail's high-security cell of Mumbai, where one of the most dangerous criminals is kept. Rajawat was kept with top criminals of India like Abu Salem, Arun Gavli, DK Rao, and Malegaon blast accused.
Clean Chit by Court
Himanshu's family members requested many times for interim bail through Session Courts, High Court, and even Supreme Court, but were neglected. However, after 7.5 years, Rajawat & his team were granted bail and later proved their innocence too with the court.
Himanshu Rajawat: After Jail
Once the Rajawat was granted bail, everyone thought that he might have been broken. However, his spirit was high in before, during, and after jail too. During his jail tenure, he improved his English by reading dictionary vocabulary, books and conversing with other senior policemen.
He started his duties with the same energy and was honest to his duties. He was promoted to a higher rank and was granted a clean chit.
Himanshu Rajawat: Challenges
Negativity Himanshu was accused of a fake encounter and was living life with top criminals despite being an honest policeman. He was surrounded by negativity but kept his cool and only saw the positive. He used to read books and vision good thoughts.
Envy from Criminals Himanshu was eventually a policeman and was not liked by other criminals in the jail. Himanshu had to face situations where he couldn't eat food due to peer's mishap, couldn't get a haircut as barber used to leave intentional wounds, and other revenge actions. But the team respected their uniform and never crossed their line.
Rajawat was so positive that he completed his MBA in HR during his jail tenure with distinction marks and finished reading many other books.
Himanshu Rajawat: Learnings
So, this was Himanshu Singh Rajawat's life story. His life was full of negatives, but the way he handled it and remained cool is appreciable. Despite no family support, he cleared his exams with a day job and remained cheerful throughout the jail journey. In the end, he was appreciated by everyone.
Learn How to Remain Positive Even When Nothing is Right - Himanshu Singh Rajawat