How Indian Hockey Captain Sandeep Singh Beat Paralysis?
Sandeep Singh is one of the prominent Indian sportspersons & is popularly called the flicker Singh of Indian hockey. Sandeep Singh is the former captain of the Indian National hockey team & is also an MLA and Haryana's sports minister. His inspiring journey from a sports player to sports minister of Haryana was full of challenges. But his determination and hard work helped him sail through all these hardships.
So, in this article, we will discuss the motivational life story of Sandeep Singh.
Sandeep Singh: Early Life
Sandeep Singh was born in Haryana's Shahabad town on Feb 27, 1986, to Gurucharan Singh Saini and Daljeet Kaur Saini. After completing his education at Mohali's Shivalik Public School, he pursued a career in hockey. He took inspiration from his elder brother, who also played Hockey for Indian Oil.
Sandeep Singh lived in a rented house, and they were asked to vacate their house. But despite this, he never gave up his goal.
Career in Hockey
Sandeep Singh got a chance to show his skills in international hockey in Kuala Lumpur for the 2004 Sultan Azlan Shah Cup. At the young age of seventeen, he got an opportunity to play at the 2004 Athens' Olympics.
In 2005 he became the highest scorer in the Junior World Cup. This achievement made him a youth icon, and he was selected for the world cup in Germany. But he did not know that an accident was awaiting him.
2010 World Cup opening match against Pakistan & scored two goals n man of the match too #sandeepsingh #flickersingh #indiakagame #soorma pic.twitter.com/z6FDuqLa4Q

— Sandeep Singh (@flickersingh) July 13, 2018
Sandeep Singh: The 2006 tragedy
Sandeep Singh witnessed a severe accident that shook his hockey career. While Sandeep was travelling in Kalka Shatabdi express in 2006 to join his companions in Delhi, he was hit by an accidental gunshot. An RPF (Railway Protection Force) Jawan had fired this bullet which hit Sandeep's lower abdomen.
The Ambala hospital where he was admitted had inadequate facilities. As a result, he was taken to a big hospital in Chandigarh, where his chest area was operated on to remove a bullet. The operation was so complicated that Sandeep remained unconscious for almost thirty days.
Paralysis
Doctors had declared that Sandeep is paralyzed and has to stay in a wheelchair for a lifetime. It was tough for him to bear this shock. His career had just started, but unfortunately, his life took a shocking turn.
He revealed that he had many sleepless nights due to this incident.
But he did not give up. The pain was unbearable, but he reduced painkillers for quick recovery. He was determined to make a comeback in hockey. To motivate himself, Sandeep would keep his hockey stick near him. Due to his determination and the constant prayers of his loved ones, he recovered from his injury.
Sandeep Singh: Comeback
In 2008, he was able to walk properly and regained his position in the team. Although the team lost in the 2008 Beijing Olympics, he became more determined to win the next event. In Jan 2009, he was made the captain of the Indian hockey team.
Sandeep Singh: Achievements under Captaincy
In 2009, when he was captain of the Indian hockey team, India won Sultan Azlan Shah Cup. He was also declared as the top scorer in the event.
He gave his best performance in the 2010 Hockey world cup.
He qualified for the 2012 London Olympics and became the highest goal scorer. Due to his quick flicker, Sandeep Singh was given the nickname of 'Flicker Singh'.
In 2012 Indian men Hockey team not only qualified but also won the 2012 London Olympics. This victory was notable as Sandeep Singh had made a hat trick.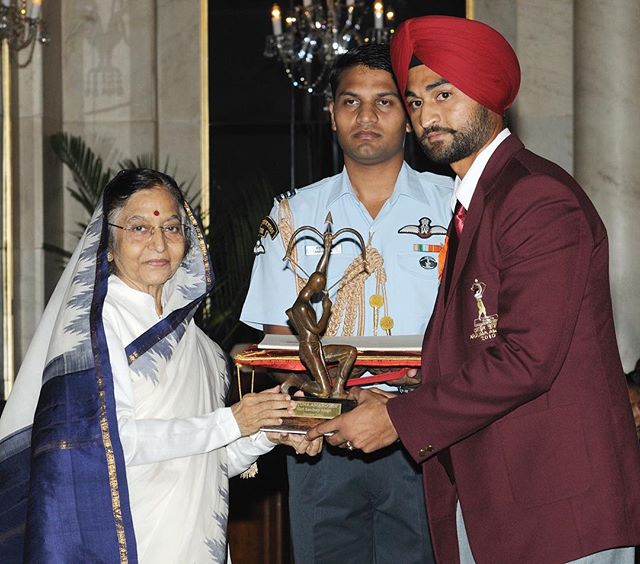 Sandeep Singh accepting the Arjuna Award from President Pratibha Patil. Source: Instagram
Sandeep Singh: Awards and Recognition
Sandeep Singh became the fifth highest-paid player in 2012.
Sandeep Singh won 11 out of 12 goals and became the top scorer of the first edition of the Hockey India League.
In the 2009 Sultan Azlan Shah Cup, Sandeep Singh became the man of the tournament after scoring maximum goals.
He was also the leading goal scorer in the 2012 London Olympics qualifying round.
He had been the top scorer in the 2004 Asia cup.
He was also the top scorer in the 2010 Asian Games and set the world record for the fastest drag flick.
Owing to his contributions in hockey, Sandeep Singh was conferred with the 2010 Arjuna award.
He has also won a gold medal in the 2012 Olympic qualifier round.
Soorma film was also made on his life and sheer determination. The film released in 2018 featured Diljit Dosanjh, Tapsee Pannu, Angad Bedi and other stars.
Sandeep Singh Personal Life
Sandeep Singh's wife, Harjinder Kaur, is also a hockey player. His earlier wife, Harpreet Kaur, left her when he was paralysed. Sandeep Singh retired from sports in 2016.
Achievements Other than Hockey (Political Career)
Sandeep Singh was made DSP of Haryana Police under sports quota. Later, he joined the BJP party to contest assembly elections from the Pehowa constituency. As BJP came to power in the state, he was made the sports minister of Haryana. He aspires to improve the sports culture in Haryana.
He also solved many sports issues like recruiting female coaches for female Hockey teams, leaves for coaches in the state, allowances for sportspersons etc.
Sandeep Singh: Lessons to be Learnt
Determination Sandeep Singh's story motivates us never to give up our determination. His journey shows that 'If you are determined to do it, you will do it.' It was only his determination that helped him sail through the hardships and reach the pinnacle. Had he given up at that moment, he wouldn't have achieved so many victories.
Hard Work It is always said that there's no substitute for hard work. Similarly, Sandeep Singh's life journey also inspires us to work hard to achieve our goals. Sandeep worked hard to polish his hockey skills which bagged him numerous awards. Similarly, we can achieve success only through hard work.
Believe in yourself You can't make others believe in you until you believe in yourself. Sandeep Singh always believed that hockey is for him. Even in a paralyzed situation, he believed in himself and was able to make an incredible comeback. Therefore one should believe in himself to win over any situation.
Sandeep Singh's life is truly an inspiration for all of us. We should learn vital lessons of determination and hard work from his story. His challenging journey from a hockey lover to a top hockey player motivates us to put strenuous efforts into whatever we do.
To sum up, we can say that his life is a perfect example of the saying 'where there's a will, there's a way."