Unfolding Suvigya Sharma's Life : India's Most Popular Miniature Artist
Suvigya Sharma is a famous Indian miniature paintings artist & fashion designer. The painter is currently based in Mumbai, India and is famous for his Tanjore Paintings, Fresco Work, lifelike portraits, and miniature art. Sharma has also won many awards & recognitions, including the Bharat Gaurav Award in 2012 by the government of India for his contribution to Arts. In this article, we shall unfold the untapped journey of this Indian gem.
Fun Fact: Suvigya started painting at the age of 7.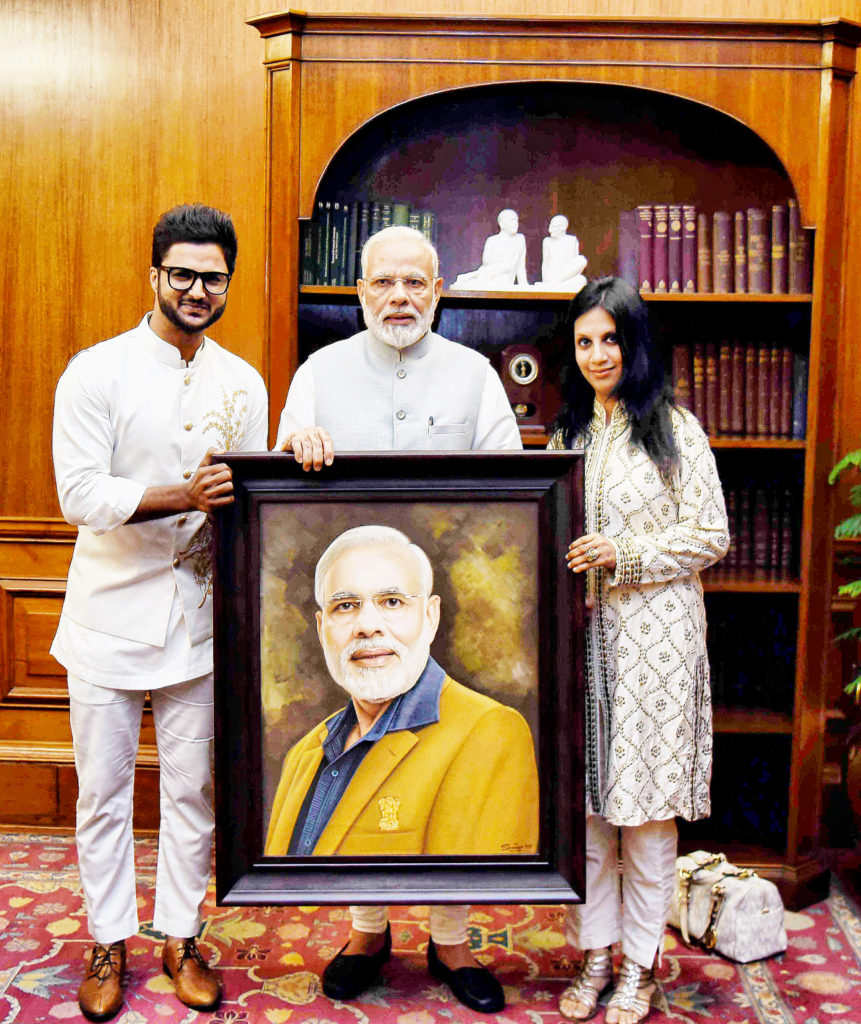 Suvigya & his wife, sharing a moment with the Honb. Prime Minister Mr.Narendra Modi.
Suvigya Sharma : Early Life
Suvigya was born on July 28 1983, in Jaipur, Rajasthan, to his father, RK Sharma, who is also an artist, and Meenakshi Sharma, a housewife. The 37-year-old is happily married to Charu Sharma and even has a son Abhigya Sharma. In his early days, Suvigya used to teach dance before breaking into the industry as a teenager.
Fun Fact: Suvigya holds the Asia Book of Records position for the world's foremost life-size Sidhi Vinayak 4D effect painting.
Suvigya Sharma : Education
Sharma studied at Maharaja Sawai Mansingh School and Bharatiya Vidya Bhavan's Vidyashram. Later on, he went to Bhawanipur Education Society College, Kolkata, for graduation & to Symbiosis International University, Pune, for studying Foreign Trade & Export Management.
Suvigya - Popular Clients
Suvigya has a long list of clients and has been working in this industry for more than a decade now. Some of the most popular clients include:
L. N. Mittal,
Priyanka Chopra
Sachin Tendulkar,
Narendra Modi,
Sanjay Dutt,
Manyata Dutt
Barack Obama,
Hillary Clinton
Aditya Chopra,
Rani Mukherji
Dalai Lama
Madhoo,
Vikas Khanna
Kangana Ranaut
Ambani Family,
Birlas Family,
Burmans Family,
Singhanias Family,
Piramal Family,
Bajaj Family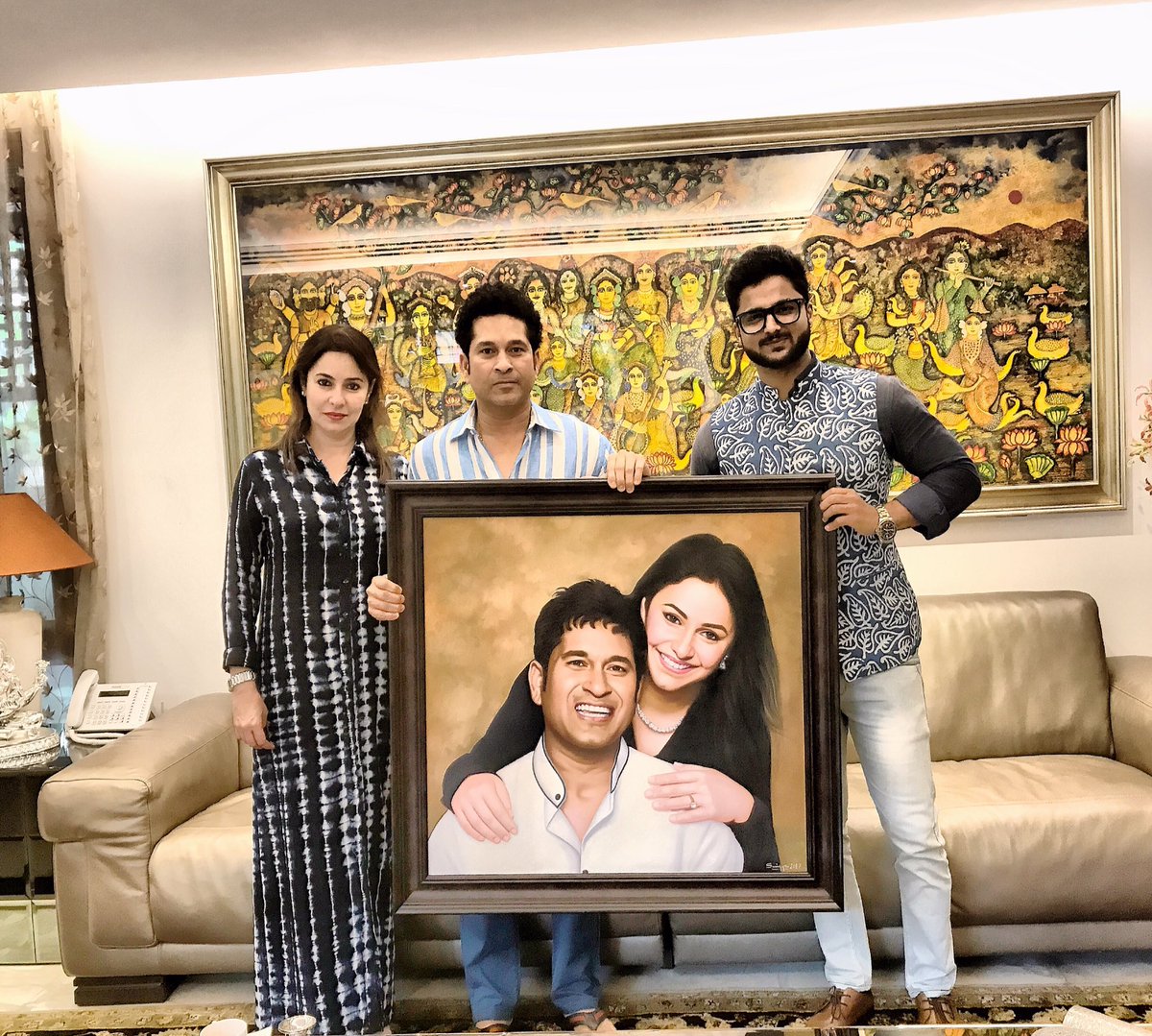 Suvigya Sharma with Sachin & Anjali Tendulkar
Suvigya is one of the most in-demand miniature painting artists in India
Achievements Timeline
Justin Bieber Canvas Suvigya Sharma commissioned life-size oil on canvas portrait for Justin Bieber and delivered it to him at St. Regis in Lower Parel, Mumbai, on May 10, 2017, during The Purpose Tour concert in India.
PM Modi He commissioned a lifelike painting of Prime Minister Narendra Modi in May of 2017.
Ambassador Smile Foundation designated him as Rajasthan's Goodwill Ambassador in January 2017.
Tendulkar Suvigya presented Sachin Tendulkar with a handcrafted custom-made gold-leaved and gold-embossed bat on October 4, 2016.
Collaboration with Make in India Event
Suvigya Sharma's artwork Timeless Miniature Art was featured at the Make in India event in Mumbai in February 2016, with a live demonstration of miniature-painting technologies.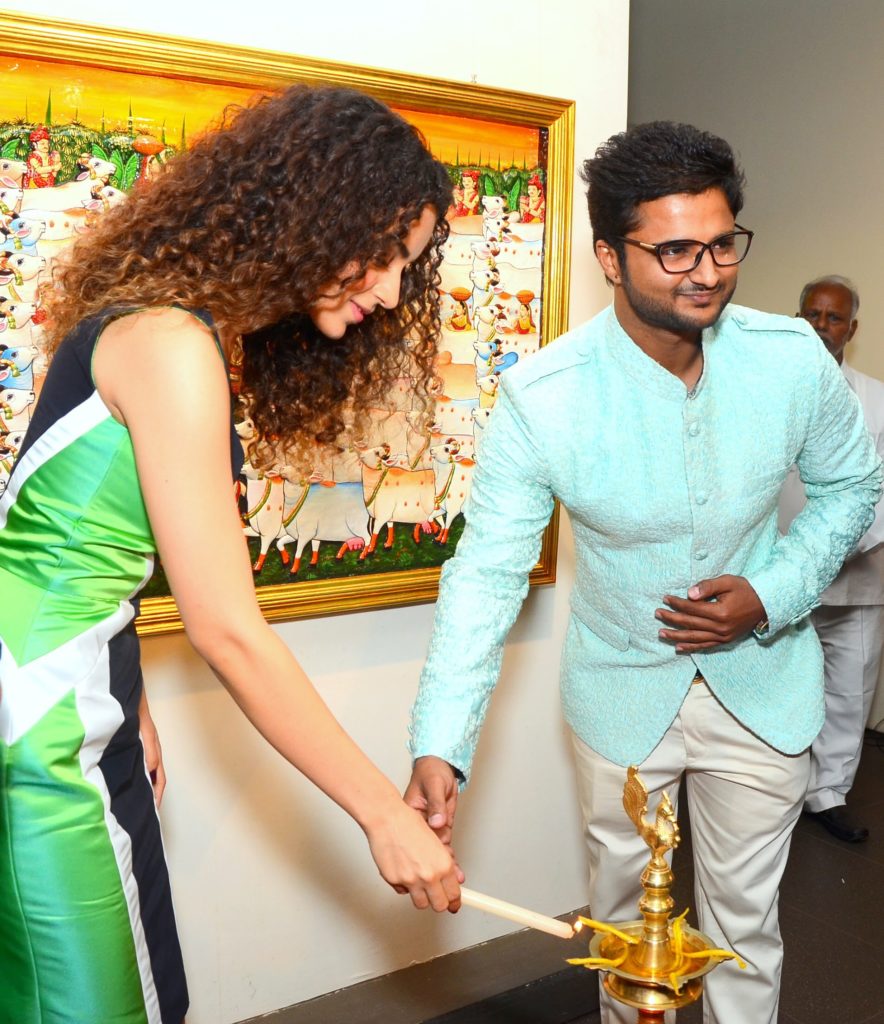 Suvigya Sharma with Kangana Ranaut
Suvigya Sharma : Work Publications
Sharma's artwork has been praised by everyone and has witnessed fantastic recognition from top people and publications, including:
Magazine Features
TOI (Times of India)
Marwar India,
Society,
DNA,
Mid Day,
Hello,
Savvy,
Art Galleries & Museums
Singapore Art Museum,
Artisan's Art Gallery
Chitrakoot Art Gallery,
Cymroza Art Gallery,
Chennai Art Gallery,
India Habitat Centre
Suvigya Sharma : Popular Work
Suvigya's work represents the Great Indian Regal Art Heritage & recreates the aura of our ancestor's legacy in a contemporary idiom. His creations reflect a rare view of luxury art and lifestyle. His most popular artwork includes "An Art Collector's Paradise" (launched in 2014 by Rani Mukherjee in Mumbai) & "Forever Eternal Pichwai" (Launched in 2015 by Kangana Ranaut).
Suvigya Sharma specializes in pure Sterling Silver, Fresco wall paintings, industrial and celebrity gifts, Sandalwood and Makrana Marble temples, & designing related work. Sharma has garnered global love and holds exhibitions and workshops in London, England, Sussex, and other places.
Suvigya's Fresco Work Places
Jaipur
Havelis in Udaipur
Kishangarh,
Jama Masjid's gold leafing,
Jaipur City Palace,
All Natural Colors
Suvigya uses all 100% natural vegetable dye colors for his paintings and contributes his self to environment conservation. His colors are made of stones like ruby, emerald, diamond, or vegetables.
Suvigya Sharma : Exhibition
| | | |
| --- | --- | --- |
| Year | Venue | Event's name |
| 2015 | Kamalnayan Bajaj Art Gallery, Nariman Point | Forever Eternal' Pichwai' |
| 2014 | Cymroza Art Gallery, Breach Candy | An Art Collectors Paradise |
| 2013 | Kala Ghoda Arts Festival, Mumbai | Illuminations |
| 2010 | Breach Candy | The Golden Era |
| 2009 | Cymroza Art gallery, Mumbai | Mythologies of India |
| 2007–2009 | Chennai Art gallery & India Habitat Centre, Delhi | Open Palm Court |
| 2007–2009 | Chennai Art gallery & India Habitat Centre, Delhi | The Art of India |
Philanthropy : Charity Work
Suvigya Sharma took part in a fund-raising art exhibition for the Nargis Dutt Cancer Foundation in Mumbai, hosted by Priya Dutt, in June 2016 with Ajay De, Uddhav Thackeray, Brinda Miller, Sudharak Olwe, and Rajiv Menon.