Nishant Baraya : Public Speaking, Training, & Wealth Management Bull
Nishant Baraya is a passionate Wealth Management Expert & International finance coach. He is currently the founder & CEO of NB capitals & Wealth Experts, where he handles high-net-worth clients' portfolios. Nishant is a banking beast and has worked with several financial institutions, including ICICI, Reliance Nippon Life Asset Management Ltd, and Axis Bank. He has more than 15 years of experience and has managed wealth of promoters & large treasuries.
Today, in this article, we will look at his life and unfold the ups & downs of his journey.
Nishant Baraya Education
Nishant was born & raised up in Jaipur Rajasthan to a middle-class family with no so tiny dreams. He was a bright student in school & had a great ambition towards his life. In 1998, he completed his secondary education with distinction marks and was awarded a national scholarship from the Government of India. Later after passing his senior secondary in 2000, he went for his graduation in BE (Bachelors of Engineering) from Rajasthan University. He further went for an MBA in Hyderabad from ICFAI Business School (IBS) in Finance. He was a scholar in college too.
Apart from studies, Nishant was also active in cultural & curricular activities in both school & college, including participating in sports, events, clubs, debates, shows, and speaking.
Fun Fact: In 2005, Nishant secured All India Rank (AIR) 24 in his MBA exam, IBSAT.
Career Timeline
March 2007 – August 2009: Bangalore: Senior Relationship Manager After completing his MBA from IBS, Nishant joined a Bangalore based wealth management firm, Reliance Nippon Life Asset Management, in Bangalore.
His responsibilities were:

Manage and coordinate RCAM-Business Bangalore's Process Management System to aid in ISO certification.
Develop and implement effective demand creation, lead qualifying, and overall account penetration campaigns and activities.
Develop and manage the banking segment/channel using best-in-class relationship management capabilities to meet sales targets.
Take care of the NRI market in Karnataka through a well-tuned channel and direct sales (solution offers) to NRIs.

August 2009 – August 2013: Haryana: Branch Manager After devoting his two years in Bangalore and learning all the core skills, Baraya shifted as a branch manager in Haryana with the same firm, Reliance Nippon Life Asset Management.
Nishant's Responsibilities were:

Managed Panipat and Karnal branches, focusing solely on sales and business processes
Managed top private wealth customers in terms of MF, PMS, and AIF advising

August 2013 to February 2014: Delhi: Area Manager After Haryana, Nishant's next place was Delhi. He was designated now as Area Manager with Reliance Nippon Life Asset Management & his top responsibilities were similar now. He used to manage top wealth outfits to push the MFs, PMS, & AIF offerings
February 2014 to Present: Jaipur

Area Manager: Nippon Asset Management After seven long years of living out of his home town, Nishant got a transfer back to Jaipur in February 2014. He was still with the Reliance Nippon Assets and now as an area manager.
His primary duties include:

Managing High Net Worth clients with their investment portfolio
Taking care of wealth, retail, and other banking channels
Helping to grow business with good engagement

Investment Counselor: ICICI Bank- Wealth Management Nishant then shifted his path and left Nippon to join ICICI Wealth Management as an Investment Counselor.
His primary duties here were

Managing the investment portfolios of high-net-worth individuals with a strong emphasis on excellent advice, active management, and better investor experience
Creating a new Wealth Branch and a staff of wealth and service managers, as well as increasing the investment portfolio by tenfold

Assistant Vice President – Investment Counselor: Axis Bank Burgundy His life took a turn when Axis Bank Burgundy hired him as AVP for Investment Counseling.
His primary duties here were:

Managing investment portfolios for high-net-worth clients across Rajasthan and providing advice on well-researched portfolios that are linked with a forward-thinking attitude and the needs of the client
Create a team of wealth managers and collaborate closely with them to meet revenue targets while providing best-in-class investor experiences
Nishant Baraya Trainings Incorporation : Quitting Corporate Job
After taking a vast 15 years of experience as a wealth management expert, Nishant quit his well-paying job to start his training company.
He currently is active in:
Author
Key Note Speaker
Investment Mentor
International Training Consultant & Coach
He Helps People in the following areas:
Increasing entrepreneurs' productivity as well as their personal and managerial effectiveness
Provides technical and non-technical (skills, behaviors) coaching to private bankers, wealth management professionals, investment advisers, and insurance consultants
Using skills and behavioral interventions to help people achieve their full potential
Educating individuals on the proper methods of financial planning and investing
Nishant Baraya Book : The Cynosure
Baraya has also authored a book named "The Cynosure- How to Become the Best Public Speaker". The book is available on Amazon & other platforms. Nishant describes himself as a passionate public speaker who transforms lives through his training by empowering people to bring out their best.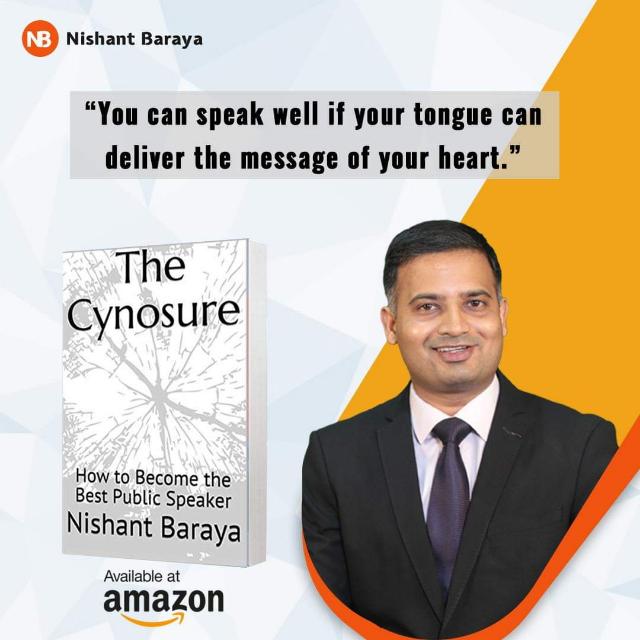 "The Cynosure- How to Become the Best Public Speaker"
Nishant Baraya : 11000+ Trainings in India & Nepal
Nishant has been active in coaching and training individuals with a distinct focus on exponentially boosting people and organizational performance, productivity, and satisfaction. In India and Nepal, he has trained over 11000 people in skills, behavioral, and technical interventions (wealth management, financial planning, portfolio management, and investments).
Nishant Baraya : Wealth Management Giant
As a Wealth & Investment Specialist for substantial private sector banks, Nishant Baraya was responsible for essential and crucial obligations. He is well-known for his in-depth economic and market analysis, forward-thinking investment advice, goal-based insurance planning, and thoughtful loan and credit solutions. Nishant has over 15 years of expertise in consulting, investment advisory, and wealth management and has spent the last decade managing the wealth and investment portfolios of High Net-Worth Individuals around the country.