Greatest Batsman of All Time: Cricket God Sachin Tendulkar Biography
Cricket is widely considered a religion in India, and 'Sachin Tendulkar' is its God. If you were born around 1980 or 1985, then you must have heard a lot about a little curly-haired teenager marking his way to international cricket. Little did the world know that this kid would be an inspiration for the coming generations. In this blog, we will be discussing the biography and career of 'master blaster' Sachin Tendulkar.
Sachin Tendulkar: Greatest Batsman
Sachin is a living Cricketing legend & an Indian former international cricketer whose cricketing career began in November 1989 and retired in 2013. It was a 24-year long career full of ups and downs. He is widely considered the greatest batsman of all time. He dominated the field of cricket for more than two decades in every aspect of play. His charisma, sheer presence on the field, attitude, and ability to connect with the fans keeps him a class apart.
He holds the record for the highest run-scorer in international cricket. He is the only player to score one hundred international centuries and the first cricketer to have gone past the 200* run mark in an international ODI match. With all these feathers in his cap, he has and will always be revered as 'little master' and 'master blaster'.
Tendulkar: Early Life
Sachin Ramesh Tendulkar was born into a middle-class family in Bombay on 24th April 1973. His father's favorite music director was Sachin Dev Burman, so he was named after the director.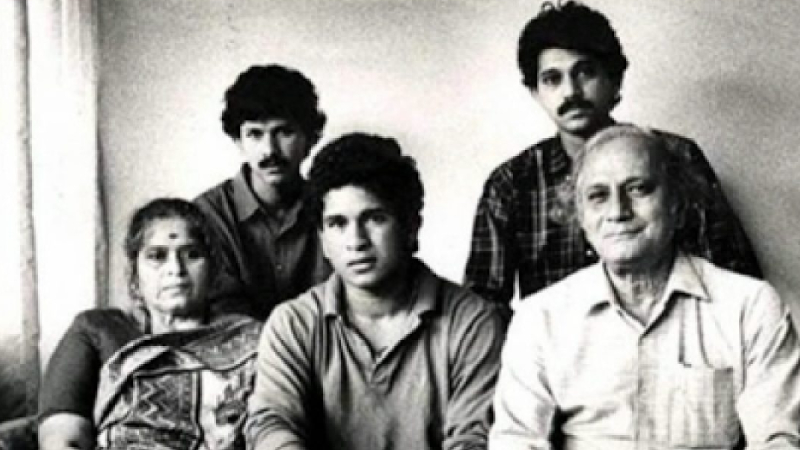 Sachin Tendulkar with his parents and brothers
Sachin was mischievous in his childhood days. It was his elder brother Ajit Tendulkar who tried to make Sachin disciplined by diverting his zeal towards cricket in 1984. He was introduced to reputed coach Ramakant Achrekar as he played well.
Sachin Tendulkar: Education & Cricket
It was advised by Ramakant sir to get him admission in 'Sharadashram Vidyamandir High School.' It so happened because that school had been in the headlines for its cricketing passion. Subsequently, Sachin started practicing day and night, and the result was fruitful. Ramakant sir used to keep a one-rupee coin on the stumps and told Sachin if he does not get out, it will be his.
Sachin shared an unbroken partnership of 664 runs with Vinod Kambli, his childhood friend, against St. Xavier's School in 1988.
Sachin Tendulkar: Personal Life
Sachin Tendulkar married Anjali Mehta in 1995. The couple has a daughter and a son, namely, Sara and Arjun Tendulkar. Arjun has been running in his father's footsteps, he too is passionate about cricket.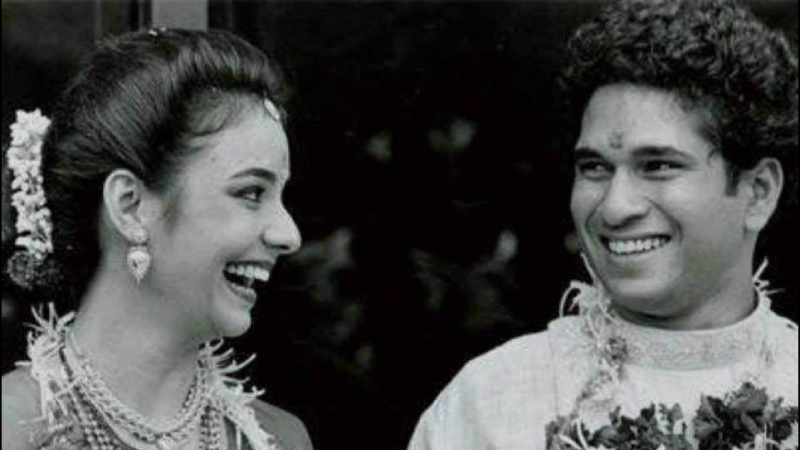 Sachin Tendulkar & Anjali Mehta
He runs an NGO and sponsors 200 underprivileged children every year. He is known to raise funds for noble causes for charities.
Sachin Tendulkar: Domestic Cricket Career Timeline
Sachin's legendary cricketing career began when he was just 14. He was selected to play in the Ranji Trophy for Bombay on 14th November 1987. With his amazing performance in the domestic series – Ranji Trophy, Duleep Trophy, and Irani trophy, he was selected for the national team. He is the first and only player to score centuries in his first match in all three trophies to date.
From Substitute to Top Order Batsman In the 1977-78 season of the Ranji trophy, he was selected but as a substitute fielder. But, when he was included in the playing eleven, he made his first-class century against Gujarat. And, he ended the Ranji season as the highest run-scorer for Bombay. He made scoring centuries a routine in the domestic tournaments.
When in his top-gear, Sachin scored his first double century (204*) for Mumbai against the visiting Australian team in 1998. During the semi-finals of the Ranji trophy in 2000, he scored another double century in his innings against Tamil Nadu. Even when playing against India's top bowlers in nets like Kapil Dev, he played very gracefully.
Playing for Yorkshire In 1992, Tendulkar became the first overseas player to represent Yorkshire. Earlier to that, Yorkshire never selected any overseas player, but they went for Sachin, and the results were remarkable. He scored 1070 runs in 16 first-class matches at an average of 46.52.
Tendulkar played his last domestic match in 2013 against Haryana, in which he scored 75* not out in the second innings.
Sachin Tendulkar International Career Timeline
Early career - 1989 At the early age of 16, Tendulkar made his debut in international cricket against Pakistan. This happened because of his incredible performance in the domestic trophies, which got the attention of Raj Singh Dungarpur, chairman of the selection committee that selected him to tour Pakistan as part of the Indian team. He made his test match debut against Pakistan in November 1989 in Karachi. He became the youngest player to debut for India in Tests and ODIs.
He scored 15 runs when bowled out by Waqar Younis, who also made his debut in the same match. In the final test match, he was hit hard in his nose by a bouncer by Waqar. There was blood flowing out of his nose, but he refused any medical assistance and continued to play. He had an average of 35.83 in the test series. He was also chosen for one ODI against Pakistan, but it was in vain as he was dismissed for a duck.
The 1990s Despite the poor performance, he was selected for the New Zealand tour and further for the England tour. In 1990, he turned out to be the second youngest cricketer to score a test century. He made 119 against England to draw the match, which is considered as a very sensible and mature inning as India was going to lose the match.
Rising Tendulkar – 1991-92
With all zeal and passion for cricket, the little master continued his form against the Australians in 1991-92. He became the youngest player to score a century against Australia in the latter's home ground. He scored another century in that tour. Merv Huges addressed a comment to Allan Border after that innings, "This little prick's going to get more runs than you, AB."
1994 In 1994, Sachin opened against New Zealand in ODI, scoring 82 runs off 49 balls. It was spectacular to watch that innings. Sachin scored his first ODI century against Australia. It took him 78 innings to reach the milestone.
1996 World Cup World cup has always been a high-voltage cricketing event. It was all going well as Tendulkar was the leading run-scorer in the 1996 world, with two centuries. India lost the semi-final match to Sri Lanka.
'Sachin vs Warne' Hype – 1998 In 1998, there was a focus on the clash of two top-class players who were at their peak. 'Sachin vs Warne' became the hype of the series. Sachin was more than ever ready for this moment. He made two centuries in a three-match test series. Ultimately, India won the series.
Team India under Tendulkar – 1999 Tendulkar was given the captaincy of team India for his remarkable performance in 1996, but he was not successful as a captain. The team performed poorly under his leadership. Eventually, giving up captaincy. But then again, in 1999, he was handed the captaincy, which didn't go well this time either. He gave up the captaincy the same year.
Following years were very successful for Tendulkar as well as team India. But, in 2007, Rahul Dravid intended to leave the captaincy. It was offered to Sachin, but he refused and recommended Mahendra Singh Dhoni, who later became the most successful captain of team India.
Decline Phase Sachin had an awful test series against England in 2002, in which he scored 0, 0, 8 and 0, in four innings. But before this, in 2002, he scored his 29th test century against the West Indies, equaling the record of Sir Don Bradman. He was gifted a Ferrari by Fiat company for achieving this feat.
2003 World Cup Tendulkar, in his 99th Test match, scored his 30th century, which came after six tests. In the 2003 world cup, he scored 673 runs in 11 matches which helped India reach the final. However, Australia retained the title. He was given the Man of the Tournament award.
Injury and Aftermath The master blaster had a tough time after the world cup as he failed continuously in six innings. It is no denying that 2003 was his worst year in cricket. Tendulkar was suffering from tennis elbow. Ultimately, he took a leave for about a year in 2004.
Ups and Downs – 2005-06 It was in 2005 when he regained his form against Sri Lanka and Pakistan. He scored many centuries in the upcoming year. But he had to undergo a shoulder operation. So, in 2006, it was a series against England in which he collapsed miserably. He failed in his home-ground that resulted in him getting booed off by a section in the crowd.
His comeback was questioned and criticized by many, but he answered them in his way with his 40th century against West Indies in 2006.
World Cup 2007 It was the worst world cup for the Indian team and Sachin Tendulkar. In 2007, Rahul Dravid led the Indian side. Still, the team's performance was abysmal, resulting in crashing out of the tournament in the group stage after losing to Bangladesh and Sri Lanka. It was a dismal campaign for team India.
It was attributed that Sachin's batting position was the reason behind his failure.
Again, to the top
After a terrible world cup campaign, Tendulkar was back to his opening position. He was chosen as the Man of the Series against Bangladesh and South Africa in 2007. He became the first player to score 15,000 runs in ODIs. And, in the same year, he became the third player to have surpassed the 11,000-run mark in tests.
Border- Gavaskar 2007-08 There is too much action, drama, and chaos when there is a match between India and Australia, especially during the Border-Gavaskar Trophy. The 'little master' was more than prepared to take on the Aussies in 2007-08. He went on to score 493 runs in four tests showing his exceptional batting skills. Though India lost the series by 2-1, he secured the Man of the Match award in the last test match for his 153-run stand.
In the year 2008, Tendulkar went past Brian Lara's record of 11,953 runs in tests.
2009 India visited Sri Lanka for five ODIs in early 2009. Sachin scored 5, 6, and 7 in the starting three matches, and he didn't play the rest two.
When India went to take on New Zealand for three Tests and five ODIs, his performance was at its peak. It was because of his crucial innings that helped India win the series. Australian team came to India for a seven-match ODI series. Tendulkar scored 175 off 141 balls in the fifth match, but it was in vain as the lower batting order of the team collapsed. This innings of the little master was voted as the best ODI Batting Performance of 2009 by ESPNCricinfo.
On 24th February 2010, Sachin Tendulkar made history by scoring a double century (200*) in an ODI. He became the world's first batsman to do so. That marvelous knock was against South Africa.
World cup 2011
"Winning the World Cup is the proudest moment of my life. I couldn't control my tears of joy." These are the wordings of the master blaster after India won the world cup after 28 years. He was the leading run-scorer in the tournament with an average of 53.55. it was like winning the world cup was his last wish.
Tendulkar scored his 100th international century against Bangladesh in 2012. Till now, no one has been able to break this record.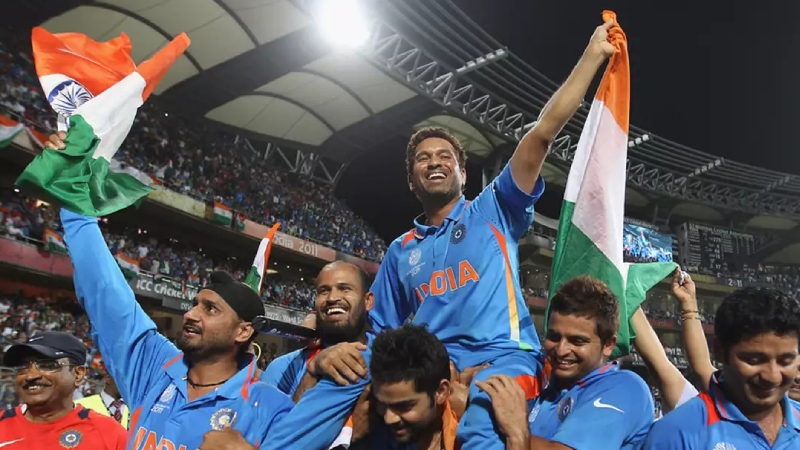 Sachin Tendulkar - World Cup 2011
Retirement
It was a long cricketing journey for Sachin, and it was time for him to leave because of his poor performance. On 23rd December 2012, he announced his retirement from ODIs, and on 10th October 2013, he retired from all formats of cricket. There were tears in his eyes.
Achievements
1994 – Arjuna Award by the Government of India
1997–98 – Rajiv Gandhi Khel Ratna Award
1999 – Padma Shri, India's fourth-highest civilian award
2001 – Maharashtra Bhushan Award, Maharashtra State's highest Civilian Award
2008 – Padma Vibhushan- India's second-highest civilian award
2014 – Bharat Ratna - India's highest civilian award
Last Thoughts
Sachin Tendulkar is the greatest batsman of all time. His passion, zeal, hard work, and dedication made him what he is today. He proved to the world that these four things could make anything possible. Being down to Earth is another aspect that we can learn from him.