Learn from India's First World Cup Captain: Kapil Dev Biography
There have been a lot of great cricketers in the history of cricket. But when it comes to the best all-rounder of all time, no one can beat Kapil Dev. This guy single-handedly helped India to lift its first-ever cricket World Cup Trophy in 1983. This guy is a living legend and an epitome of intelligence and perfection. Today, we'll delve deep into his life and know the story behind becoming a legend
Kapil Dev - Biography
Kapil Dev is a former Indian cricket player. He was born in a middle-class family and was always inclined towards cricket. He started his career by playing in Haryana Team. Thanks to his aggressive playing technique and high energy, he got selected for the Indian team.
His bellicose batting technique and dominating bowling style made him the best all-rounder in the world. He has several records in his name, including the first-ever World Cup win at the Lord's.
He became the first captain in India to lift a World Cup trophy. This win created a sensation in the whole country and, he became everyone's favorite in no time.
He took retirement in 1994 and, after few years, he also coached the Indian National team (1999-2000).
Kapil Dev – Points to Remember
Full Name - Kapil Dev Ramlal Nikhanj
Born - 6th January 1959 (62 years)
Birth Place - Chandigarh, India
Nicknames – Kapil Paaji, Haryana Hurricane
Bowling - Right-arm fast-medium pacer
Batting - Right-handed
Role - All-rounder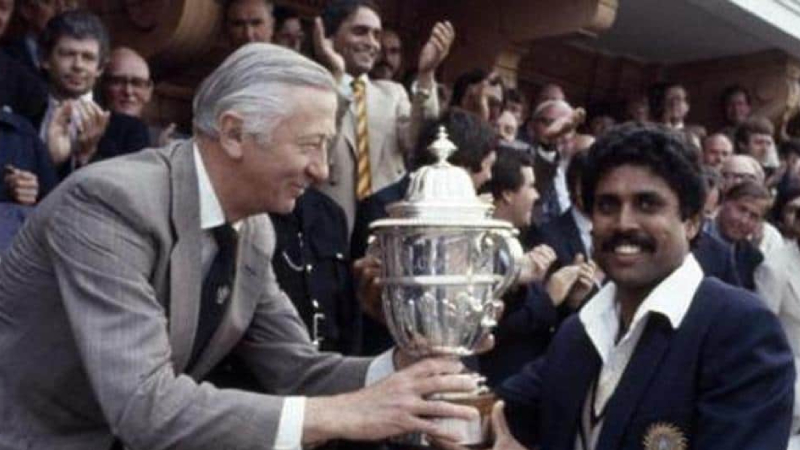 World Cup Trophy
Kapil Dev - Family & Personal Life
Kapil Dev has always been closed about his family and personal life. All that we know is that he married Romi Bhatia in 1980. The couple has a daughter and, her name is Amiya Dev.
Kapil has also appeared in a cameo role in many movies such as Mujhse Shaadi Karogi, Iqbal, Chain Khuliki Main Khuli, Dillagi, etc.
Kapil Dev - Career
Domestic Career Kapil Dev had a stunning domestic cricket career. He started playing for Haryana Team and won several matches for them. He also played for the Ranji Trophies and, his batting & bowling figures were impressive. Due to his hard-hitting performances, he got selected for the National team as well.
1978-1982 Kapil Dev debuted in the National team in 1978. He played against Pakistan in the Test Cricket. Although his performance was not up to the mark, he got the chance to stay on the team. His performance in the 1979 World Cup was very ordinary. It was not a good year for the Indian team as well. In further years, Kapil Dev established himself as an all-rounder and improved his batting and bowling figures. He took several 5-wicket hauls and scored many centuries and half-centuries.
1983 This year was the best year for Kapil Dev career-wise. He debuted as a captain in 1982 and helped India win its maiden World Cup. He took several wickets in the entire tournament and, his batting figures were also commendable.
Post World Cup and Captaincy Return India lost many matches in the year 1994. His performance also deteriorated and, Gavaskar got reappointed as the captain. Dev next became a captain in the year 1985 and led India to many matches and tournaments.
1987 This year's world cup was a tough one for the Indian team and Kapil Dev. India lost the semi-finals match against England. Charges were put on Kapil for the loss of the Indian team and, people blamed him for the unexpected loss. He stepped down from the captaincy and never led the team again.
Kapil Dev - Retirement
Kapil Dev retired from all forms of cricket in 1994. He coached the Indian National team in 1999 but, the team didn't perform that well during his coachings. He had to go through various allegations. Kapil later resigned from the post after giving a statement.
After staying away from the public eye for few years, he made his comeback and coached various teams. He also made his cameo in several movies in these years and hid commentary in many matches.
Kapil Dev - Awards and Achievements
Arjuna Award - 1979
Padma Shri - 1982
Padma Bhushan - 1991
Wisden Cricketer of the Year - 1983
Wisden Indian Cricketer of the Century - 2002
25 Greatest Global Living Legends in India - 2013, by NDTV
ICC Cricket Hall of Fame - 2010
CK Nayudu Lifetime Achievement Award - 2013
Lieutenant Colonel - Indian Territorial Army, 2008
Kapil Dev - Records
Kapil Dev has set many records and, most of them are still not broken yet. Some of his cricket records are:
The only player to have 400 wickets and 4000 test runs
Youngest Cricketer to take 100, 200, and 300 wickets.
Highest Test wicket-taker.
Without being run out, most Inningns in a career.
Best Bowling in a test match
The only captain to have nine wickets hauls.
Highest wicket-taker in ODI -253
Highest ODI score while batting at 7th down - 175 (not out)
Kapil Dev - Books
Kapil Dev has written four books. These are:
By God's Decree, in 1985 (Autobiography)
Cricket My Style, 1987 (Autobiography)
Straight From The Heart, 2004 (Autobiography)
We, The Sikhs, 2019 (on Sikhism)
Kapil Dev – "83 The Film"
Kabir Kahn, a Bollywood movie director, is making the movie '83'. It is based on the India team's 1983 World Cup victory and Kapil Dev's life too. Anurag Kashyap is the producer & Ranveer Singh will play the role of Kapil Dev.
Kapil Dev - Businesses
Kapil Dev has a keen interest in business as well. Some of the places where he has invested are:
Captian Eleven's restaurants in Patna and Chandigarh
SAMCO Ventures
5% stake in Ziacom Electronic
Kaptain's Retreat Hotel in Chandigarh
Inspiration to all
Kapil Dev's career is full of inspirational stories. This guy changes the face of Indian cricket. He did something for the country that no one would have ever expected. He made his country proud and, a man like him is born just once or twice in a decade. He is an inspiration for all the people, especially the youngsters who want to do something huge for themselves and the country.