MC Mary Kom Success Story: Her Life, Achievements, and Motherhood
Mangte Chungneijang Mary Kom, or popularly known as Mary Kom, is one of the most successful women amateur boxers of all times. She was born on 24 November 1982, in the Churachandpur district of rural Manipur. While she was widely successful and had won many accolades, she truly gained mass attention after the announcement of Priyanka Chopra lead biopic called "Mary Kom" (2014).
Mary Kom's success story was by no means a flowery path. She had her own set of struggles and setbacks but managed to have a consistent career. Let's take a look at her journey from very humble beginnings to the very peaks of success.
Mary Kom Story: Beginning of a Sportsperson
Mary Kom was born to parents Mangte Tonpa Kom and Mangte Akham Kom, both of whom were tenant farmers. She is the eldest of three siblings and grew up helping her parents with work-related chores.
Early Life
She did her early schooling at Loktak Christian Model High School at Moirang and switched to St. Xavier Catholic School for classes VII and VIII. During her school days, she was enthusiastic about all kinds of sports. She played volleyball, football, javelin, track etc.
Mary Kom recalls being inspired by Dingko Singh, a fellow Manipuri who had won the gold medal in the 1998 Bangkok Asian games. At that time, due to his success, boxing gained quite a bit of popularity in Manipur.
Mary Kom Story: Training
At the age of fifteen, she decided to join the Sports Academy in the state capital Imphal and moved there by herself. There she started training under her first boxing coach K. Kosana Meitei. She proved to be a quick learner and eventually switched to Manipur State Boxing Coach M. Narjit Singh at Khuman Lampak, Imphal. In the year 2000, she won her first State Championship. This was a stepping stone to her father's approval of her career path.
Mary Kom: Tally of Medals (Major Competitions)
AIBA Women's World Championships
Year
Medal
Weight Category
Location
2001
Silver
Light flyweight - 48 Kg
Scranton, USA
2002
Gold
Pinweight - 45 Kg Antalya,
Turkey
2005
Gold
Pinweight - 46 Kg
Podolsk, Russia
2006
Gold
Pinweight - 46 Kg
New Delhi, India
2008
Gold
Pinweight - 46 Kg
Ningbo, China
2010
Gold
Light flyweight - 48 Kg
Bridgetown, Barbados
2018
Gold
Light flyweight - 48 Kg
New Delhi, India
2019
Bronze
Flyweight - 51 Kg
Ulan-Ude, Russia
Olympics
Year
Medal
Weight Category
Location
2012
Bronze
Flyweight - 51 Kg
London, UK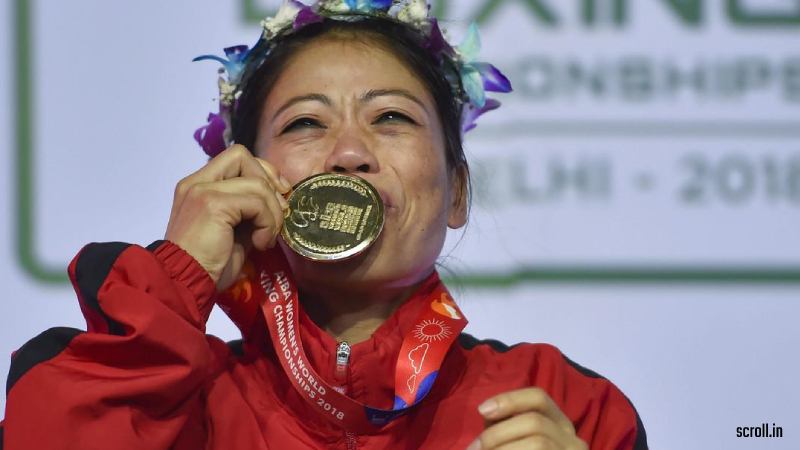 Asian Games
Year
Medal
Weight Category
Location
2010
Bronze
Flyweight - 51 Kg
Guangzhou, China
2014
Gold
Flyweight - 51 Kg
Incheon, South Korea
Commonwealth Games
Year
Medal
Weight Category
Location
2018
Gold
Light flyweight - 45-48kg
Gold Coast, Queensland, Australia
Asian Championship
Year
Medal
Weight Category
Location
2003
Gold
Pinweight - 46 Kg
Hisar, India
2005
Gold
Pinweight - 46 Kg
Kaohsiung, Taiwan
2008
Silver
Pinweight - 46 Kg
Guwahati, India
2010
Gold
Pinweight - 46 Kg
Astana, Kazakhstan
2012
Gold
Flyweight - 41 Kg
Ulan Bator, Mongolia
2017
Gold
Light flyweight - 48 Kg
Ho Chi Minh City, Vietnam
Asian Indoor Games
Year
Medal
Weight Category
Location
2009
Gold
Pin weight - 46kg
Hanoi, Vietnam
Mary Kom Story: Awards, Accolades, and Achievements
In 2003, she was awarded the Arjuna Award for her achievements in the field of boxing.
In 2006, she was honoured with Padma Shri for her contribution to the field of sports.
She was added to the list of People of the year in Limca Book of Records in 2007.
In 2008, she was awarded the CNN-IBN & Reliance Industries' Real Heroes Award.
In 2008, AIBA entitled her as 'Magnificent Mary'.
She was also awarded Pepsi MTV Youth Icon Award in 2008.
In 2009, she was awarded the Rajiv Gandhi Khel Ratna award.
In 2009 she was named the Ambassador for Women's Boxing by International Boxing Association.
In 2010, she was awarded the title of Sportswoman of the year by Sahara Sports Awards.
In 2012, she became Super Fight League's brand ambassador.
In 2013, Mary Kom was awarded the Padma Bhushan for sports.
In 2013, her autobiography "Unbreakable" (co-authored by Dina Serto) was published.
In 2014, her biopic "Mary Kom" was released.
In 2016, AIBA chose her as the brand ambassador for the 2016 AIBA Women's World Boxing Championships.
Also, in 2016, former President of India, Pranab Mukharjee, nominated Mary Kom as a member of the Rajya Sabha.
In 2016, she was awarded an Honorary Doctorate (D.Litt) by the North-Eastern Hill University.
In 2017, the Ministry of Youth Affairs and Sports appointed her and Akhil Kumar as the national observers for boxing.
She was awarded another Honorary Doctorate degree (D.Phil) in 2019 by Kaziranga University.
In 2020, Mary Kom was awarded Padma Vibhushan for her contribution to Indian sports.
Mary Kom: Championing Motherhood
Motherhood has been an important part of Mary Kom's career. She has had to work around her pregnancies to navigate her career, but she has never let them put a full stop to it.
Mary Kom & Twins
In 2007 she gave birth to a set of twins and had to take a hiatus from competition. Her return was an adjustment, as her fitness levels were not the same as before. But she made a magnificent comeback, with silver in Asian Championships and gold in World Championships.
Second Pregnancy & Asian Games
Her second pregnancy was trickier. For starters, she was older now; she had another C-section and was required to undergo subsequent surgeries due to complications. But as she was recovering, she had her eyes set on the Asian Games of 2014. While again grappling with weight, she also mentioned in an interview, "Every bout is important for me. With the youngsters coming, I will be facing tough challenges. My job is to concentrate and ensure that the refereeing decisions don't go against me I need to regain self-confidence."
And she succeeded; Mary Kom once again created history, she became the first Indian female boxer to win gold in the Asian Games.
To Sum Up:
Mary Kom has had a glorious career as a boxer, and alongside it has also lived a wonderful personal journey. But she is not done yet, she is still preparing for future competitions and has her eyes set on Tokyo Olympics. Besides that, she wants to create a residential sports complex, to cater to the future boxers of the nation. And she is diligently working towards these goals. Her drive just shows that she is not just the "Magnificent Mary", but she is also unstoppable.