Former Doubles No#1 Tennis Player: Story of Sania Mirza
Sania Mirza is one of the most loved and successful female tennis players in India. She had been the only player from India to rank highest in the ranking list (Rank 27). This woman is a pure star who helped India wins many awards. She has also left a significant mark as a doubles player. She is known as one of the most valuable doubles players in the world. Her partnership with Mahesh Bhupati and Martina Hingis has been very fruitful. There is no doubt that she has been one of the finest tennis players India has ever had.
Sania Mirza – Early Life
Sania Mirza was born in a Hyderabadi Muslim family. Her mother worked in the printing business and, her father was a sports journalist. She started playing tennis at a very young age of 6 years. She was coached mainly by her father and sometimes by Roger Anderson too.
Sania studied in Nasr School, Hyderabad, and completed her graduation from St. Mary's College, Hyderabad. She gives a lot of credit for her success in her school and college for letting her pursue her dreams. Apart from tennis, Sania is also good at swimming and cricket.
Sania Mirza- Statistics
Full Name – Sania Mirza
Born - 15th November 1986 (34 years)
Birth Place - Mumbai, Maharashtra, India
Residence - Hyderabad, India
Height - 5 ft 8 in
Spouse - Shoaib Malik
College - St. Mary's College
Plays - Right Handed
Sania Mirza – Family & Personal Life
Sania Mirza is the daughter of Imran Mirza and Nasima Mirza. She got married to Shoaib Malik (Pakistani Cricketer) on 12th April 2010.
The wedding happened in both the Hyderabadi Muslim style and Pakistani style. Mirza gave birth to her first child Izhaan Mirza Malik in October 2018.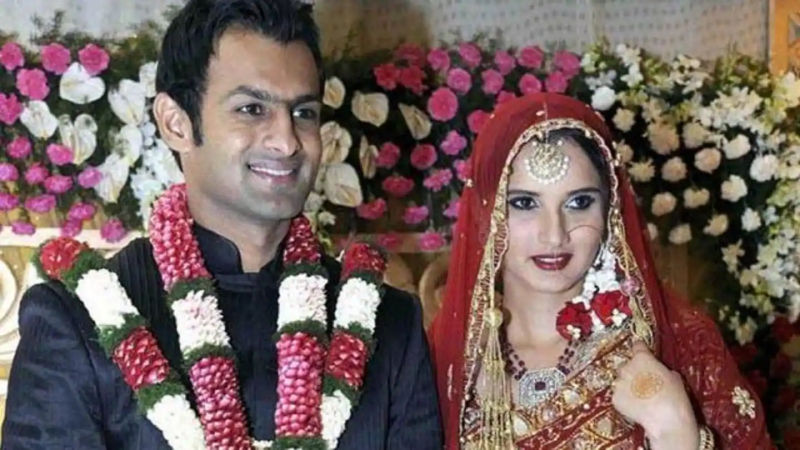 She got married to Shoaib Malik (Pakistani Cricketer) on 12th April 2010
Sania Mirza - Career
2001-2003 - Sania started playing at a very young age and became a professional in 2003. She won various tournaments this year. She won a bronze medal in the 2002 Asian Games and four gold medals in the 2003 Afro-Asian Games. She also won 3 games in Fed Cup.
2004-2005 - Mirza won six ITF titles in the year 2004. She became the first Indian woman to win a WTA title. Mirza also reached the second round of Wimbledon Champion but lost to Kuznetsova. Serena Williams defeated her in the 2005 Australian Open.
2006-2007 - In 2006, she became the first female-Indian player to be seeded in the Australian Open. She reached to quarterfinals and second rounds to many tournaments including, Cincinnati Masters and the French Open. She came stronger in 2007 and won four titles.
2008 - 2009 - 2008 was not a good year for Sania as she had to withdraw her name from many tiles including, US Open and the French Open. She was also eliminated from Singles at the 2008 Summer Olympics, Beijing. She started playing in doubles and won her first Australian Open Grand Slam with Mahesh Bhupati.
2010-2012 - These two years were full of struggles and injuries for Sania. She lost both in Australia Open and Moorilla Hobart International. She had to withdraw her name from various titles like BNP Paribas Open, Family Circle Cup, and Sony Ericcson Open because of her injury.
2013-2014 - Sania partnered with Cara Black and won China Open Trophy. The pair also won the 2014 Portugal Open. She won two medals (gold & bronze) at the 17th Asian Games.
2015 - 2016 - Mirza ranked no. 6 in the WTA doubles rankings in the years 2015. She paired up with Martina Hingis and, the pair won many titles together. They won Family Circle Cup and, they were ranked no. 1. Sania was the first Indian to be ranked no. 1 in the WTA doubles ranking list. They won 41 straight matches and, the pair was a hit. They also won Wimbledon Championship, Australian Open and, US Open.
2017-2019 - Mirza and Hingis made a mutual decision to split. Sania partnered with a couple of players after that but, nothing lasted too far. In 2018, she took maternity leave for her firstborn.
2020 - Present - Sania took a two-year-long break from the game. She decided to come back for Summer Olympics 2020. She partnered with Nadila Kichenok and won Hobart International in 2020. However, the pair lost the Australian Open 2020 due to Sania's calf injury.
Sania Mirza- Awards and Honors
Sania has won many awards in her lifetime sports career. Some of them are:
Arjuna Award, 2004
Padma Shri, 2006
Padma Bhushan, 2016
WTA Newcomer of the Year, 2005
Rajiv Gandhi Khel Ratna Award, 2015
NRI of the Year, 2016
Sania Mirza- Achievements
Some of the most recognizable achievement of Sania is:
UN Women Goodwill Ambassador for South Asia
BBC List of 100 Inspiring Women, 2015
Brand Ambassador of Telangana, 2014
100 Most Influential People in the World - Time Magazine, 2016
Sania Mirza - Books
Sania also has an autobiography. It is titled Ace against Odds and, it was published back in 2016. The book talks about her memorable on and off courts moments. It also lists some of the important people and relationships who helped Mirza in her growth. She has mentioned her journey to the top and all the struggles she had to face.
Sania Mirza - Followings
Sania is pretty active on her various social media accounts. She has a good number of followers and, people like her feed too. She has 9 million followers on Twitter and more than 7 million followers on Instagram.
Sania Mirza- Brands Endorsements
Sania is one of the most loved female sportspeople in India. This status helped her in bagging a lot of brand endorsements. Some of the brands endorsed by her are:
Adidas
Volini
Cadbury Bournvita
Emami
Tata Tea
Sprite
Air India
TVS Scooty
Hathway Cable
Sania Mirza- Inspiration to All
Sania is one of those sportspeople who have successfully made space in everyone's heart. Her sheer dedication and hard work towards her game helped her reach the top spot. She never gave up and, despite many hurdles; she helped her country in marking a place in the tennis field. She is a true inspiration for every budding sportsperson and, everyone loves her.