MS Dhoni Success Story: Learn How to Take Risks for your Passion?
You can't talk about cricket and not mention Dhoni's name. This guy has single-headedly changes the face of the Indian cricket team. His contribution to cricket is massive. He is one of India's most loved sportspeople.
MS Dhoni - Biography
Lieutenant Colonel MS Dhoni is a former Cricketer. He played for India and captained the national team as well. Under his captaincy, India won all the major cricket tournaments. India won the 2007 ICC World T20, 2011 Cricket World Cup, 2013 ICC Champions Trophy, 2010, and 2016 Asia Cup. Dhoni has been the most successful wicketkeeper and captain in the history of cricket.
He has also captained the Chennai Super Kings (IPL team) for more than ten years. His team won three IPL trophies and reached the finale for more than five years. He has also featured in the highest-paid athletes in the world by Forbes Magazine.
Fun Fact: He was ranked the 'Most Influential Person' by Time Magazine.
MS Dhoni – Statistics
Full Name - Mahendra Singh Dhoni
Born - 7th July 1981 (39 years)
Birth Place - Ranchi, Jharkhand, India
Nicknames - Mahi, Thala, MSD, Captain Cool
Batting - Right-Handed
Bowling - Right-arm medium
Role - Wicket-keeper batsman
Jersey No. - 7
Height - 5 ft 11 inch
MS Dhoni - Family
Dhoni married his girlfriend, Sakshi Singh Rawat, on 4th July 2010. The wedding was a very intimate one. Dhoni's wife gave birth to a daughter on 6th February 2015. Dhoni was on World Cup Tour in Australia at that time.
He refused to come back and said, 'I am on national duty; other things can wait. Their daughter's name is Ziva Dhoni. She accompanies in many matches with her mother.
MS Dhoni – Career
Bihar Team - Dhoni started playing cricket in his school days only. He played for various clubs and represented his school in many tournaments too. Dhoni made his Ranji Debut in 1999 for the Bihar team. He played well and managed to score one century and four fifties in that season.
India A team - Dhoni got selected for India A team and played against Zimbabwe and Kenya. His performance was remarkable both as a wicketkeeper and a batsman. His performance against Pakistan helped him receiving attention from the Indian captain Sourav Ganguly, Ravi Shastri, and others.
ODI Career - Dhoni debuted in the ODI team in the early 2000s. His debut was not a good one as he got out on a duck. His performance in the other matches was overall good. He played against Pakistan, Bangladesh, Sri Lanka, etc.
2007 World Cup - 2007 World Cup was not a good year for the team. India got ruled out in the league matches only and, Dhoni didn't even score well in the tournament.
Captainship - 2009 was one of the best years for him, career-wise. He scored 1198 runs in 24 innings. His batting average was above 70% and, he was the highest run-scorer in the ODI with Ricky Ponting. Due to his outstanding performance in several matches, he became captain of the Indian Cricket Team.
2011 World Cup - This was a remarkable year in the history of Indian Cricket. India lifted the World Cup trophy after 28 years under the captainship of MS Dhoni. He finished the match with his historical match-winning six.
2015 World Cup - India had a good start in this tournament. The team won all the group stage matches and became the first-ever team to do so. However, the team was ruled out in the semi-finals and was unable to defend the title.
2019 World Cup - India was performing well in the tournament. However, Dhoni was criticized for not being in form and got run-out at a very crucial. His run-out broke millions of hearts.
Test Career - Dhoni's test career was commendable and, he managed to break many records throughout his career. He became one of the best wicket keepers in test cricket. He scored 4,876 runs in 90 matches with a batting average of 38.09. His highest run in test cricket is 224 with 256 catches and 38 stumping.
T20 Career - Dhoni was part of the first T20 played by the Indian team. Dhoni scored 1,617 runs in 98 matches. He took 57 catches and 34 stumpings.
Stepping down as Captain - Dhoni announced his retirement from the test cricket in the 2014-15 seasons. He later gave up the captainship in the limited-overs match in 2017.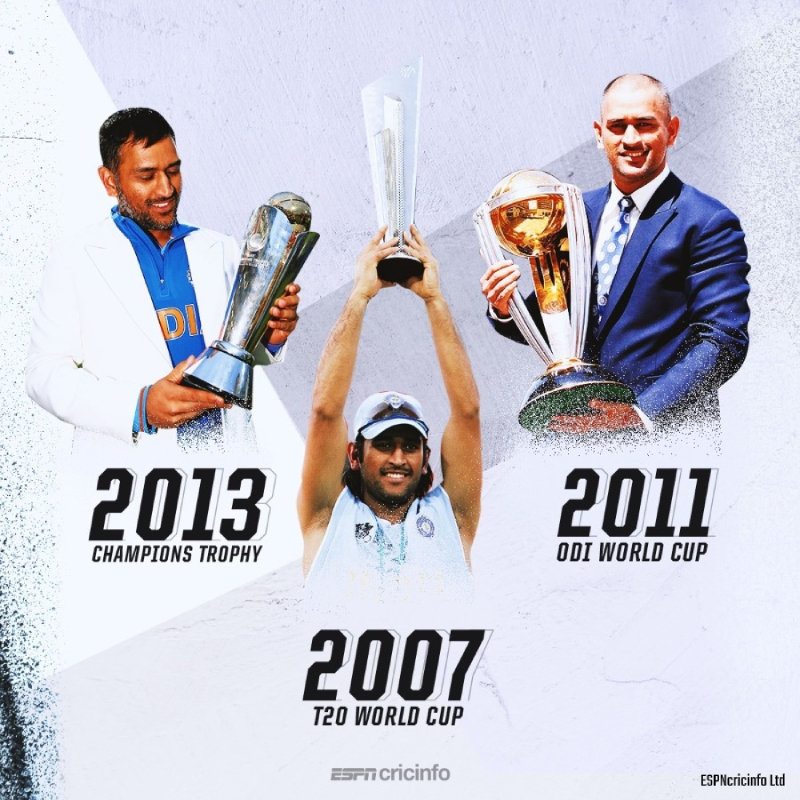 MS Dhoni - Retirement
MSD retired from all formats of cricket on 15th August 2019. He posted a video on Instagram with a short caption mentioning his retirement. His retirement video on Instagram has more than 40.5 million views and, it is one of the most viewed videos on Instagram.
MS Dhoni - Awards and Achievements
Rajiv Gandhi Khel Ratna - India's highest honor in the field of sports, 2007-08
Padma Bhushan - India's 3rd Highest Civilian Award, 2018
Padma Shri - India's 4th Highest Civilian Award, 2009
ICC ODI Player of the Year - 2008, 2009
ICC Spirit of the Cricket Ward of the Decade - 2011-20
Castrol Indian Cricketer of the Year - 2011
ICC Men's T20I Team of the Decade - 2011-20
ICC Men's ODI Team of the Decade - 2011-20
Honorary Doctorate Degree by DeMontfort University - 2011
MTV Youth Icon of the Year - 2006
CNN-News 18 Indian of the year - 2011
LG People's Choice Award - 2013
MS Dhoni – Philanthropy
Dhoni is one of those celebrities in India with the most charitable works. Some of these contributions are:
He has a foundation for young athletes in India. They provide scholarships and organize a tournament with various teams.
His charitable foundation helped Indian Army to raise 20,000 pounds.
He donated INR 2 crores to Central Reserve Police Forces (CRPF)
He coordinated with Virat Kohli's charitable foundation to help needy people.
MS Dhoni - Brand Endorsements
Dhoni is currently endorsing a lot of brands. He is one of the most valuable celebrities in the country. Every company wants to sign him as a brand ambassador. He endorses 25 brands and charges somewhere between INR 1-2 crores for one day shoot. Some of the brands that he endorses are:
Pepsi
TVS
Snickers
Dream 11
Netmeds
Indigo Paints
Gulf Oil India
Sumadhura Group
Boost
Bharat Matrimony
MS Dhoni - Inspiration to all
Dhoni's hard work and dedication have proved that you can avoid anything you want if you truly want that thing. He made his career himself without any support system. He is the epitome of patience and selflessness. This man has proved that dedication can do miracles for you.