Hima Das Story: The Miracle Girl that Won 5 Gold in One Month
It is often said that "the tougher your journey is, the more beautiful your success will be." A perfect example of this is the success story of a famous Indian athlete, Hima Das. Born in a small family, she managed to win numerous achievements not only for her but for her family and India as a whole. Her life which is an incredible tale of hard work, struggle and dedication, are what we will study about, in this article.
Hima Das is a famous Indian sprinter who has achieved many accolades in international sprint running competitions. She majorly runs in 100m, 200m and 400m events.
Early life
Hima Das, popularly called the Dhing Express, was born in Kandhulimar village, Dhing town, in Assam on 9th Jan 2000. Her parents Ranjit Das and Jonali Das were rice farmers. Her interest in sports is right from childhood.
She revealed how she used to play football in her rice fields. But it doesn't mean that she hasn't completed her studies. Hima had completed her schooling, and after clearing her 12th exams in 2019, she enrolled for graduation in Assam's Cotton University.
Athletic Career
Hima Das was initially interested in football. But she knew that the opportunities in female football are rare. Then her physical education teacher saw her speed and potential in athletics, and it was after his advice that she switched to sprint running.
Then her coach motivated her to participate in the Inter-district athletics competition. She won numerous athletics competitions, and this paved the way for many national and international opportunities.
She also met some experienced coaches who pursued her to join athletics camps. She says that she was fearful of living away from her parents, but her father motivated her greatly. At camp, she was given rigorous training. But finally, her hard work bore fruit, and she was selected for the Asian Youth championship.
The Unstoppable Hima: Recognitions
At the Asian Youth Championship, she got 7th ranking. In her next event at the World Youth Championship, her ranking improved to 5.
IAAF World U-20 Championship She got a fantastic opportunity to represent India at the 2018 IAAF World U-20 Championship. She ranked first in the 400m format with a timing of 51.46 sec.
Asian Games Hima Das managed to qualify for the 2018 Asian game finals in the 400m event and won a silver medal for India. She was also selected for the 4*400 relay event in the Asian game and Sarita Gaykwad, M.R. Poovamma and V.K. Vismaya. The team ended up with a silver medal in the event.
5 Gold in One Month Then there was no stopping to her achievements in 2019. She managed to win 5 consecutive gold medals in 200m events in a single month of July 2019. These events include the Poznan Grand Prix in Poland and Czech Republic athletic meet events.
Fact: She was also the first choice for the 2019 Doha World Championships. But due to some back problem, she was not deemed fit for participation in the event.
Hima Das: Struggle
Hima Das revealed in an interview that in her childhood, she did not even have money to buy a pair of shoes. She revealed that when she first represented India in the Commonwealth Games in 2018, her parents did not even know what commonwealth games are.
They were just happy to see her on TV. This shows that her life was full of struggles, but she never gave up and achieved great things in life.
Milestones: Hima Das
Hima Das has been the winner of several accolades. These include:
Gold Medals in 200-meter events:
Poznan Athletics Grand Prix gold medal in 200m racing.
200m gold medal at Poland's Kuzno athletic meet
200m Gold in Tabor and Kladno Athletics meet.
400 m events:
Gold medal in the Czech Republic 400m event.
Silver medal in 2018 Asian Games in 4*400m mixed relay
First prize in 2018 IAAF World U-20 championship's 400 m race. With this medal, she became the first Indian Athlete to get the 1st rank in the IAAF world championship, under any format.
In the Commonwealth U-20 400m finals, she bagged the sixth rank.
Awards and Recognition
Owing to her successful International athletic career, she was presented with the Arjuna award in 2018.
Even a tiger cub in Bannerghatta National Park has been named Hima, in her honor.
Being the youth icon and inspiration, Hima became the endorsement partner of the famous sports shoe brand Adidas.
Under Assam's integrated state policy, she is presently serving as Assam's DSP. This means that she was not asked to give any Civil service exam, but due to her caliber, she was directly recruited in Assam police services.
She is only the second women athlete from Assam who managed to bag international gold medals after Bhogeshwar Baruah.
She has also won the nickname of 'Dhing express'.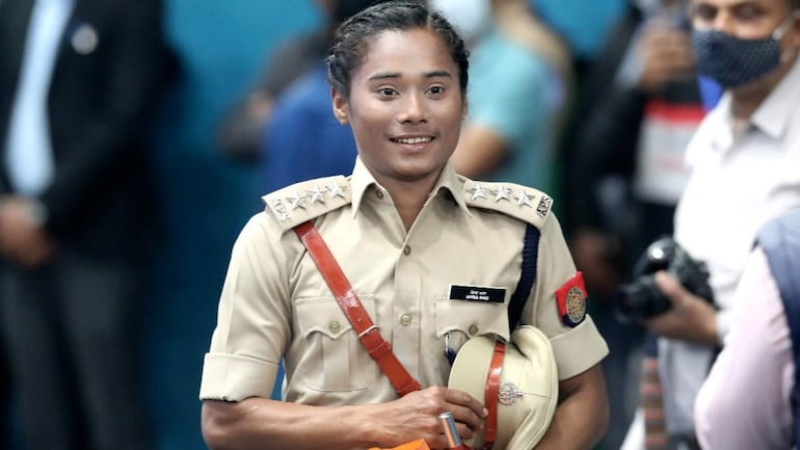 Hima Das after being inducted as Deputy Superintendent of Assam Police
Lessons to Learn
Hima Das is the perfect example for those parents who believe that sports offer no future. Hima Das has not only made her parents proud, but the whole country feels proud of her achievements. The lessons that we learn from her life are:
Determination Your birth in a poor or a wealthy family can never decide your fate. It is you and your hard work that determines what you will become.
Work Hard One should always be ready to work hard because there is no shortcut to success. Had Hima given up against the rigorous camp training, she wouldn't have achieved all those recorded milestones in her name today.
Love Struggle Struggles are an inevitable part of life. They don't make you weak but prepare you for the coming hurdles. So we should always take them optimistically and keep working hard.
Shuttling Word
Hima Das has proved to the world that if you are determined to do it, you can do it. Being the winner of so many international titles at the young age of nineteen years, she sets a wonderful example for the Indian youth. We should also learn from her hard work and compassion and put our best efforts into our respective fields.