Nawazuddin Siddiqui Story: Watchman to Magazine Cover Boy
Nawazuddin Siddiqui is a Bollywood actor, born on 19th May 1974. He is well known for his incredible acting and his contributions to Bollywood. He has graduated from the prestigious National School of Drama. His journey is full of ups and downs. In other words, it is inspiring as well as emotional. His life journey is an inspiration for many upcoming actors in India.
Let's go through his inspirational story and facts related to his family and personal life.
Nawazuddin Siddiqui Early Life:
Nawazuddin Siddiqui was born in the small town of Budhana, Muzzafarnagar district of Uttar Pradesh, India, and belonged to a zamindari Muslim family. He is the eldest of eight siblings, and his family didn't have much wealth in that place. So, they moved to Haridwar, Uttarakhand, where Siddiqui pursued his bachelor's in chemistry. After which, he started to work as a chemist at a petrochemical factory in Baroda. He moved to Delhi in search of a better livelihood but ended up working as a watchman at various places.
Once, Siddiqui went to watch a play, and he was instantly drawn towards it. He thought of making his career in acting. From here, his career took a big turn; he managed to get admission into the prestigious 'National School of Drama' by acting in 10 plays with a group of friends.
Nawazuddin Siddiqui Story Beginning:
Nawazuddin graduated from NSD in the year 1996 and, then, the versatile Nawazuddin Siddiqui is the personification of how success comes from never giving up. Acquiring a degree was not the end of his financial problems. He went to Mumbai, the heart of Bollywood, to try out his luck. As he didn't have any godfather in the industry, it was difficult for him to get any lead roles. He wandered from studio to studio but only got roles in which he was part of the crowd. He was going out of funds to pay the rent, so he asked an NSD senior if he could stay with him. The senior agreed, but Nawaz had to cook for him twice a day.
He made his film debut in "Sarfarosh" in 1999, in which he played a terrorist. It was followed by a series of minor roles which he played over the years in movies, namely, 'Munnabhai MBBS', 'Shool' and 'Jungle'. He was still in poverty at that time.
"So many of our dreams at first seem impossible, then they seem improbable, and then, when we summon the will, they soon become inevitable."
Nawazuddin Siddiqui Breakthrough:
The first breakthrough he got was through 'Black Friday' by Anurag Kashyap in the year 2007. Through 'Peepli Live' in 2010, he got wide recognition and appreciation as an actor. In 2012, he appeared in 'Patang', and it was his first major lead role as Chakku. It made it to the Berlin International Film Festival and Tribeca Film Festival.
The year 2012 was climacteric in his filmy career with films like 'Kahani' and 'Gangs of Wasseypur.' They did very well at the box office, and in everyone's mouth, there was one name, Nawazuddin. Since then, he has never looked back. He got recognition as a superstar with real potential. After this, Nawaz worked in many films like Talaash, Bajrangi Bhaijan, Badlapur, Kick, Raees, and how can we forget the Oscar-nominated "Lion."
Being just an extra to a lead actor and going to film festivals like Cannes is what this versatile and talented actor has seen in his life. This is an inspirational rags-to-riches story because Nawazuddin was a common boy who didn't come from a wealthy family. He was just a commoner like many who dream of that, but he succeeded because of his determination, hard work, and patience.
Nawazuddin Siddiqui Interview:
Once in an interview, he said, "So many times I felt I was wasting my time because things were just not working out. But I couldn't even go back. What would I do there? Spent all my life acting, and I don't know any other work. Also, I was afraid my friends would tease me. Arrey hero banne gaya tha, wapas laut aaya (he had gone to become an actor and has returned with nothing)." He talked about proving his relatives and friends wrong in the interview by his stardom.
(https://yourstory.com/2017/02/nawazuddin-siddiqui/)
Nawazuddin Siddiqui Awards
In 2012, he was awarded Asian Film Award for Best Supporting Actor. Again, in 2012, he won the Lions Favorite Actor award at the Lions Gold Awards ceremony for the movie "Gangs of Wasseypur." In the same year, Siddiqui won the GQ Men of the Year award.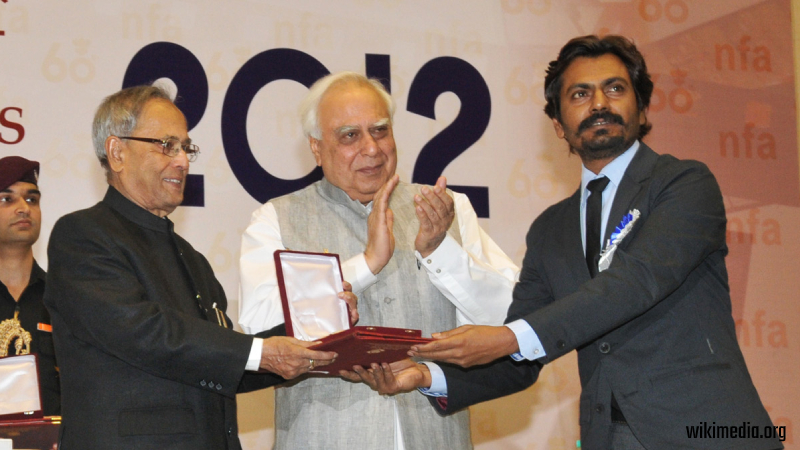 Nawazuddin's list of awards:
Asian Film Award for Best Supporting Actor in 2013 for Talaash
Stardust Award for Best Supporting Actor in 2013 for Gangs of Wasseypur
National Film Award in 2013 for Gangs of Wasseypur
Filmfare Award for Best Supporting Actor in 2014 for The Lunchbox
Screen Award for Best Supporting Actor in 2016 for Bajrangi Bhaijaan
Guild Award for Best Actor in negative role in 2016 for Badlapur
IIFA Award for Best Supporting Actor in 2018 for MOM
Nawazuddin Siddiqui Personal Life
Siddiqui lives in Mumbai with his young brother, Shamas Nawab Siddiqui, and is married to Anjana Kishor Pandey. They have a daughter and a son.
Other than this, he does farming in his hometown. His goal is to educate farmers about new agricultural techniques which help in better cultivation. He has helped local farmers by implementing new irrigation techniques.
What Makes Mr. Siddiqui So Special?
Mr. Siddiqui can't walk on a ramp because he is not known for his Fashion Quotient. What makes Nawaz a household name in India is how he has connected with commoners across the nation. His dialogue from the blockbuster Gangs of Wasseypur," sbka badla lega tera faizal", has become parlance when people converse about revenge in a friendly conversation. Owing to his remarkable work in "Manjhi – The mountain man", he has become an example when someone talks about dedication and hard work.
With all his outstanding contribution in the cinemas and on the silver screen, he has achieved what others can only dream of. What makes him special is the way he can absorb all the success and keep himself grounded.
"There is nothing called negative character. Negativity and positivity exist in all of us". – Nawazuddin