Legendary Actor Dilip Kumar Dies at 98 – Leaves Memories Behind
Dilip Kumar was a well-known Hindi film actor and producer. He was one of the first superstars of India who bought method acting to the industry. Kumar was one of the finest actors in the cinema and has won the maximum number of Filmfare Awards for Best Actor (equaled with Shahrukh Khan). He was also known as the 'Tragedy King' of Bollywood for his epic roles and has worked in more than 60 films. Kumar ruled the film industry for decades and was a magnificent actor. Actors like Dilip Kumar are born just once in a century.
Fun Fact: Dilip Kumar was fluent in many languages, including Urdu, Hindi, Punjabi, English, Persian, Gujarati, Bhojpuri, Awadhi, and many more.
Dilip Kumar Biography – Statistics
Full Name - Mohammed Yusuf Khan
Popularly Known - Dilip Kumar
Date of Birth - 11 December 1922
Place of Birth - Peshawar, British India
Died - 7 July 2021 (aged 98 years)
Place of Death - Maharashtra, India
Profession - Actor, Producer
Years Active - 1944-1999
Spouse(s) – Asma Sahiba (m. 1981; div.1983), Saira Banu (m. 1966)
Dilip Kumar Biography - Family and Early Life
Kumar's real name is Mohammed Yusuf Khan and, he was born in an Awan family in Qissa Khawani Bazaar, Peshawar (present-day in Pakistan). His father, Lala Ghulam Sarwar Khan, was a fruit seller and, Dilip is one of the twelve children of his parents. He studied at Barnes School, Nashik & was Raj Kapoor's neighbour, and they became colleagues in the industry from being a childhood friend.
Dilip Kumar Biography - Personal Life
Dilip's relation with Madhubala was one of the hottest topics of the industry. They remained in a relationship for almost seven years until her father ended their relationship. He also got linked with Vyjayanthimala, who got cast with him the most. Kumar married Saira Bano, who was 22 years younger than him, in 1996. He also married Asma Sahiba in 1981 but, the marriage ended in 1983. Kumar lived with Saira in Bandra and, the couple doesn't have any children.
Dilip Kumar Biography - Film Career Timeline
Early Career - Kumar debuted from Jwar Bhata in 1944 but, it went unnoticed. He did a couple of more movies after that and, all of them were a flop. His first successful film was Jugnu in 1947, opposite Noor Jehan.
Breakthrough - Kumar's breakthrough movie was Andaz, opposite Nargis and Raj Kapoor. His lead roles in the movies Babul, Daag, Devdas, Deedar, Naya Daur, etc., established him as the 'Tragedy King.' Kumar also took some light-hearted roles in Aan, Azaad, Kohinoor, etc. He also became the first actor to charge INR 1 lakh per film (equivalent to INR 85 lakhs today).
Success - Mughal-e-Azam was the highest-grossing film for eleven long years and, that movie brought Kumar a lot of success. After adjusting it with inflation, the movie earned around INR 1000 crores in 2011. His film Ganga Jamuna that was also written and produced by him was a blockbuster. The movie also received the National Award and many International Awards too. After this, there was no looking back for him and, he gave back-to-back hits.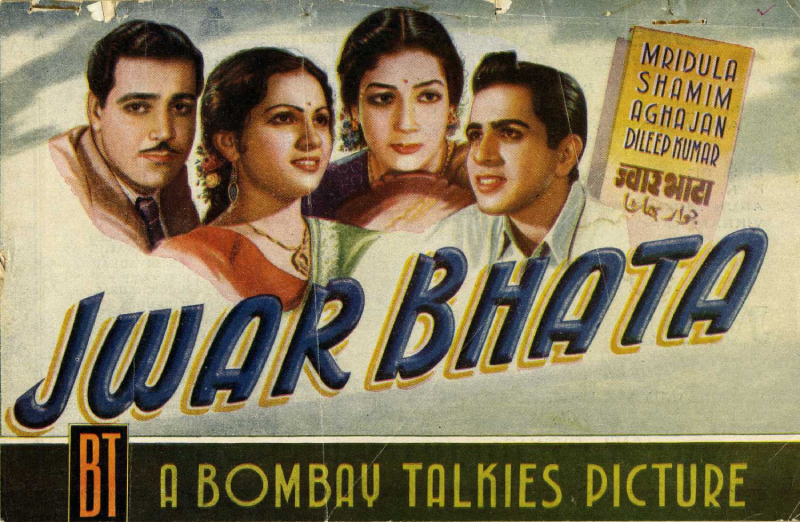 Dilip Kumar First Movie
Dilip Kumar Biography - Political Career
Dilip got appointed as a member of the Upper House of Parliament (Rajya Sabha) from 2000 to 2006. He represented Maharashtra and got nominated by INC (Indian National Congress). During his nomination, he used the MPLADS fund for constructing Bandstand Promenade, the gardens at Land Ends in Bandra.
Dilip Kumar Awards and Achievements
Padma Bhushan Award, 1991
Nishan-e-Imtiaz Award - 1998
Padma Vibhushan - 2015
Dada Saheb Phalke Award - 1994
Filmfare Award for Best Actor - Daag, 1952
Filmfare Award for Best Actor - Devdas and Azaad, 1955
Filmfare Award for Best Actor - Shankar, 1957
Filmfare Award for Best Actor - Kohinoor, 1960
Filmfare Award for Best Actor - Leader, 1964
Filmfare Award for Best Actor - Ram Aur Shyam, 1967
Filmfare Award for Best Actor - Shakti, 1982
Filmfare Award for Lifetime Achievement - 1993
NTR National Award - 1997
CNN-IBN Lifetime Achievement Award - 2009
Dilip Kumar Autobiography – Books
Kumar has also written an autobiography, "Dilip Kumar: The Substance and the Shadow." He also revealed in his biography that Saira Bano got pregnant in 1972 but, due to some complications, the child died. They did not try to have a child again, believing it to be God's will.
Dilip Kumar Death – End of an Era
Dilip Kumar died at the Hinduja Hospital in Mumbai at 7.30 am on 7 July 2021. He had prostate cancer for a very long time and fought that battle till his last breath. His burial got approved by the Government of Maharashtra with all the state honors at Juhu cemetery, and all the people condoled his death including, Pakistan Prime Minister Imran Khan. He also remembers his help in raising funds for the Shaukat Khanum Memorial Cancer Hospital.
Dilip Kumar Legacy – Quick Facts
Even after so many decades, Kumar is still considered one of the greatest actors in Hindi cinema due to some underlying facts like:
He holds the Guinness Book of World Record for having the highest number of awards as an Indian actor.
Kumar got nominated 19 times for the Filmfare award in the best actor category and, Kumar ended up winning eight of them.
He is also the recipient of some of the highest honors by the government of India.
Kumar got appointed as Sheriff of Mumbai in 1980.
He holds the record for the most highest-grossing films (9) until Salman khan broke that (10). However, if we calculate it with the inflation, Kumar holds the highest-grossing movie ever, with, Mughal-E-Azam.
Kumar's younger brother, Nasir Khan, is also an actor.
Dilip Kumar - The First Khan of Bollywood
Thousands of people come and go but, someone like Dilip Kumar is rare. He is a legendary actor and an institution for all budding actors in the industry. He mesmerized his fans every time with his work as he is one of the exceptional actors. Kumar is just unforgettable and, his work is remembered for generations.