Noida Boy Himeesh Madaan becomes India's Best Trainer & Speaker
Himeesh Madaan is a very famous Indian motivational speaker, a life coach, and a writer. He is popularly known for motivating people by understanding their minds and then giving appropriate ideas. He also has specially designed programs with self-help skills & has addressed over 100 million people to date and believes in strengthening his audience. His style of delivering the speech is unique and full of energy. That gave him an edge over all the other motivational speakers.
Himeesh Madaan – Statistics
Full Name - Himeesh Madaan
Date of Birth - 11 December 1984 (37 years)
Place of Birth - Noida, Uttar Pradesh, India
Profession - Motivational Speaker, Writer, Thinker, Life Coach
Zodiac Sign - Sagittarius
Height - 5 ft. 8 in
Marital Status - Married
Wife – Gunjan Madaan
Favorite Speaker – Sandeep Maheshwari
Hobbies - Writing, Reading, Delivering motivational speeches
Website - www.himeesh.com
Himeesh Madaan - Early Life
Himeesh started his career with a Travel Company. He gained experience in sales, quality, and training. He also worked as a freelancer for training various customers of companies like TATA Motors, LIC, Paytm, Sony, etc. Apart from this, Himeesh has also specialized in Team Building, Interpersonal Skills, Communication Skills, Leadership Skills, Behavioral Skills, Employability Skills, etc.
Himeesh Madaan - Family and Personal Life
Himeesh was born to TS Madaan and Pinky Madaan. His father is a corporate trainer and also a motivational speaker. Himeesh's wife, Gunajn Madaan, is an entrepreneur and a businesswoman. She also features a lot of videos of him. Apart from this, she is also a digital creator and a fitness enthusiast.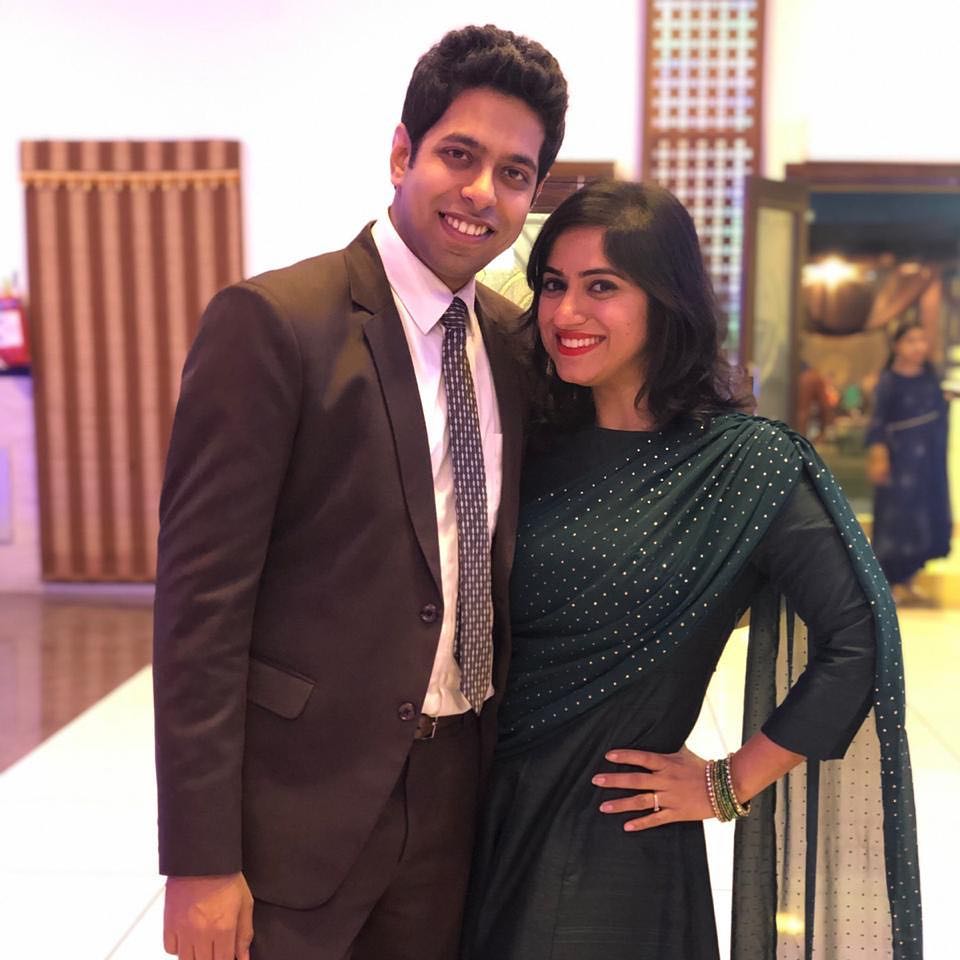 Himeesh Madaan Wife Gunjan Madaan
Himeesh Madaan - Career
Himeesh didn't attend any college and started working as a salesperson for a travel agency. He decided to quit his job after few months and did a diploma course for three months. He then joined a well-known airline company and, at the age of just 21 years, he was the team leader of 10-15 people.
The beginning of his career was tough but, this man never gave up. He started his own business at the age of 21 but, it failed. When he decided to start his own YouTube channel and, since then, there's no looking back for this man.
Himeesh Madaan - Youtube Journey
Joined YouTube - Himeesh joined YouTube in 2007 and posted his ever video only in 2012. For Five years, he was working alone. He was the only member of his team. He used to shoot his videos himself, write the script and edit it. The first few videos didn't work well but, things started changing after few years and, he finally got subscribers.
1 Million Subscribers - He got his first million subscribers in 2016. It was a milestone for a boy who struggled a lot in his beginning days. Since then, there was no looking back for him and, he started gaining more and more subscribers in a short period.
5 Million Subscribers - Himeesh hit five million subscribers in 2020. His videos are very famous on the internet and, his channel has received more than 300 million views on Youtube. It is an achievement to hit so many subscribers and, your videos are performing so well. He has more than 200 videos on the internet and, it is growing every day.
Himeesh Madaan - Other Channels
Himeesh's videos get watched in more than 150 countries. So, I think it would be safe to call him an international motivational speaker. He also runs many other YouTube channels. Some of them are:
TS Madaan - This channel got started in 2008 and, it has more than 10 million subscribers. The videos on this channel get watched more than 1 Billion times. He mainly posts videos for his Hindi-speaking viewers to help them improve their English knowledge. He provides many things like Spoken English Training, Life Skills, Anger Management, Mental Health, General Knowledge, etc., on this channel.
Shorts by Himeesh Madaan - This channel got recently started in October 2020. He already has 21 thousand subscribers on this channel and, the videos get watched more than 4 million times. He mainly posts short videos on this channel which are full of motivation and knowledge.
Seekhega India - This channel was also recently started by Himeesh in 2020. It doesn't have a lot of videos. But it has already crossed 3000 subscribers with more than 90,000 views. It has all kinds of videos such as entertainment and knowledgeable things.
Himeesh Madaan - Fans and Following
Apart from Youtube, Himeesh is popular on many other social media platforms too. He makes sure to post and interact with his followers. Himeesh is quite active on all of his social media pages and posts amazing videos to motivate his followers.
He has more than 150 thousand followers on Instagram. You can also connect with him on his Linkedin page that has thousands of connections too.
Himeesh Madaan - Net Worth
Himeesh Madaan's estimated net worth is INR 20 Crores (approx). He earns around INR 15 lakhs per month. Most of his earnings are from his various Youtube channels and through his specialized training programs. He also runs a business that contributes to his net worth.
Himeesh Madaan - Some Unknown Facts
He worked for a United Airlines Company in his initial days.
He is a Six Sigma Certified, Alumni of the AAFT Film School, IATA/UFTAA Qualified.
He is PCMMI Certified and a member of NHRD.
He has also written a book. Name of the book: Be Awesome Live Awesome.
He is a speaker at Rotary, Lions Club, and JCI.
Youngest Scientist ever in a Science-Based reality show on the National channel.
Himeesh Madaan - From Zero to Hero
Himeesh's life has been nothing but an inspiration for all the youngsters in our country. This guy in his 30s has achieved so much success that one can even dream off. His success teaches us the importance of hard work and dedication.