Sprinter Milkha Singh: The Story to Becoming Flying Sikh of India
"Hard work, perseverance, and faith are key elements to success", this quote aptly suits this legendary person, Milkha Singh, who has contributed to Indian sports for more than five decades. He certainly stands as an inspiration for every individual. The zeal for continuous hard work is the reason behind his success today. He has toppled several obstacles in the field of sports and has always made India proud. Here, in this article, we will do our contribution by recalling his life journey & achievements.
Indian Sprinter: Milkha Singh
Honorary Captain Milkha Singh is an Indian former track and field sprinter. He got an interest in the sports field while he served in the Indian Army. He is considered to be "the finest athlete India has ever produced".
Milkha Singh: Key Highlights
Date of Birth: 20 November 1929
Place of Birth: Govindpura, Punjab (Present-day Punjab, Pakistan)
Sport: Track and Field
Nickname: The Flying Sikh
Nationality: Indian
Height: 172 cm
Weight: 80 kg
Spouse: Nirmal Kaur
Children: Jeev Milkha Singh, Sonia Sanwalka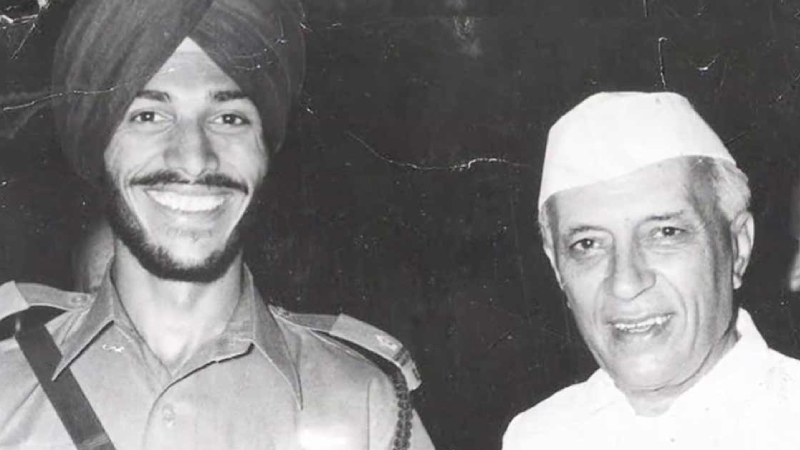 Milkha Singh - Prime Minister of India Jawaharlal Nehru
Milkha Singh Background
Milkha Singh was born in a Rajput Sikh family from a village called Govindpura located in Punjab (present Pakistan) on 20 November 1929. He had fifteen siblings. Unfortunately, eight out of them died before the Partition of India. Singh did his schooling up to the 5th standard at a village school in Pakistan and got discontinued due to the partition of the two nations.
Milkha Singh : Childhood
In his childhood days, he had to travel a long distance, a 10 KM running distance to and from school which led to a boost in his stamina.
At a very young age, he saw his parents, two sisters and a brother getting murdered during the partition of India and Pakistan. This has immensely affected him and was eventually very difficult to cope with.
Milkha Singh : Indian Army
He had spent a few days in various refugee camps and even in railway stations since he got involved in some legal issues. He turned into a dacoit initially, but at his brother's request, he applied for Army entrance. Soon, he cleared the Army entrance exam, and this had brought fortune in his life, though it made it in his fourth attempt. After completing the cross-country run, which was compulsory for the recruits and became sixth, he was selected by the Army for special training.
Milkha Singh : Family
Milkha Singh met his wife, Nirmal Saini, in Colombo in1956. She was the former Indian women's volleyball captain in Ceylon in 1955. They planned to get married after a courtship of two years despite the religious differences in 1962. Now, they have three daughters and a son.
Milkha Singh & Failure in Sports
Melbourne Olympics In 1956, Milkha Singh had participated for the first time in the Olympics in Melbourne but did not gain success. He did not give up and continued working harder and setting records in national competitions, such as the 1958 National Games held in Cuttack.
Rome Olympics His best performance reflected in the Rome Olympics in 1960, but he lost third place. Keeping himself determined, in 1962, he won gold medals representing India at the Jakarta Asian Games. This had brought an immense unparalleled change to his life
Milkha Singh : Achievements
Milkha Singh was the first Indian athlete to win a 400-m gold medal in individual athletics at the Commonwealth Games. Till 2010, this record remained unbroken.
From 1956-1964, he represented India in three Olympics- Summer Olympics in Melbourne held in 1956, the Summer Olympics in Rome held in 1960, and the Summer Olympics in Tokyo held in 1964.
He received the Padma Shri award, the fourth-highest civilian honor of India, in the sports category.
From 1958-1962, he secured four gold medals in the Asian Games in the 200m, 400m and 4X400m relay.
He was awarded the Padma Shri, India's fourth-highest civilian honor, to recognize his sporting achievements.
Milkha Singh: Awards, Medals, & Honors
Men's Athletics
Representing India
British Empire and Commonwealth Games
1958 Cardiff
440 yards
Asian Games
1958 Tokyo
200 m
1958 Tokyo
400 m
1962 Jakarta
400 m
1962 Jakarta
4 x 400 m relay
National Games of India
1958 Cuttack
200 m
1958 Cuttack
400 m
1964 Calcutta
400 m
1958 Asian Games
200 M
1958 Commonwealth Games
440 Yards
1962 Asian Games
400 M
1962 Asian Games
4X400 M Relay
1964 Calcutta National Games
400 M
Notable Works on Milkha Singh
Autobiography The Race of My Life was published in 2013. It was co-written by his daughter, Sonia Sanwalka and him.
Movie Bhaag Milkha Bhaag, the 2013 award-winning biopic, was inspired by the book "The Race of My Life" Rakeysh Omprakash Mehra directs the film, and it starred Farhan Akhtar as Milkha Singh, and Divya Dutta and Sonam Kapoor as well. It won several awards like 'Most Popular Film' at National Film Awards and 5 awards at the International Indian Film Academy (IIFA) Awards in 2014.
Wax Statue The wax statue of Milkha Singh was displayed at Chandigarh in September 2017. It is placed at Madame Tussauds museum in New Delhi, India. It was built by the sculptors of Madame Tussauds in London. It marks the running posture of Singh during his successful run at the Commonwealth Games held in 1958.
Milkha Singh : The Heart of Gold
Milkha Singh had sold the movie rights for one rupee but made an agreement that the profit from the movie would be transferred to the Milkha Singh Charitable Trust. It was opened in 2003, focusing on helping the poor and needy sportspeople.