Beauty Queen Rekha – Bollywood's Strongest Female Lead
Rekha is a well-known Indian actress who is known for her independent and strong female roles. She is one of the finest actresses in the industry, who has always portrayed every character perfectly. She is the recipient of various awards and titles, including the National Film Award for Best Actress. She started acting from her childhood only and, she has worked in more than 180 movies. Rekha has also performed in various South Indian Films and, most of her work was critically acclaimed.
Rekha - Statistics
Full Name – Bhanurekha Ganeshan
Nick Name - Rekha
Born - 10 October 1954 (66 years)
Birth - Madras, India
Occupation - Actress
Spouse – Mukesh Agarwal (died 1990)
Rekha - Family and Early Life
Rekha was born in the Ganeshan family in Madras. Her parents were unmarried at the time of her birth and, she did not have a good relationship with her father. He didn't want to recognize her as his daughter. According to Rekha, her father rarely cared about them and wasn't present for most of her childhood days. She had a tough childhood with her mother being a busy actress who barely had time to spend with her. Rekha used to live with her grandparents.
Fun Fact: She always had a keen interest in dance and sports and, she quit school at the age of 13 to pursue her career in acting.
Rekha – Relationships & Controversies
Mukesh Agarwal Rekha's personal life has always been in the eyes of the media. She married a Delhi-based Businessman, Mukesh Agarwal, in 1990 that died in the same year.
Amitabh Bachchan Her affair with Amitabh Bachchan is still one of the hot gossips of the industry. Amitabh was already married at that time and, both of them were always reluctant to speak about it.
Vinod Mehra She got rumored to be married to Vinod Mehra. But she turned down all the rumors in an interview with Simi Gerewal and only called him a well-wisher. Rekha was well known for her beauty and even known she takes good care of herself. She calls her body and Mind a temple and believes in staying fit.
Rekha – Career Timeline
Bollywood Debut Rekha performed supporting roles in the South Indian film industry when Kuljeet Pal spotted her talent. He offered her a 5-year contract for four films. She moved to Bombay and also announced her debut in a Kannada film. She was not fluent in Hindi and, she had a hard time in her initial days in the Hindi film industry as people often used to make fun of her. However, people did appreciate her confidence, her talent, and good looks.
Breakthrough Rekha got offered many roles at the beginning of her career only, but unfortunately, none of them was up to the mark. After doing around ten films, she finally started getting some good scripts. Rekha was a part of many box office hits such as Rampur ka Lakshman, Pran Jaye Par Vachn Na Jaaye, Dharmatama, etc. But unfortunately, she was still not appreciated for her acting skills. Her breakthrough was Do Anjaane opposite Amitabh Bachchan in 1976. She later gave back-to-back hits and, those movies were critically acclaimed too. Her performance in Khoon Pasina, Aap Ki Khatir, Imman Dharam are still considered iconic roles.
Leading Actress Rekha soon started to be considered as one of the leading actresses of the industry. She acted in many movies such as Umraao Jaan, Ghar, Muqqadar Ka Sikandar, Khubsoorat, etc. She won various awards for her performances in these movies, including National Film Award for Umraao Jaan.
Occasional Work Now, Rekha is not that consistent in the industry. She barely signs for any movie and only does few occasional roles. She has acted in Koi Mil Gaya and Krish opposite Hrithik Roshan and Priyanka Chopra. The film was a box office hit and, Rekha also won an award for her role as a supporting actress.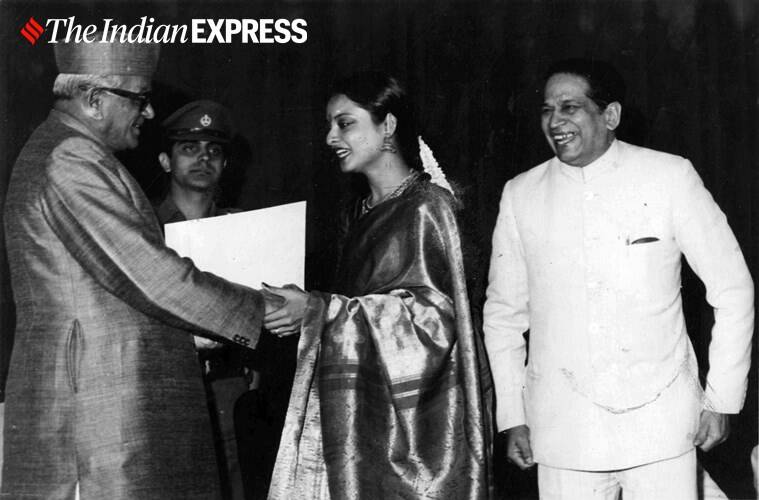 President Neelam Sanjiva Reddy presenting the Best Actress National Award to Rekha for Umrao Jaan (1981). (Photo: Express Archives)
Rekha - Awards and Achievements
National Awards:

Padma Shri Award, 2010
ANR National Award, 2019
National Film Award for Best Actress – Umrao Jaan, 1982
Filmfare Award for Best Actress - Khubsoorat, 1981
Filmfare Award for Best Actress – Khoon Bhari Maang, 1984
Filmfare Award for Best Actress – Khiladiyon Ka Khiladi, 1997
Filmfare Award for Lifetime Achievement – 2003

Other Miscellaneous Awards:

Samsung Diva Award - 2003
Outstanding Achievement in Indian Cinema - 2012
Film World Award for Best Actress – Immaan Dharm, 1977
Lakme Timeless Beauty Award - 1997
Maha Style Icon of the Year - 2004
Sony Golden Glory Award - 2005
Big Star Eternal Youth Star Award - 2012
Lux Golden Rose Award - 2018

Rekha - Honours

Lachhu Maharaj Award - Best Kathak Dancer in Hindi films, 1998
IMPPA Award - for contribution to Bollywood, 2008
Raj Kapoor Pratibha Gaurav Puraskar - for outstanding contribution to Indian cinema, 2009
Living Legend in the world of Entertainment - By FICCI, 2007
Mumbai Academy of the Moving Image - Award for contribution to cinema, 2001
Denanath Mageshkar Award - 2006
Rekha - Member of Parliament
Rekha got nominated by the President as a member of the Rajya Sabha in 2012. She received a warm welcome in the house and got greeted with thumping of the desks. She took the pledge in English and, she made a quiet exit halfway through the question hour.
Rekha - Fans and Following
Rekha has many fans and, this woman has never failed to impress any of her fans. However, she doesn't use any social media account but, she makes sure to do public appearances. She comes on various shows on the television and attends award shows to interact with her fans.
Rekha – Never Stopping Glow Girl
Rekha's life has never been easy. Right after her birth, this woman had to face back-to-back challenges in her life. But this woman never stopped flourishing. She kept on working hard and, now she is one of the stars of the Hindi Film Industry. Her life has been full of struggles but, she always bounced back and, this is what we need to learn from this legendary actress. She is an inspiration to all those people who feel like having a good motive in their lives.