9 Indian Traditional Dresses Right out of Celebrity Wardrobe
For the women fulfilling work commitments from home, choosing office outfits was one thing they did not have to deal with for the past year. With the "Work from Home" mandates lifting in most areas, we all are Googling the current trends that will fit right into our office settings and summer outings. In this article, we're going to make sure you don't miss out on the popular trends of Indian traditional dresses.
If you take a peek at our favorite celebrity wardrobes, you can immediately notice that sarees and kurtas are a girl's best friend every summer. And it's time to stop being immediately intimidated by sarees, and pick them more often for special, professional, and casual events.
Style 1 : Tie-Dye Outfits:
Now, if you are like me and scroll through Instagram as often as you breathe, you would know that the tie-dye trend is everywhere. On hoodies, joggers, dresses, t-shirts, and bikinis; if the outfit has a surface area, someone somewhere has managed to turn it into tie-dye.
When it comes to Indian traditional outfits the trend has been around for a while, and now it has re-emerged in the form of stunning sarees, keeping in mind the more modern shopper. The style of tie-dye looks classy on sarees and manages to look unique among the oversaturated tie-dye styles on Instagram.
Have a look at celebrities who are rocking the Tie-Dye this season.
1. Garima Chamoli: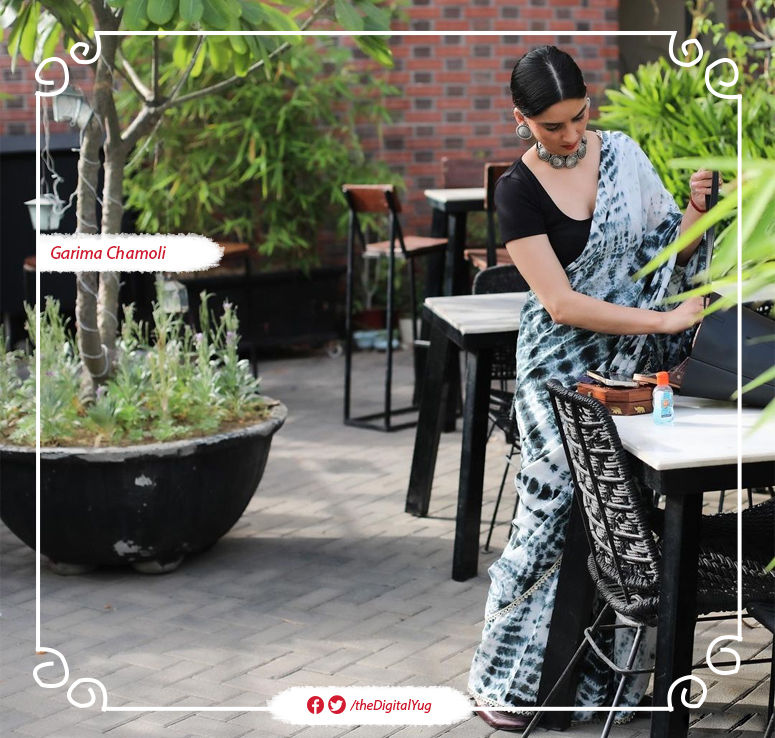 This up-and-coming influencer donned this beautiful black-on-white tie-dyed saree with some bling on the border, for the brand Aayna. The black-tie patterns add length to the body, and the little addition of bling gives it a dressier look.
With the appropriate jewelry, this can easily be a party look.
Get one for yourself
We have not one but two similar alternatives, which are much more accessible than the piece Garima is wearing. If the classic and flattering black and white combination is something you favor, this style is just the one for you.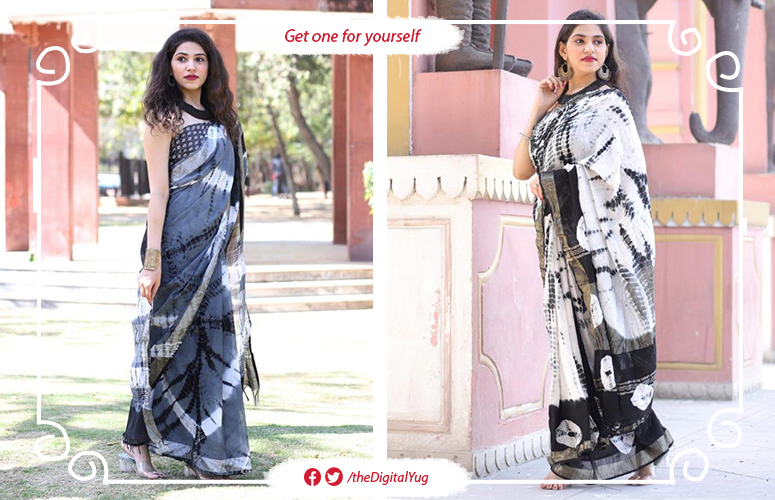 2. Vidya Balan: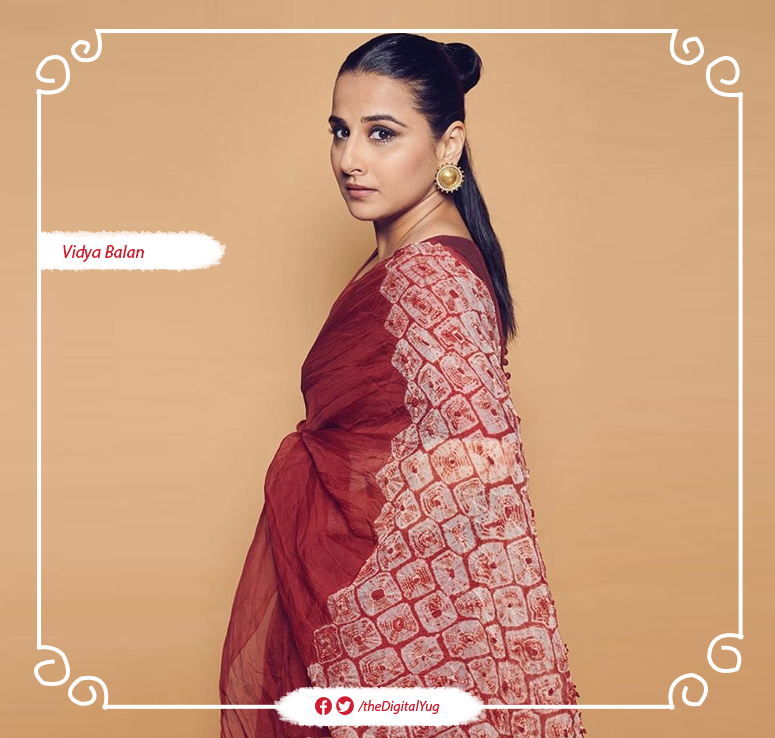 Vidya Balan wears this stunning red tie-dye saree, with tie-dye details on the pallu. The details are more subtle here, but the look is gorgeous. The richness of the color red brightens her skin tone and is also known to be universally flattering. The saree she is wearing is from the exclusive brand Medium and currently retails for Rs.34,500 on their website.
Get one for yourself
We know that's a staggering price to pay for a saree and not something most of us are willing (or able) to shell out for one piece of the outfit. Here's a gorgeous alternative that can help you achieve a similar look.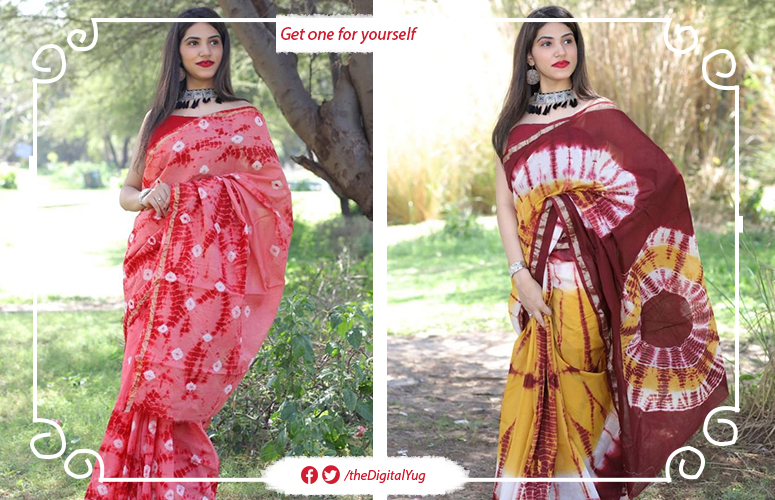 3. Shreya Jain:
I've been playing dress-up since I was a child, and one thing I realized over these years is colors are intimidating. People often prefer monochrome because they are easy to style and even easier to match with accessories. This notion is not much different when it comes to Indian traditional dresses.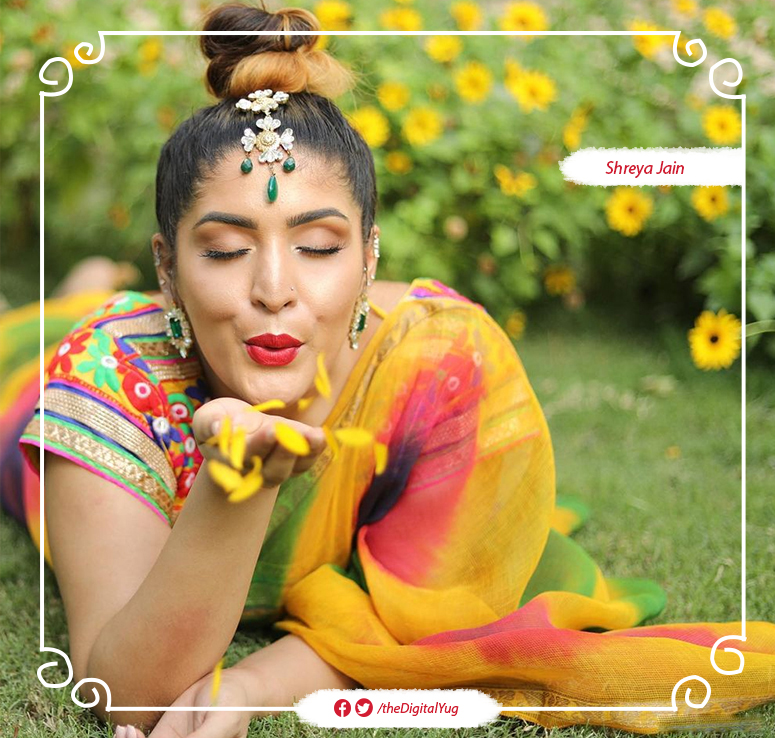 Shreya Jain wears this beautiful multi-colored Kots Doria saree which is tie-dyed. She pairs it with a statement blouse, also in multicolor, with beautiful embroidery and zari details. Unfortunately for us, hers happen to be an heirloom piece handed down to her by her grandmother.
Get one for yourself
But if you're interested in taking over the challenge of styling multi-colored tie-dye sarees, here are few stunning alternatives that you should consider. These sarees are cotton, hence extremely lightweight; and the colors on them are vibrant and eye-catching.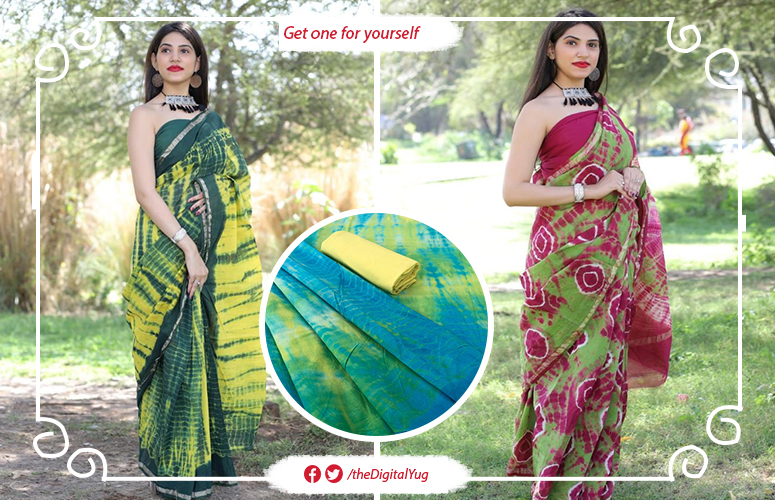 Style 2 : Indigo Block Printed Outfits
Indigo in Indian traditional dresses is nothing new, but it has seemingly never gone out of style. Similarly, block printing in all sorts of ethnic dresses is one of the most simple and stunning trends that one can easily embody.
4. Vidya Balan: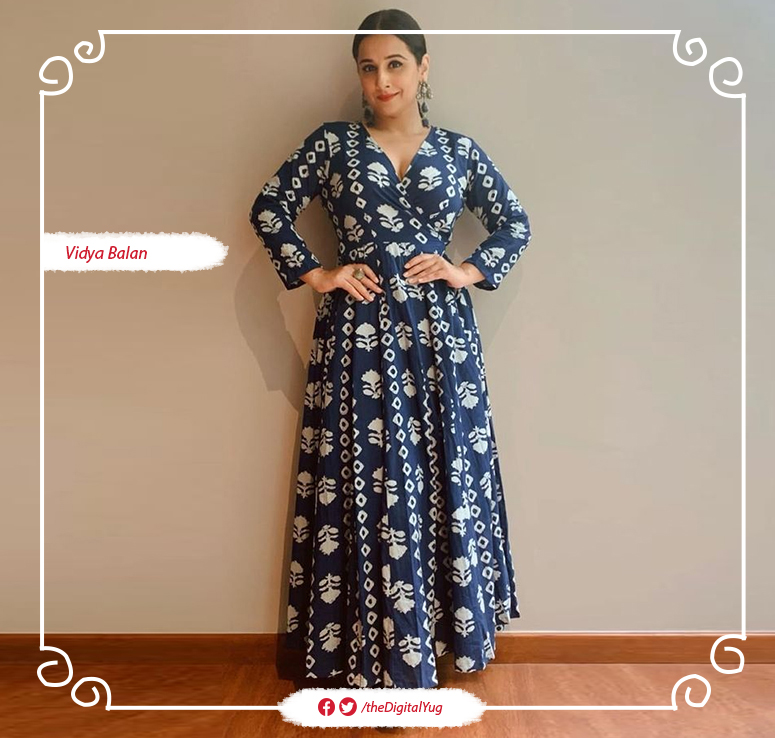 Vidya Balan is a self-proclaimed lover of Indian traditional dresses; she is known all over especially for her love of sarees. But her selection of kurtas is nothing to scoff at. She adorns this beautiful indigo hand block-printed kurta, and the Anarkali silhouette proves to be extremely flattering on her.
5. Shreya Ghosal: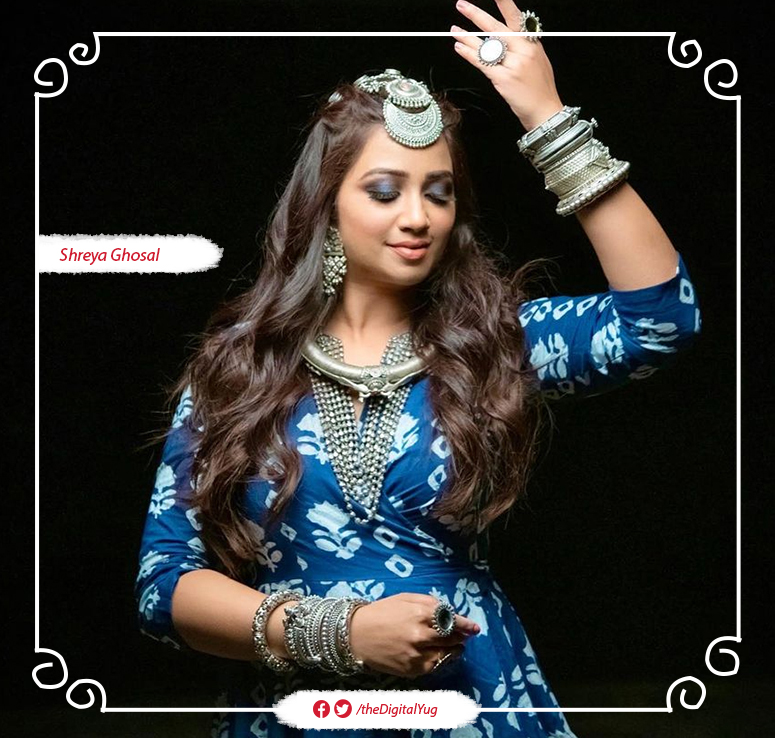 This crooning beauty is a household name for her voice, while her style is less often talked about, is nothing but felicitous for this occasion. She pairs a similar indigo hand block printed kurta with heavy silver jewelry; taking that simple and casual outfit and making it performance-ready.
6. Taapsee Pannu: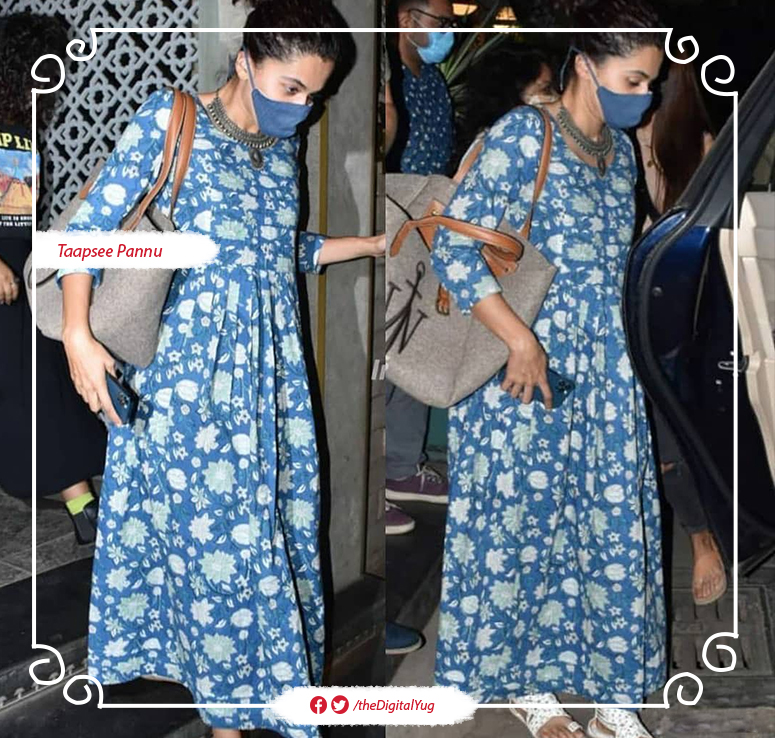 This rising star is on her way to becoming a household name; we've seen her on high-end fashion magazines and glamorous red carpet events. But here's a glimpse of what she chooses to wear when she's not dressing up for the camera.
It is not surprising that she chooses an Indian traditional dress as a travel outfit, as they are comfortable when you pick the right material. This indigo maxi length kurta is right up the alley of the casual chic that we're always looking for.
Get one for yourself
The brands these celebrities adorn can be a little too heavy on our budgets. But who says we can't find similar alternatives at a price point that won't make a dent in our pockets.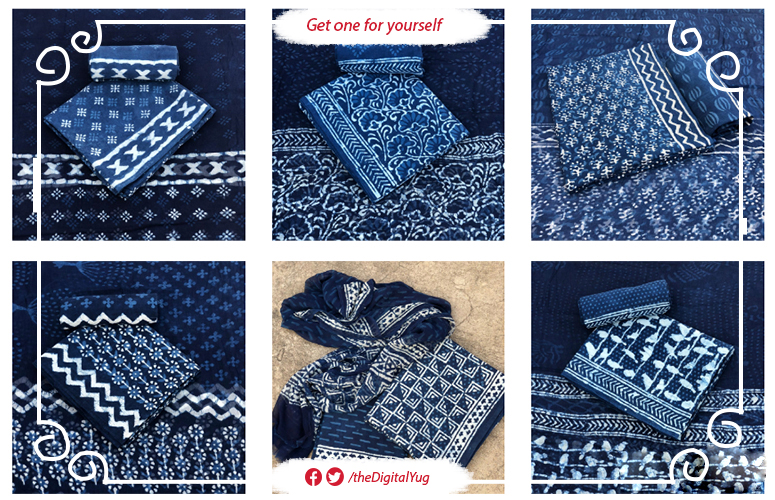 These dress materials are amazing dupes of the outfits discussed above. And a plus point is you don't have to worry about size or silhouette, just have your favorite tailor recreate your perfect fit on them and they're yours to rock.
These are lightweight, breathable, and perfect for everyday use, especially in the scorching heat of Indian summer.
Sarees in similar style:
Do you love this style and print but wish it was on a saree instead? Well here is some good news. Indigo block print looks just as stunning on cotton sarees as it does on kurtas, and it is just as affordable.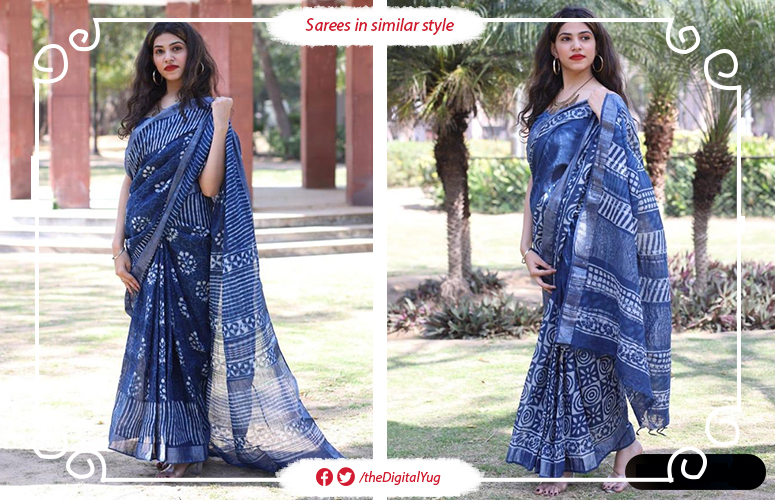 Style 3 : Beautiful Floral Outfits:
The internet has discovered cottage core and with it came the love for all things floral. While the effect is different on the side of the internet that raves over Indian traditional dresses, it is also true that we've always loved our florals.
7. Sobhita Dhulipala: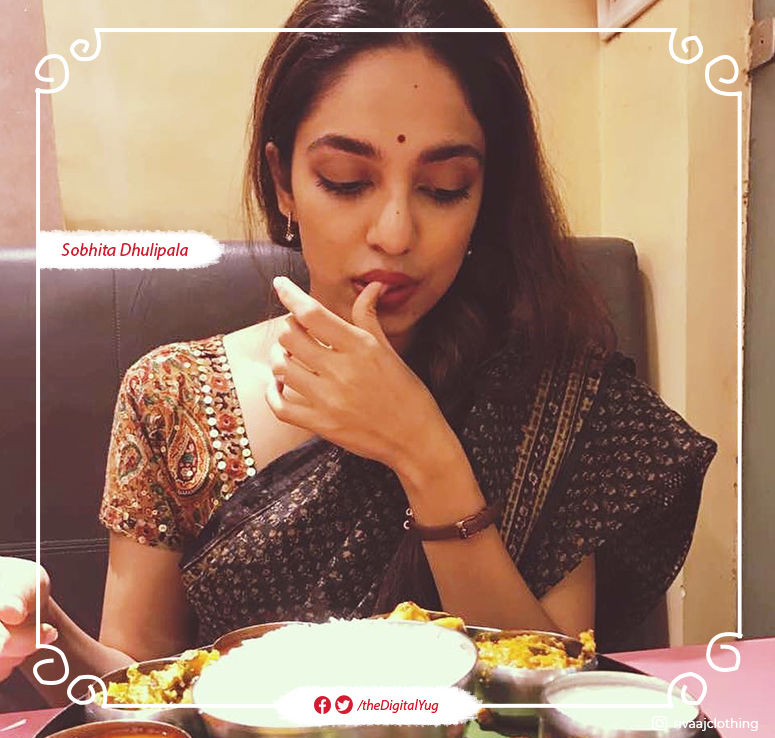 As a former Miss India runner-up and a rising Bollywood star, Sobhita is no stranger to the 'style' scene. In fact, she even styled herself for the cover of the first "Work from Home" issue of Cosmopolitan India. From the look of it, she is also brilliant at styling her Indian traditional dresses.
This is one of her more laid back and candid styling choices; she wears a black saree with micro floral prints all over the pallu. She pairs it with a multi-colored sequined blouse and a simple wristwatch. Sobhita embodies most working women in this look, and I can't help but agree that this fits right into my idea of 'office saree' collection.
Get one for yourself
Here's a style dupe that you can check out if the understated pattern is right up your alley.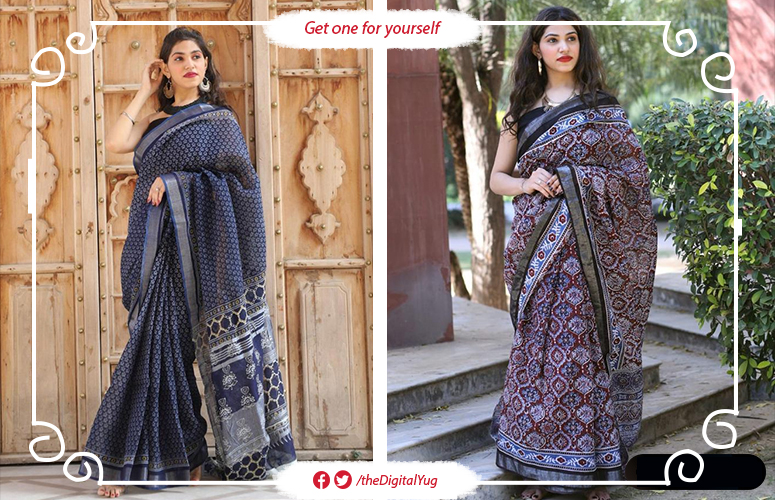 8. Priyanka Chopra Jonas: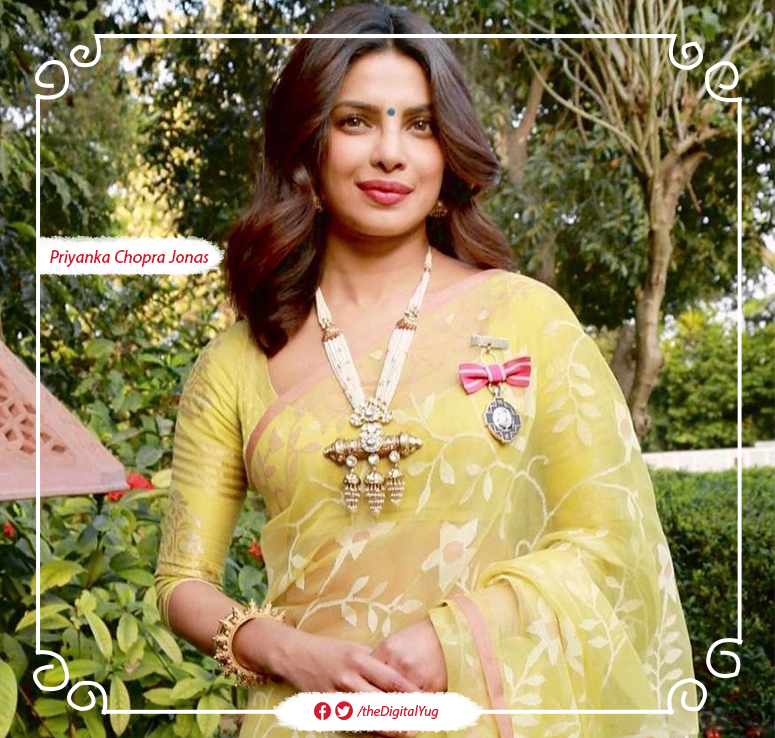 Priyanka Chopra Jonas chose this beautiful yellow saree, with white floral prints, to receive the fourth highest civilian award Padma Shri. The saree looks light and airy, yet carries an air of formality. She goes heavy-handed with the gold jewelry, to balance out the outfit.
Now, if you have gone through your mother's closet, you know how much of a generational favorite the color yellow is, for sarees. And we do not plan to stray too far from that either.
Get one for yourself
Here are two similar sarees that can add that much-needed splash of bright and vibrant yellow in your closet, while keeping your wallet healthy.
The sarees are linen and organza respectively, both fabrics are easy to carry and flattering to any body type. Organza especially is all the rage these days.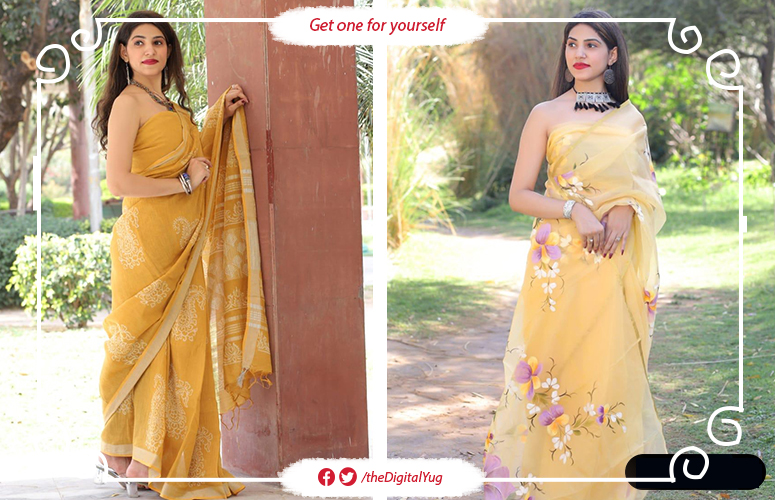 9. Vidya Balan: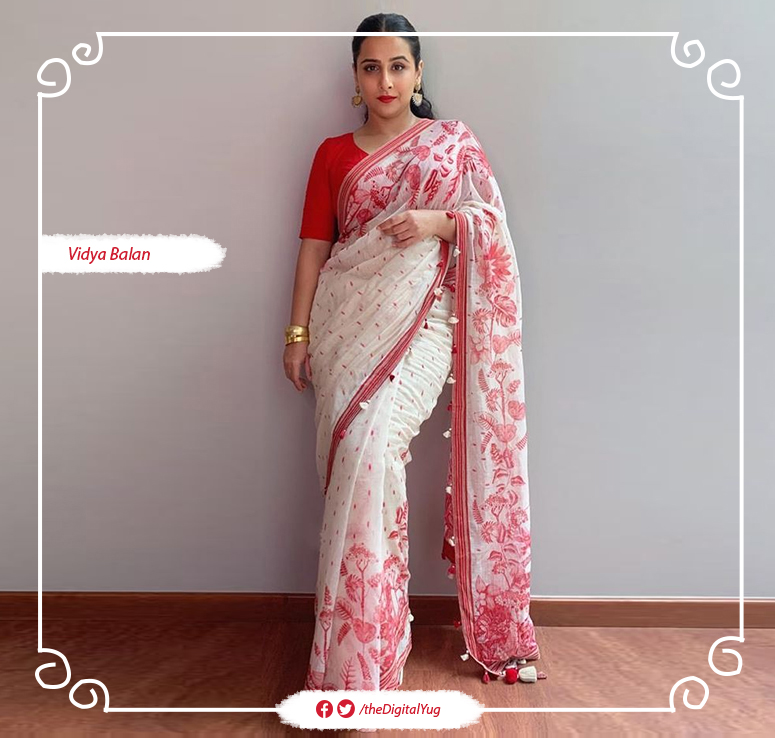 We cannot end this list without this saree addict, who can't help but inspire people to make more room for sarees in their closets. Vidya Balan wears this beautiful white saree with red floral pattern and tassel details in the border and pallu.
The saree she wears is from the luxury brand Saundh, and as of today, it is not listed on their website.
Get one for yourself
The look seems apt for pooja ceremonies and other related events. The combination of red and white is such a staple look in Indian traditional dresses, that a beautiful saree in this combo is a must-have for any woman who wears sarees.
Here is an alternative that you can make part of your closet today without sweating over the price.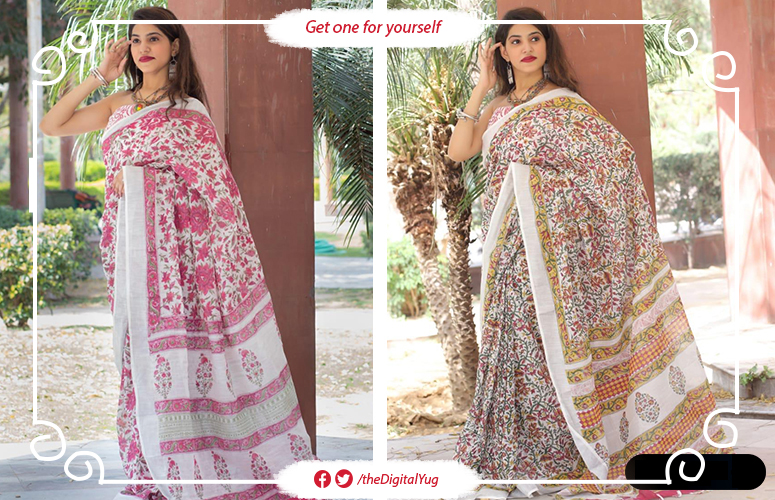 Final Words:
Indian traditional dresses are not just part of our traditions and culture, but also a look into the way of life of many women throughout our history. It makes us part of that history every time we choose to adorn it.
I know how intimidating a saree can be, and how afraid we all are of tripping on the pleats. But we can't let fear keep us away from styling ourselves to our heart's content. So, get those safety pins ready, secure your saree, and walk out in style with your head held high; you're carrying your heritage.